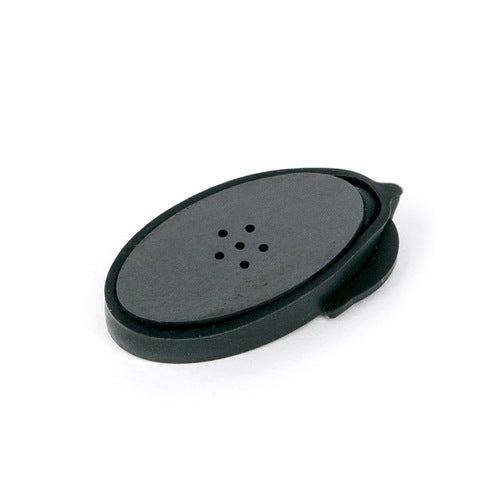 Frequently Bought Together
The DaVinci IQ Zirconia Mouthpiece
The Zirconia Mouthpiece for the Da Vinci IQ is a premium mouthpiece component for those looking to upgrade their daily vaping sessions.
The DaVinci IQ Zirconia Mouthpiece yields smoother vapors that carry fewer irritants. You can enjoy pulling from this mouthpiece without having to worry and suffering from the itchy feeling when you inhale – especially when vaping a full bowl of herbs. Grab a DaVinci IQ Zirconia Mouthpiece and feel the difference.
To Hell And Back Reliability
In terms of durability, zirconia is better than any mouthpiece material, especially when compared to glass. zirconia has the same inert properties while it boasts strength and toughness that's 20 times than glass. Some of the major attributes of zirconia that makes it a suitable component for the IQ's mouthpiece is its high thermal stability and its property to be extremely chemically unreactive. zirconia is also less prone to combustion and ignition and is highly resistant to corrosion.
The DaVinci IQ Zirconia Mouthpiece is the ideal mouthpiece component for flavor chasers and those who wouldn't want to risk altering the flavor and aroma of their precious herbs and other botanical blends. The DaVinci IQ Zirconia Mouthpiece is for the true dry herb connoisseur.
Always Keep An Extra
Although the DaVinci IQ Zirconia Mouthpiece was designed and built to be as solid and as tough as a rock, its size makes it easy to lose. It's best to always have an extra DaVinci IQ Zirconia Mouthpiece handy for those moments when you just need it the most. It's best to keep extra mouthpieces to ensure that you'd always have a mouthpiece to pull out of your vape pack whenever you lose yours.
It's also good to replace your mouthpiece every once in a while, as material and resin tend to build up especially in these hard to reach areas after long and heavy use. In some cases, these build ups get into the mouthpiece and other parts and become hard enough to remove. In this event, replacing the mouthpiece parts altogether is your best option.
What's in the box:
1 x DaVinci IQ Zirconia Mouthpiece
DaVinci IQ Zirconia Mouthpiece Tips & Tricks
Get the best deal on DaVinci IQ Zirconia Mouthpiece for sale online, visit VapeActive Coupons Page and get the best vaporizers for the best price. Check out our online vape discounts and deals, and because we're the best in the industry, we'll even match the sale price of any authorized reseller you can find.
QUESTIONS & ANSWERS
Have a Question?
Be the first to ask a question about this.
Ask a Question