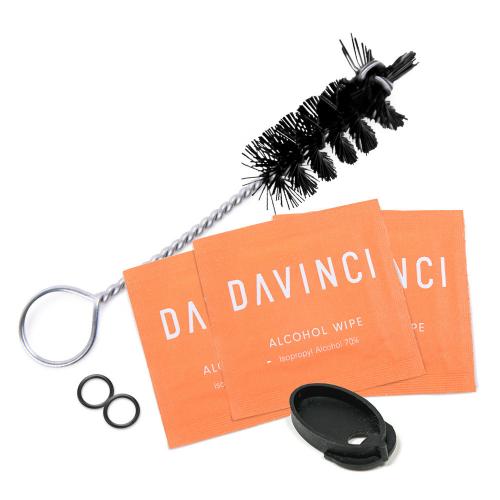 Frequently Bought Together
The DaVinci IQ Accessory Kit
The DaVinci IQ Accessory Kit is the essential accessory for DaVinci IQ users which gives them all the tools they need to keep their DaVinci IQ vaporizers clean and working at its peak condition. The kit includes all you'll ever need to ensure that you always get the best flavors and the cleanest vapors out of your DaVinci IQ vaporizer.
Alcohol Wipes – A Necessity
The DaVinci IQ Accessory Kit includes one of the most important cleaning and maintenance too of all – the alcohol wipe. Having alcohol wipes at your disposal is important as these cleaning tools are portable and are easy to carry. You can simply pack one in your pockets, keep one inside your vape bag, or just place a few in your car compartment and take them out as necessary. Please don't hesitate to wipe your vaporizer – especially the mouthpiece – as often as you need because a clean vaporizer oftentimes means healthy vaping sessions. You don't want to catch unwanted germs and dirt especially when you go out partying at night and you pass your vaporizer around. Wipe your vaporizer before and after every use to ensure no organism stays in your vaporizer.
The alcohol wipes aren't only good for wiping the mouthpiece and the exterior of your DaVinci vaporizer, it's also good for cleaning the inside your vape, like the lips of your vape chamber and the top of the lid to ensure consistent flavor and material build up in places where vapor and resin might accumulate.
Other Accessories
The DaVinci IQ Accessory Kit also includes tools to clean the chamber of your DaVinci IQ. A chimney cleaning brush ensures that no herb gets stuck in the heating chamber of your IQ. Leftover herbs will oftentimes burn faster than fresher herbs leaving a bad taste as it vaporizes and might even affect the quality of the fresh herbs you put in. Furthermore, these leftover materials may cause contamination that can affect your overall vaping experience.
It also includes a spare mouthpiece gasket, an imperative part of the DaVinci vaporizer which ensures that the mouthpiece will function like brand new. Give your DaVinci vaporizer the cleaning and love it deserves, get a DaVinci IQ Accessory Kit now.
What's in the box:
1 x Isopropyl Alcohol Wipes
1 x Chimney Cleaning Brush
1 x Spare Mouthpiece Gasket
2 x O-Ring Set
DaVinci IQ Accessory Kit Tips & Tricks
Get the best deal on DaVinci IQ Accessory Kit for sale online, visit VapeActive Coupons Page and get the best vaporizers for the best price. Check out our online vape discounts and deals, and because we're the best in the industry, we'll even match the sale price of any authorized reseller you can find.
QUESTIONS & ANSWERS
Have a Question?
Be the first to ask a question about this.
Ask a Question