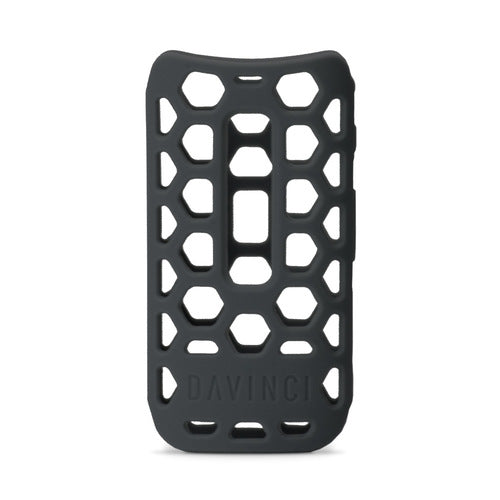 Frequently Bought Together
The DaVinci IQ Glove
The DaVinci IQ Glove is the perfect accessory for your DaVinci IQ vaporizer. Not only does it protect the DaVinci IQ from minor scratches and dents but it also provides you with a lot of benefits you won't get from other silicone cases.
The DaVinci IQ Glove is an authentic and original accessory from DaVinci. Manufactured by the same company that produces the IQ, the DaVinci IQ Glove has the perfect dimensional specifications to boost and improve your DaVinci IQ experience.
Protection From Falls and Scratches
Ever wondered what would complete your DaVinci IQ's look while giving it protection and proper ventilation? Well, DaVinci's already had that figured out. The DaVinci IQ Glove allows you to get that personalized look while still providing protection especially when you use your DaVinci IQ daily.
The DaVinci IQ Glove saves your favorite DaVinci IQ vaporizer from minor scratches as well as damages and dents from accidental drops. It's made from lightweight and durable silicone material which effectively creates a layer of protection for your DaVinci vaporizer without hindering or blocking the LED lights that show its status. Moreover, unlike other silicone cases, the DaVinci IQ Glove has open holes that allow air to freely pass through which does a good job of preventing overheating while still covering the entirety of the vaporizer. This is the ideal accessory for those who suffer from holding the DaVinci IQ vaporizer when it gets hot. It also creates a layer of defense from users that have sweaty hands which tend to smudge the IQ vaporizer.
If you're someone who always drops their DaVinci vaporizer, then having a DaVinci IQ Glove might not be a bad idea. The glove's finish facilitates better grip and holds allowing you to grab the DaVinci IQ vaporizer comfortably without dropping it. Isn't it just the best accessory for you can get your IQ?
A Perfect Fit For The IQ
Let's face it, you can rarely find an accessory for your vaporizer that's made and manufactured by the same people that created your vaporizer. Sure, cheap vaporizers made by cheap companies may have generic and general accessories, that's because they're all the same banana that are just rebranded products without no authenticity or any originality.
The DaVinci IQ is a premium dry herb portable vaporizer that's original in every aspect. From form to function, this vaporizer is unique that's why it requires a similarly distinct and special accessory. The DaVinci IQ Glove is made by the same people behind the high-quality vaporizers you use today. The DaVinci IQ Glove has the exact specification for your IQ which gives it a perfect fit and thus allowing you with a seamless experience however you use it. The DaVinci IQ Glove is arguably the most stylish and practical accessory you can get. What are you waiting for? Show your IQ vape some love and grab a DaVinci IQ Glove today.
What's in the box:
DaVinci IQ Glove Tips & Tricks
Get the best deal on DaVinci IQ Glove for sale online, visit VapeActive Coupons Page and get the best vaporizers for the best price. Check out our online vape discounts and deals, and because we're the best in the industry, we'll even match the sale price of any authorized reseller you can find.
QUESTIONS & ANSWERS
Have a Question?
Be the first to ask a question about this.
Ask a Question