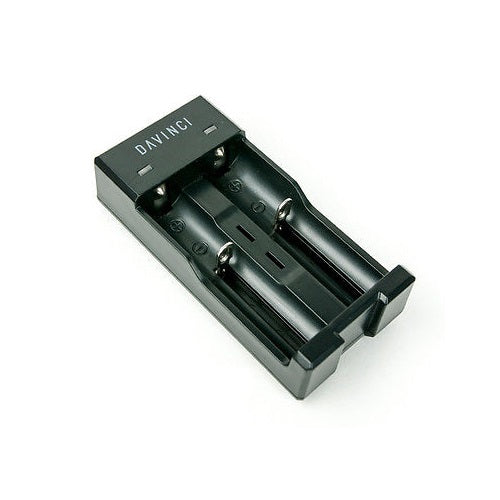 Frequently Bought Together
The DaVinci IQ Battery Charger (For 18650)
The DaVinci IQ Battery Charger is the perfect battery charger for DaVinci fans. This battery charger is capable of charging two batteries at once, allowing you twice the charging power than the average battery charger. Each DaVinci IQ Battery Charger is made from premium-grade materials which means that each DaVinci IQ Battery Charger ensures top-quality charging, something you can expect on a product from DaVinci.
The DaVinci IQ Battery Charger has a USB port on top where a USB cable can be fitted and connected to a computer, a laptop, or a wall adapter.
External Battery Chargers Are The Best Chargers
For frequent vape users, having an external battery charger is a must. Charging your batteries from within the vaporizer may damage the internal circuitry over time. You'll notice that as you recharge your batteries, your vaporizer gets hot as it's connected to a USB charger or to an adapter that connects to your wall socket. Charging your batteries externally allows you to save and extend the lifespan of your vaporizer by keeping it free from strenuous tasks like charging the batteries ever so often. Think of it as like giving your vaporizer a rest while you recharge your batteries.
External battery chargers also charge batteries faster as compared to charging them from the vaporizer itself. The idea is that external battery chargers have both software and hardware that's dedicated to charging your batteries entirely, unlike vaporizers that will most likely cram charging hardware and programs in a small and compact housing. Moreover, most vape users report that they get better charging performances when they use external battery chargers compared to integrated vape chargers.
Durable and Hardwearing Chargers
DaVinci has been known for the quality of their products, this is true as their vaporizers speak for themselves in terms of reliability and dependability. The same goes for other DaVinci products like their battery chargers. These external battery chargers go through the same stringent quality inspection as the vaporizers so you can be sure that each product you get has DaVinci's seal of approval and that each battery charger will stand the test of time – as all DaVinci vaporizers do.
The DaVinci IQ Battery Charger ensures that you never run out of power, you might also want to get yourself additional 18650 rechargeable batteries from DaVinci so you can experience and enjoy uninterrupted vaping sessions. Perfect for individuals with high tolerance and users who like to partake in large group sessions.
What's in the box:
1 x DaVinci IQ Battery Charger
DaVinci IQ Battery Charger (For 18650) Tips & Tricks
Get the best deal on DaVinci IQ Battery Charger (For 18650) for sale online, visit VapeActive Coupons Page and get the best vaporizers for the best price. Check out our online vape discounts and deals, and because we're the best in the industry, we'll even match the sale price of any authorized reseller you can find.
QUESTIONS & ANSWERS
Have a Question?
Be the first to ask a question about this.
Ask a Question