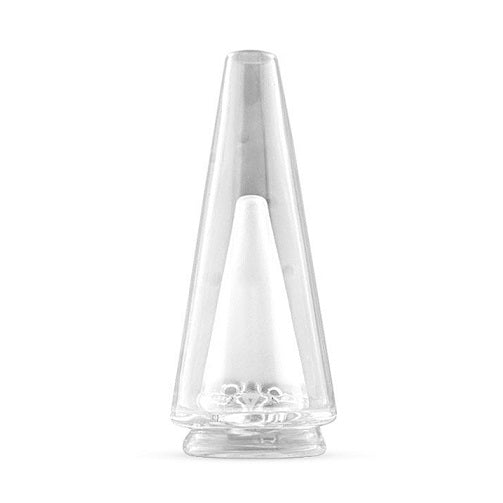 Frequently Bought Together
About the Puffco PEAK Glass
Arguably one of the most integral parts of the Puffco Peak Smart Dab Rig Vaporizer, the Puffco PEAK Glass acts as both the mouthpiece and the water filtration unit that allows you to get ultra-smooth, moisture-conditioned hits.
The Puffco PEAK Glass is made from borosilicate glass making it a durable component that can easily withstand extreme temperature levels and exposure to thermal shock – abrupt cooling and heating. Borosilicate glass is widely used in different laboratories and in various medical facilities because of its durability. Borosilicate glass is often used as beakers and test tubes because they boast great resistance to thermal stress and is known to have a very low thermal expansion coefficient. Furthermore, borosilicate glass is an inert material that does not affect the quality of the vapor and of the materials used. That's why glass components are great for vaporizers that are focused on emphasizing the flavor of your materials and allows the full preservation of your select materials.
The Puffco PEAK Glass makes the Puffco Peak Smart Dab Rig Vaporizer a portable dab rig that can maximize flavor retention giving you flavor-packed vapor production making it perfect for connoisseurs and those who have developed a distinct taste and a sensitive palate.
Made with Attention to Detail
The Puffco PEAK Glass isn't just any glass attachment you can use on your Puffco Peak Smart Dab Rig Vaporizer. Apart from being made from high-quality borosilicate glass, the process involved in manufacturing the Puffco PEAK Glass entails precision and attention to detail. That kind that can't be achieved by machines and other kinds of mechanical equipment. Each Puffco PEAK Glass is hand-blown and is made by skilled artisans. This means that each Puffco PEAK Glass bears the seal of quality and reliability guaranteed by talented professional glassblowers.
Puffco ensures that each Puffco PEAK Glass is made and is handled with care and is crafted with careful attention to quality and detail. That means that instead of pre-determined mechanical calculations, each Puffco PEAK Glass is made with careful human calculation.
Apart from its superior overall build quality, the Puffco PEAK Glass was made to be a glass attachment that's easy to use, clean, and maintain. Having said, connecting the Puffco PEAK Glass to the base of the Puffco Peak Smart Dab Rig Vaporizer takes only seconds and does not require you to go through complicated steps. It snaps off and, on the base, making for a convenient means of removing and replacing the Puffco PEAK Glass. This simple and easy operation makes storage and cleaning a breeze.
This makes the Puffco PEAK Glass and the Puffco Peak Smart Dab Rig Vaporizer an ideal portable e-rig for both beginners and advanced consumers alike. They can use and even maintain their portable dab rigs with very little to no learning curve at all. Use and keep your portable e-rig in perfect working condition like a pro, a feature you can only get with the Puffco Peak's Puffco PEAK Glass.
What's in the box:
Puffco PEAK Glass Tips & Tricks
Get the best deal on Puffco PEAK Glass for sale online, visit VapeActive Coupons Page and get the best vaporizers for the best price. Check out our online vape discounts and deals, and because we're the best in the industry, we'll even match the sale price of any authorized reseller you can find.
QUESTIONS & ANSWERS
Have a Question?
Be the first to ask a question about this.
Ask a Question