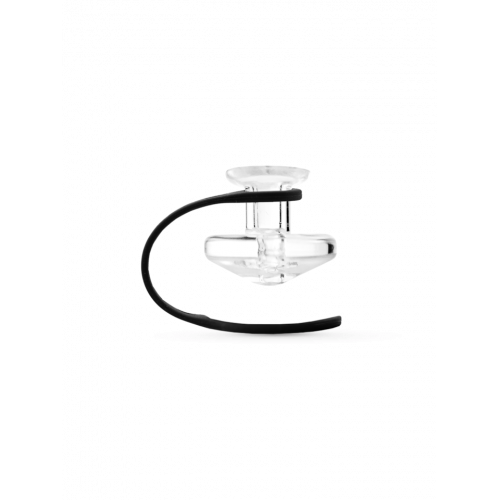 Frequently Bought Together
This item:

Puffco PEAK Carb Cap & Tether

About the Puffco PEAK Carb Cap & Tether The Puffco PEAK Carb Ca...

$19.99
About the Puffco PEAK Carb Cap & Tether
The Puffco PEAK Carb Cap & Tether is a must-have for anyone using a Puffco Peak Smart Dab Rig Vaporizer. The Puffco PEAK Carb Cap & Tether significantly increases and improves some of the most important aspects in vaping – flavor and vapor production.
The Puffco PEAK Carb Cap & Tether plays an important function in your sessions. Carb caps like the Puffco PEAK Carb Cap & Tether works by restricting the amount of airflow in the dab rig. By restricting airflow, it increases the ability of the Puffco Peak to vaporize your wax concentrates at lower temperatures allowing you to get as much flavor from your dabs as possible. Because you basically eliminated the possibility of heating your materials beyond the point of combustion, it's almost impossible to get that burnt taste when you vaporize your materials.
This means that when you use a carb cap, you're maximizing the yield of your materials while improving the overall performance of your dab rig. Using a carb cap on your dab rig ensures that no material is wasted and that every bit of the extract is vaporized leaving no room for residue and any kind of material build-up. The Puffco PEAK Carb Cap & Tether also increases the heat on the heating element of your portable e-rig because it prevents heat from escaping the heating element thus further improving the performance of your dab rig. It then allows you to conserve battery since your portable e-rig consumes less battery power when it's not required to push the envelope in terms of heating.
Durable Raw Materials
Puffco has been a name synonymous with quality. Hence, the accessories and the materials used in crafting the attachments used in their devices are made from relatively high-quality raw materials.
The Puffco PEAK Carb Cap & Tether is made from high-quality borosilicate glass and is hand-blown for better accuracy and superior quality. Borosilicate glass is a material that's widely used in laboratories and in other medical facilities. It sees wide use as beakers, tubes, and receptacles because of its resistance to high-temperature levels and its ability to withstand thermal shock – an attribute important to components to be used as carb caps. Thermal shock happens when something is exposed to increasing and dropping temperature levels. When this happens, the exposed material can experience various amounts of expansion in different parts causing breakage and a significant decrease in its overall integrity. Carb caps are directly placed atop the heating element so it's constantly subjected to heating and cooling which will cause the weaker glass to eventually weaken and break. By using borosilicate, Puffco ensures that the Puffco PEAK Carb Cap & Tether will last longer than any other carb caps on the market.
The Puffco PEAK Carb Cap & Tether also includes a tether to keep the Puffco PEAK Carb Cap & Tether attached to the Puffco Peak. The Puffco PEAK Carb Cap & Tether is a testimony of the quality and the engineering involved in manufacturing products made by Puffco, make sure to get yours now!
What's in the box:
1 x Puffco PEAK Carb Cap & Tether
Puffco PEAK Carb Cap & Tether Tips & Tricks
Get the best deal on Puffco PEAK Carb Cap & Tether for sale online, visit VapeActive Coupons Page and get the best vaporizers for the best price. Check out our online vape discounts and deals, and because we're the best in the industry, we'll even match the sale price of any authorized reseller you can find.
QUESTIONS & ANSWERS
Have a Question?
Be the first to ask a question about this.
Ask a Question
Puffco Peak.... Wow!!!
I can't think of a better way to enjoy concentrates. I'm very impressed with the build quality. I would warn buyers if they have a low tolerance to take it very slow with the Peak because a little goes a very long way.
Puffco cap & tether
Smooth transaction & fast delivery!!
Puffco PEAK Carb Cap & Tether