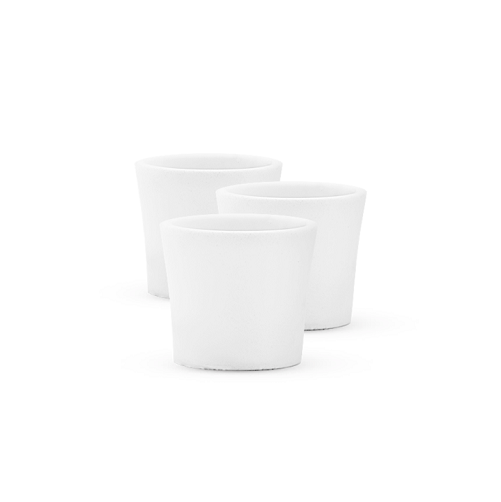 Frequently Bought Together
This item:

Puffco PEAK Bowl - 3 Pack

About the Puffco PEAK Bowl - 3 Pack The Puffco PEAK Bowl - 3 Pack i...

$19.99
About the Puffco PEAK Bowl - 3 Pack
The Puffco PEAK Bowl - 3 Pack is a perfect replacement component for when you're using the latest versions of the Puffco Peak. The Puffco Peak has had many iterations and the Puffco PEAK Bowl - 3 Pack was simply made for the later versions of the Peak smart dab rig.
The new Puffco PEAK Bowl - 3 Pack sports a ring at the bottom and can attach to the peak atomizer easily. This new design gives the Puffco PEAK Bowl - 3 Pack a huge upgrade when it comes to flavor retention and cloud production. Ceramic has been known in the industry as a great material for vaporizing wax concentrates. Because ceramic is an inert heating element, it can facilitate low and slow heating while it brings out the best flavors from your material. What ceramic does is it ensures that the wax concentrates are heated without reaching the point of combustion and in doing so it prevents the wax concentrates for burning which eliminates any unwanted taste when vaping.
For connoisseurs and those with developed palates for the distinct tastes of wax concentrates, the Puffco PEAK Bowl - 3 Pack allows them to taste the true flavors of their select materials. Ceramic heating elements can faithfully preserve the terpenes and the flavonoids of the plant matter where your wax concentrates were derived from.
So, make sure to always have Puffco PEAK Bowl - 3 Packs on the ready for when you need to change your ceramic bowls in a hurry.
Easy Cleaning and Maintenance
One of the best things about using the Puffco PEAK Bowl - 3 Pack is how quick and easy is it to clean and maintain. You can just wipe the Puffco PEAK Bowl - 3 Pack with a q tip and when the time comes wiping it with a q tip won't do the job, you can torch it to bring it back to its natural state.
Ceramic by nature is inert, so it won't easily crack or break even if you expose it to extreme temperature levels. A heating element that's easy to clean and maintain simply means that you'll get to use it more often and that you can maximize and even extend its lifespan. While other heating elements make cleaning and maintenance a pain, the Puffco PEAK Bowl - 3 Pack makes it so that cleaning and maintaining it will be a breeze.
These replacement ceramic bowls are authentic and original products from Puffco. This means that they offer a perfect fit to your Puffco Peak Smart Dab Rigs and that removal and replacement of these bowls – like cleaning and maintenance – will be a breeze.
All these features contribute to a convenient and seamless experience you'd only get from Puffco products. Make sure to grab your Puffco PEAK Bowl - 3 Pack now and stock up on these premium heating elements.
What's in the box:
1 x Puffco PEAK Bowl - 3 Pack
Puffco PEAK Bowl - 3 Pack Tips & Tricks
Get the best deal on Puffco PEAK Bowl - 3 Pack for sale online, visit VapeActive Coupons Page and get the best vaporizers for the best price. Check out our online vape discounts and deals, and because we're the best in the industry, we'll even match the sale price of any authorized reseller you can find.
QUESTIONS & ANSWERS
Have a Question?
Be the first to ask a question about this.
Ask a Question
Puffco PEAK Bowl - 3 Pack