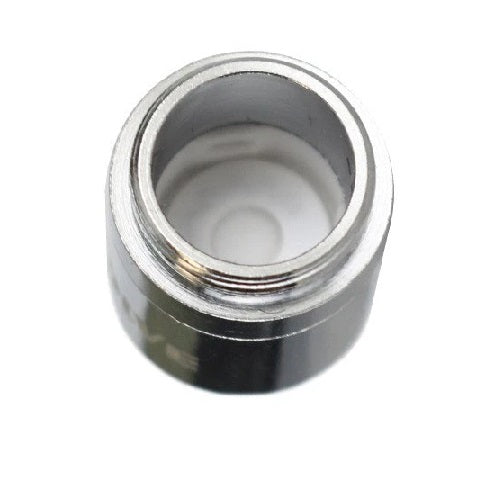 Frequently Bought Together
This item:

Yocan Evolve Ceramic Donut Coils

About The Yocan Evolve Ceramic Donut Coils  The Yocan Evolve Cerami...

$8.99
About The Yocan Evolve Ceramic Donut Coils 
The Yocan Evolve Ceramic Donut Coils feature 100% pure ceramic components for the best vapor production. Ceramic has been widely known in the vaping industry as a great heating element, especially for wax, concentrates. Ceramic has a porous surface that allows it to absorb the heated wax better before it heats it up. By doing so, the vapors become more flavorful creating a more satisfying experience when using ceramic heating elements. The ceramic heating element also ensures that the wax concentrates are heated slowly and evenly instead of having them blasted with abruptly with heat. Low and slow heating also contributes to how well and how defined the flavors are especially when vaping wax concentrates. By slowly but consistently heating the wax, you can prevent burning your materials that oftentimes result in that bad and burnt flavor. This is why ceramic is one of the most favored components of connoisseurs and dab enthusiasts that are considered adept and advanced users of wax concentrates and other extracts.  
Ceramic offers a slew of other benefits and one of them is it is an inert component. This only means that ceramic remains chemically inactive when heated and does not cause any form of a chemical reaction when subjected even to high-temperature levels. Ceramic yields a cleaner burn even when compared to other heating elements, which is why it's great for those who use their vaporizers for taking their medications or for administering vapor used to treat or manage their medical conditions.  
Coil Less System 
The Yocan Evolve Ceramic Donut Coils is an atomizer that does not feature physically wired coils. Unlike other atomizers that use rods that are wrapped with metal coils, the Yocan Evolve Ceramic Donut Coils does not use any rods and will not have any coils visibly showing from the chamber. This build allows many wax concentrate consumers to enjoy an effective and an efficient means of vaporization since the Yocan Evolve Ceramic Donut Coils will only have a ceramic disc which leaves no room for your wax concentrates to stick to and ensures that every last drop of your material is vaporized. One of the common issues with using rods and coils is that they can sometimes let unheated materials to build up and these build-ups can end up as hard resinous substances that are definitely a pain to clean.  
The Yocan Evolve Ceramic Donut Coils makes for an atomizer that's super easy to maintain since there's virtually no place for the wax concentrates to build up to which means that you'll experience fewer instances of concentrate residue. This means that your sessions will always remain clean and flavorful and the Yocan Evolve Ceramic Donut Coils will give you very little to worry about with your materials clogging up your atomizer or the wax concentrates ending up as wasted material.  
Overall, the Yocan Evolve Ceramic Donut Coils makes for a great atomizer for people who are looking for smoother and cleaner vapor production.  
What's in the box:  
Your Choice of (1 Piece or 5 Piece) 

Yocan

 Evolve Ceramic Donut Coils

 
Yocan Evolve Ceramic Donut Coils Tips & Tricks
Get the best deal on Yocan Evolve Ceramic Donut Coils for sale online, visit VapeActive Coupons Page and get the best vaporizers for the best price. Check out our online vape discounts and deals, and because we're the best in the industry, we'll even match the sale price of any authorized reseller you can find.
QUESTIONS & ANSWERS
Have a Question?
Be the first to ask a question about this.
Ask a Question
They seem great and they came quickly, but I ordered the wrong ones. Need evolve plus
Great service and great product