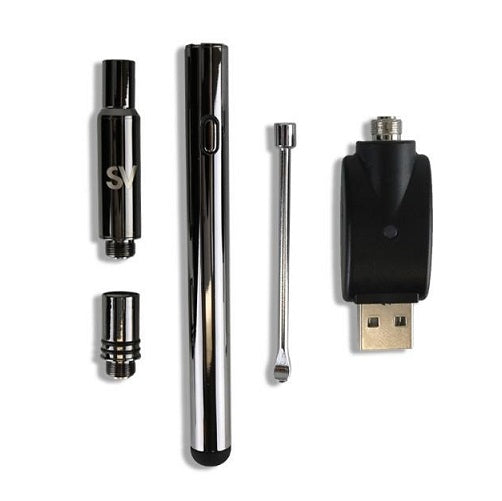 Frequently Bought Together
This item:

Source 10Cig Pro Vaporizer

About the Source 10Cig Pro Dab Pen The Source 10CIG Pro Vaporizer i...

$24.95
About the Source 10Cig Pro Dab Pen
The Source 10CIG Pro Vaporizer is the sleekest and most compact dab pen a vape user could ever find. It is very easy to use and is no way complicated to operate. With all these great features that you can enjoy with the 10CIG Pro Vaporizer from Source Vapes, you won't believe how much you can save as the wax vaporizer is very affordable and a lot cheaper with just a fraction of the price compared to the same wax pens in the vape industry similar of its type. This extensive pen vape that Source Vapes is offering is one of the finest pen and also is on the top of the line vaporizer that is best for on the go busy people but and most importantly, also to the newbies who are just venturing and is new to vaping that are looking for the best option with the value of their money. Based on a lot of reviews, if you want compact and quick vaping on-the-fly, using this pen vaporizer is better than the usual wax vaporizer, dry herb vaporizer and e-juice vaporizer in the market. This should always be on your list to try, absolutely one of the best dab pens in the market.
Just as big as your palm
As popular as all of us knows, Source vapes always creates what the people or the users need and what they would clearly like. The most attractive feature that a portable vaporizer user would primarily look for is the feature of outstanding portability. With this dab pen, it can get you to enjoy your dabbing and vaping session even on-the-go as you can just conceal it discreetly within the palm of your hand. For busy and active people that needs to have a sit down vaping session just as soon as it would be possible, this is the best pen vaporizer they could have. With the capability of bringing the Source 10CIG Pro Vaporizer in any place you go, you can just maneuver and do a casual session even when you are on a quiet walk at the park, seating on a back seat relaxed, hiking on a mountain or just lying on the bed with your lazy day mornings. Whatever and wherever your mood might take you, 10CIG Pro Vaporizer from the Source Selection got your back.
Stunning Abilities
If you are one of the users who are fond of getting all possible features in just one awesome portable pen vape, then the Source 10CIG Pro Vaporizer is the wax vaporizer that is just for you. To Enumerate each amazing feature, starting off with it easy to use feature, it is wonderfully equipped with its one button technology that you can just use in one click and within 5 seconds, your vaporizer is already heated up and ready to go. No other complicated buttons to make it work, just fill, click and inhale. It's that simple. Its rapid heating power will also make sure that within a few seconds, your favorite wax substance is already vaporized. It also uses enough air and heat discharge, avoiding the filling to be burned. Working together with the high grade temperature control, it also has two atomizer that you can interchange depending on the kind of atomizer your wax needs. It has a Black Ceramic Single Coil Atomizer and Quartz Single Coil Atomizer that can cater any wax filler you are in the mood of. The quartz single coil atomizer delivers a thin and more flavorful dabs with no combustion giving it less smoke. The black ceramic coil atomizer is for low temperature hits. Wax is being absorbed into the black ceramic, which heats them slowly for full-flavored hits.
WHAT'S IN THE BOX:
1 x Source 10Cig Pro
1 x Quartz Single Coil Atomizer
1 x Black Ceramic Single Coil Atomizer
1 x USB Charging Attachment
Source 10Cig Pro Vaporizer Tips & Tricks
Get the best deal on Source 10Cig Pro Vaporizer for sale online, visit VapeActive Coupons Page and get the best vaporizers for the best price. Check out our online vape discounts and deals, and because we're the best in the industry, we'll even match the sale price of any authorized reseller you can find.
QUESTIONS & ANSWERS
Have a Question?
Be the first to ask a question about this.
Ask a Question
Source 10Cig Pro Vaporizer
Awesome find
Super easy to use, and a lot of great features! Score!
Sick
The sickest and the sleekest everyone must have it!