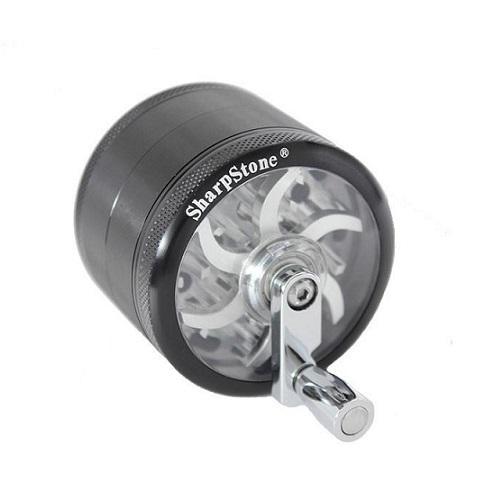 About the SharpStone Grinder Hand Crank - 4 Piece - Clear Top (2.5")
The Sharpstone grinders are made of heavy-duty aircraft billet aluminum design with stainless steel micro mesh screens that allow only pollen to fall through. This dry herb grinder is created with absolute perfection due to its have razor sharp diamond cut teeth that are strong and durable, you can efficiently grind your materials of choice as you rotate the hand crank. The shape prevents chunks of herbs getting stuck in the grinding. The heavy-duty hand crank mechanism makes it stand out from its competitors. Portable in size but completely durable. A stunning little grinder that is the height of simplicity and class.
It doesn't really matter if you use a pipe, joint, bong or vaporizer. Every connoisseur needs a good quality grinder to get the most out of their herb and this Sharpstone Clear Top Hand Crank 4 Piece is the best grinder to provide all the features that you need. It is very much affordable and you'll never have trouble busting up a dry herb grinder full of your materials in this work-horse.
What's in the box:
1 x Sharpstone Clear Top Hand Crank - 4 Piece
1 x Protective Pouch
1 x Pollen Scraper
SharpStone Grinder Hand Crank - 4 Piece - Clear Top (2.5") Tips & Tricks
Get the best deal on SharpStone Grinder Hand Crank - 4 Piece - Clear Top (2.5") for sale online, visit VapeActive Coupons Page and get the best vaporizers for the best price. Check out our online vape discounts and deals, and because we're the best in the industry, we'll even match the sale price of any authorized reseller you can find.
QUESTIONS & ANSWERS
Have a Question?
Be the first to ask a question about this.
Ask a Question