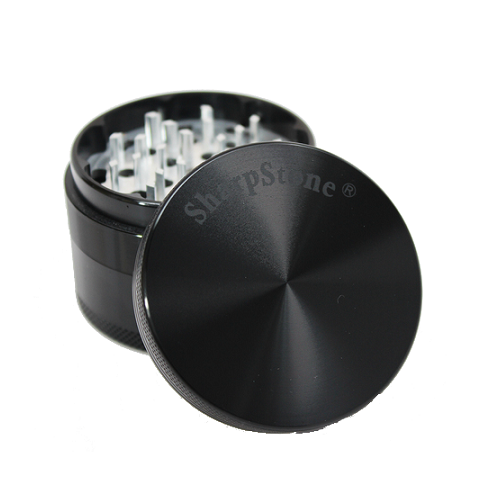 About the Sharpstone Hard Top - 4 Piece
The Sharpstone Hard Top 4 Piece comes with 2 different sizes and is well engineered and perfectly made from Aircraft Grade Aluminum Rod using the innovative CNC machining technology that ensures a high and premium quality Grinder in the market. The Anodized Aluminum that it is made of makes it Scratch Resistant so that it has a smooth finish and that the wear and smudge marks are the least of your worries. Razor sharp Diamond Cutting Blades of the Sharpstone Hard Top 4 Piece Grinder consistently provides a maximum efficiency when grinding your favorite dry herbs and flowers and letting it be extracted with the most out of its aroma and flavor. There is no doubt that the Sharpstone Hard Top 4 piece is what all Herb connoisseurs should have.
Even though the Sharpstone Hard Top 4 piece Grinder seems to be bigger and has more count than others, it actually performs really well as it grinds your dry herbs and flowers finely just as same as the other grinders can. With perfection, it lets you enjoy a finely ground herbs with no worries as it is very easy to use and operate. With a quick twist and turn, you can already get a ground herbs that is ready to use.
Sharpstone Hard Top 4 Piece comes in the following sizes:
Medium - 2.2 inches in diameter
Large - 2.5 inches in diameter
What's in the box:
1 x Sharpstone Hard Top 4 Piece
1 x Protective Pouch
1 x Pollen Scraper
SharpStone Grinder - 4 Piece - Hard Top Tips & Tricks
Get the best deal on SharpStone Grinder - 4 Piece - Hard Top for sale online, visit VapeActive Coupons Page and get the best vaporizers for the best price. Check out our online vape discounts and deals, and because we're the best in the industry, we'll even match the sale price of any authorized reseller you can find.
QUESTIONS & ANSWERS
Have a Question?
Be the first to ask a question about this.
Ask a Question