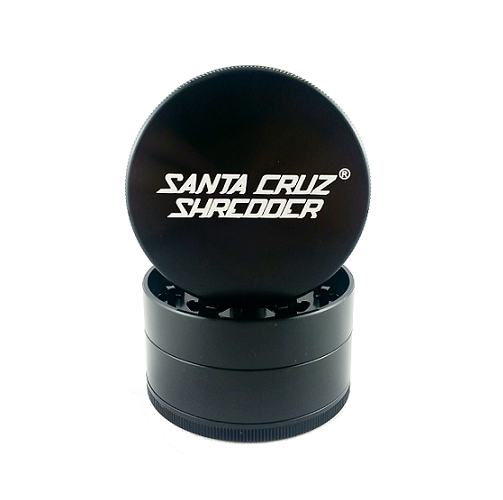 Please visit https://www.vapeactive.com/pages/faqs for frequently asked questions on Grinders.
Santa Cruz Shredder - 4 Piece
A durable and very efficient dry herb grinder that has an innovative tooth design that fluffs your dry herbs perfectly with an improved hand and finger grip to rotate the lid easier. No dry herbs to waste since it comes with a neodymium diametrically magnetized cylindrical rare earth magnets with a thread design, it'll never get stuck closed. It has a small, medium and large sizes and a black, silver, green, red, pink and blue colors that matches your lifestyle. This dry herb grinder is the most popular choice for good reason since it features a very high count micron screen which is a small opening that only allows the purest pollen to et through. You can grind and carry a good amount of your aromatic blend due to its deeper storage.
To make sure that your grinder will last longer, The Santa Cruz Shredder designed this device with a proprietary thread design that helps reduce cross threading. You'll never get shreds of aluminum in your grind and will never get stuck closed. This dry herb grinder is a medical grade grinder, cleaned using the same process from the medical industry, that ensures all contaminants from the manufacturing process are removed.
4 Piece Santa Cruz Shredder comes in the following sizes:
Small - 70 mm in Diameter
Medium - 53 mm in Diameter
Large - 40 mm in Diameter
Jumbo (2-Piece Only) - 101 mm in Diameter
What's in the box:
1 x 4 Piece Santa Cruz Shredder
Santa Cruz Shredder - 4 Piece Tips & Tricks
Get the best deal on Santa Cruz Shredder - 4 Piece for sale online, visit VapeActive Coupons Page and get the best vaporizers for the best price. Check out our online vape discounts and deals, and because we're the best in the industry, we'll even match the sale price of any authorized reseller you can find.
QUESTIONS & ANSWERS
Have a Question?
Be the first to ask a question about this.
Ask a Question
Amazing
Was skeptical if this grinder would actually be worth the hype, and was pleasantly surprised. Grinds my bud up perfectly and keeps it fluffy, it's an awesome investment.