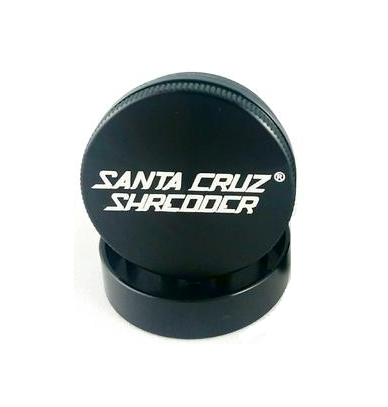 Santa Cruz Shredder - 2 Piece
The 2 Piece Santa Cruz Shredder Grinder are arranged to cut both ways which makes your dry herbs fluffed to perfection since it features a unique teeth design. A device that gets the job done with less money involved compared to the 3 or 4 piece grinders. It is portable and easy to throw in your pocket for session anytime, anywhere. This 2 piece shredder is designed to grind your materials to perfect fluffy consistency which is great for convection vaporizers since it exposes a lot of surface area to the heat.
This grinder is made in USA which is why it's a guaranteed stable, durable and efficient. It was designed to have an improved grip for better structure and absolute grinding experience. A rare earth magnet lid mechanism that keeps your materials in place and also is constructed out of a aerospace grade aluminum and is manufactured using a CNC technology. The grinder is anodized which makes it resistant to scratched, thread and teeth damage.
Santa Cruz Shredder dry herb grinder is designed with ease of use in mind, durability and efficiency. Featuring a teeth that grinds in both directions so you will definitely spend less time grinding to get the fluffed to perfection from your materials. Because of these thoughtful implementations, the 2 piece Santa Cruz Shredders quality is superb and will provide pure satisfaction.
2 Piece Santa Cruz Shredder comes in the following sizes:
Large 4 pc = 2.75 inches (70mm) in diameter
Medium 4 pc = 2.1 inches (53mm) in diameter
Small 4 pc = 1.6 inches (40mm) in diameter
What's in the box:
1 x Santa Cruz Shredder 2 Piece Grinders
Santa Cruz Shredder - 2 Piece Tips & Tricks
Get the best deal on Santa Cruz Shredder - 2 Piece for sale online, visit VapeActive Coupons Page and get the best vaporizers for the best price. Check out our online vape discounts and deals, and because we're the best in the industry, we'll even match the sale price of any authorized reseller you can find.
QUESTIONS & ANSWERS
Have a Question?
Be the first to ask a question about this.
Ask a Question
Tremendous quality
Large size too damn big for my hands but a medium piece fits in my hand perfectly but a large piece functions better so it's a small trade off