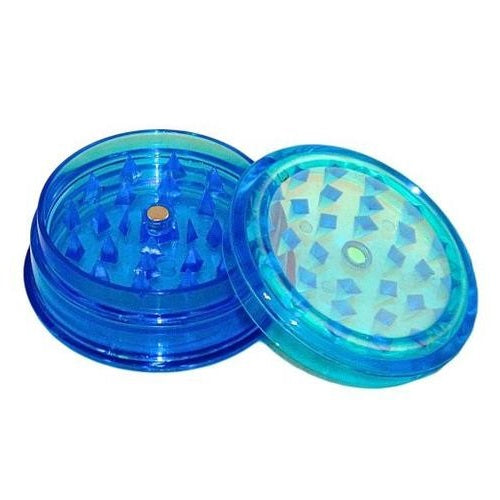 About the Acrylic Grinder
Acrylic grinders have been in the industry for as long as we can remember. They are cheaper and more affordable alternatives to using grinders made from aluminum and wood. Many consumers have favored the use of an acrylic grinder for many and various reasons.
This acrylic grinder is made with pyramid-shaped teeth that do a decent job of grinding your herbs and milling them to your desired consistency. A coarse to a semi-fine grind can easily be achieved with this acrylic grinder making it perfect for those using vaporizers or for those packing their bowls or even rolling them into spliffs. This acrylic grinder is made with only two pieces making it easy to use. Operation is simple and straightforward and grinding your herbs with this acrylic grinder requires very little to no learning curve at all. Furthermore, this acrylic grinder was made with the on-the-go consumer in mind. With only two parts, it's slim and sleek making it easy to stash and keep in your pocket, bag, or any compartment. You can take with you almost anywhere you go and it won't take up too much space because of its small and compact build.
Because this acrylic grinder is made from high-quality plastic, it bears only little weight and yet makes for a durable option. For its price, you're basically getting the best acrylic grinder your money can buy. So, if you're looking for a compact and portable dry herb grinder, make sure to check out this acrylic grinder.
Other Features
Apart from having a lightweight, pyramid-shaped teeth, and a compact build, this acrylic grinder has a few more tricks up its sleeves.
This acrylic grinder is made with a translucent body making it easy to tell how fine of how coarse the consistency of the herbs is. Instead of having to pop open your dry herb grinder every time you're checking the consistency of your material, all you need to do is to check the acrylic grinder from the outside and you can tell how fine or how coarse the herbs are. You can adjust your grinding speed and torque depending on the consistency you want to achieve.
This acrylic grinder is also outfitted with strong and durable magnets that keep the two-piece designed locked together. Whether you're keeping this grinder in your bag or in your pocket, you'll never have to worry about your ground materials spilling out of the grinder. The magnets not only lock the pieces together but also lock in the aroma and the freshness of the newly ground herbs so you'll enjoy freshly ground botanicals on-the-go.
Having a two-piece design, the pollen is also allowed to mix with the ground materials for a truly potent vaping experience. You get to enjoy the rich flavonoids and the terpenes native to your select botanical dry herb strains. Enjoy a flavorful vaping experience whenever you use an acrylic grinder. Get yours now never sacrifice quality for affordability with this acrylic grinder.
What's in the box:
Acrylic Grinder Tips & Tricks
Get the best deal on Acrylic Grinder for sale online, visit VapeActive Coupons Page and get the best vaporizers for the best price. Check out our online vape discounts and deals, and because we're the best in the industry, we'll even match the sale price of any authorized reseller you can find.
QUESTIONS & ANSWERS
Have a Question?
Be the first to ask a question about this.
Ask a Question