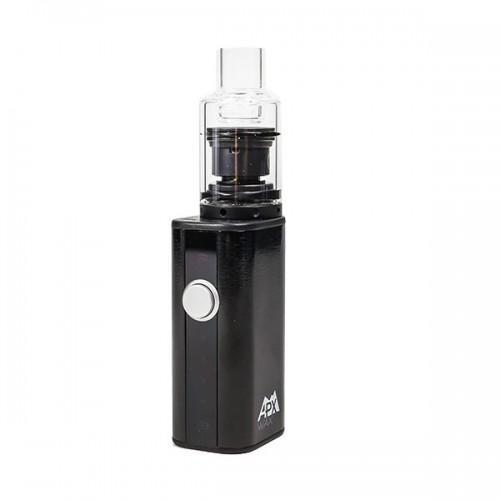 Frequently Bought Together
This item:

Pulsar APX Wax Vaporizer

About The Pulsar APX Wax Vaporizer The APX Portable Wax Vaporizer i...

$69.99
About The Pulsar APX Wax Vaporizer
The APX Portable Wax Vaporizer is the newest addition to the APX family from top notch manufacturer, Pulsar. This brand spanking new portable wax vaporizer perfectly combines the affordability and aesthetics of the original APX vaporizer, it now features an advanced Triple Quartz Rod Atomizer for that extremely vigorous and visible cloud vapor quality.
Very similar to the dry herb version, the APX, the APX W or APX Wax Vaporizer is a more economical, cost effective way of vaping your select waxy oil concentrates without trading quality and supreme functionality.
The APX Wax Vaporizer from Pulsar features an ultra compact, extremely lightweight design which suits most waxy oil concentrate consumers who like to enjoy quick, fat clouds and flavorful hits on the go. This portable wax vaporizer from Pulsar can easily be stashed away in your side pocket, your pouch, bag or purse. It's unique ergonomic design complemented by it's incredible build quality makes it one of the most sought after wax vaporizers on the market today.
You can never really go wrong when using the APX W Vaporizer from Pulsar, a most practical way of enjoying waxy oil concentrates for the cost conscious dabbers.
Sturdy Compact Design
Standing just 3.5 inches tall, the APX W is one of the most compact vaporizers in its class. Even smaller than its dry herb vaporizer counterpart, the APX, the APX W vaporizer from Pulsar offers the most discreet vaping experience, if you like to squeeze in a few short hits during quick breaks or would like to relish casual vaping sessions during brief walks to the park, wherever, whenever, the APX Wax portable vaporizer is the ultimate vaporizer for you.
Apart from having a compact design, the APX W from Pulsar is incredibly sturdy. It feels sturdy to your hands, Pulsar uses only high-quality materials to ensure the device's longevity and superb overall quality. Its high-quality material construct even makes the unit feel durable enough to withstand fair amount of carrying and use activity.
It features an impressive manufacturing quality for such a small unit, with no loose buttons or any moving or rattling parts, the APX W wax vaporizer feels solid and sturdy. The buttons are responsive and are easy to the touch, the LED lights are bright and are easy to see, the glass perfectly goes with the mouthpiece which reflects its superb engineering, the parts are obviously free from defects and fits snugly on the unit.
No wonder the APX W wax vaporizer from Pulsar remains the foremost option of the daily dabbers.
Vapor Quality
The APX W from Pulsar is outfitted with a powerful 1100mAh li-on battery, a pure quartz chamber and an advanced triple coil atomizer. All these components combined allows the production of denser vapors and significantly larger clouds, the APX W was designed and created with the cloud chasing enthusiasts in mind.
It's engineered to deliver quick and potent hits, the quartz coils help maintain and preserve the flavors of your waxy oil concentrates, the fast heating properties and higher temperature produced by the quartz rods through its pure quartz chamber. The APX W portable wax vaporizers offer the perfect balance of flavor and robust clouds, it generates vapors so thick its density can be compared to that of real smoke.
The APX W redefines the wax vape marketplace, bringing top tier quality portable vaporizers to the general, casual waxy oil concentrate consumers.
What's in the box:
1 x Pulsar APX W Vaporizer
1 x Quartz Rod Triple Coil Atomizer
1 x Quartz Rod Chamber
1 x 1100mAh Li-on Battery
1 x USB Charger
1 x Instruction Manual
Pulsar APX Wax Vaporizer Tips & Tricks
How to Use the Pulsar APX Wax Vaporizer:
Designed to be both portable and powerful, the Pulsar APX Wax Vaporizer is a small and compact wax vaporizer made by esteemed vaporizer manufacturer Pulsar. The Pulsar APX Wax Vaporizer is outfitted with an 1100mAh battery providing you with long-lasting sessions in between every charge. Palm-sized but powerful, the Pulsar APX Wax Vaporizer has its edge over other wax vaporizers thanks to its triple quartz coil atomizers that delivers denser vapor production but still retains decent flavor. The vapors you get with the Pulsar APX Wax Vaporizer are potent as they are flavorful making it the ideal device for both connoisseurs and daily dabbers. Down its core, the Pulsar APX Wax Vaporizer uses a pure quartz heating chamber and paired with either a steel or glass mouthpiece, provides you with smooth and clean vapors fit for medical consumers and recreational users alike. The Pulsar APX Wax Vaporizer is also equipped with a 5-minute automatic shut-off feature allowing you to enjoy portable vaporization with ease and peace of mind. Here are a few tips to help you get started with your Pulsar APX Wax Vaporizer.
Recharging your Batteries:
The Pulsar APX Wax Vaporizer uses a rechargeable battery that can be recharged using an included USB charging cable.
Here's what you need to do to charge your batteries.
Connect the USB charging cable to the battery.

Connect the other end to your desktop.
Alternatively, you can connect the charging cable to a laptop.
You can also connect the charging cable to a wall adapter so you can recharge your batteries through a wall outlet.
The Pulsar APX Wax Vaporizer batteries recharge in as fast as 1.5 hours.
You can check if the battery is fully charged by looking at the LED light indicators.
Loading with Wax Concentrates:
The Pulsar APX Wax Vaporizer uses wax atomizers that are designed like your traditional wax atomizer.
You'll find it easy to reload your atomizer with your select extracts.
Here's how it's done.
Open the atomizer by lifting the mouthpiece.

Scoop up a dab of your wax concentrates and place them directly on the coil of the atomizer.

Replace the mouthpiece.
You can pre-heat your atomizers before loading it with wax.
Simply press and hold the power button before loading your materials.
Usage and Operation:
The Pulsar APX Wax Vaporizer was designed to function like a traditional box mod to make usage simple and straightforward.
Here's how it's done.
Secure a fully charged battery before use.

Press the power button five times rapidly to turn the device on.

Press and hold the power button to activate the heating element. The power button will light up from red to green to signal that it has reached your desired temperature.

Press the power button five times quickly to turn the device off.
Lifting your hands off the power button when using it halts heating.
Controlling heat when vaping allows you to maximize your pulls since vapor builds inside the mouthpiece.
Get the best deal on Pulsar APX Wax Vaporizer for sale online, visit VapeActive Coupons Page and get the best vaporizers for the best price. Check out our online vape discounts and deals, and because we're the best in the industry, we'll even match the sale price of any authorized reseller you can find.
QUESTIONS & ANSWERS
Have a Question?
Be the first to ask a question about this.
Ask a Question
A grade
Such a relief for me! I use this when I'm in pain and it works everytime! So thankful!
Sweet!!
What a sweet vape! You wont be disappointed!
Superb hits
For perfect hits and long lasting batt choose this
Amazing!!
Amazing product from Pulsar