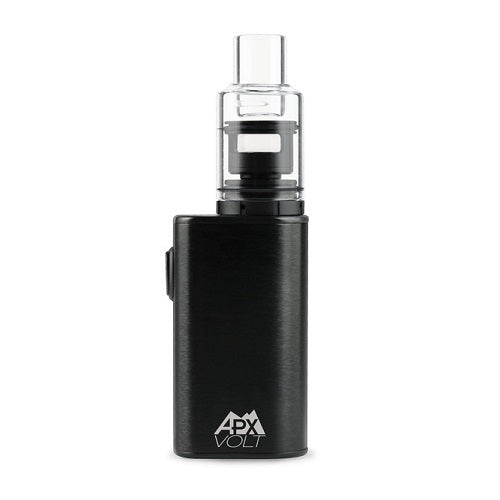 Frequently Bought Together
The Pulsar APX VOLT Vaporizer
The Pulsar APX VOLT portable wax vaporizer is built for the everyday wax consumer. It's outfitted with some of the very basic yet extremely functional features like a variable voltage setting, a 1100mAh battery, and a quartz coil-less atomizer. It's smaller than most portable vaporizers on the market making it really travel-friendly and easily concealable at times when being discreet is key.
The Pulsar APX VOLT portable wax vaporizer is perfect for those who want to vape on their feet, allowing them complete freedom while vaping on-the-go. You can take the VOLT with you almost anywhere you go and its variable voltage setting allows you to experience the full spectrum of your concentrates almost anywhere you are. What's best about the VOLT is that it's the perfect combination of portability and unparalleled functionality. It's sturdy boxy build ensures utmost durability and reliability. You no longer have to sacrifice mobility and performance for larger and more expensive vaporizers.
The VOLT vaporizer from Pulsar is the daily dabber's best friend.
Variable Voltage
Because not all concentrates are created equal, the Pulsar APX VOLT Vaporizers is outfitted with four fine-tuned temperature profiles. They range from 2.5 volts, 2.8 volts, 3.2 volts, and 3.7 volts respectively. The lowest voltage setting will let you experience a myriad of flavors from your select concentrates while the highest voltage setting will amplify the potency of your favorite thick oils and wax extracts.
Pulsar APX VOLT's variable voltage setting also allows you to adjust the output and the production of vapors depending on your situation. If you plan to go stealth vaping, the lowest voltage setting will let you exhale thin vapors while the highest temperature level yields thicker and denser clouds that can closely mimic the viscosity of real smoke.
Having different heat profiles will also allow you to get the most out of any concentrate you might want to vape on. Runny concentrates will normally require lower heat levels while concentrates with thicker consistencies might demand and call for higher temperature settings. You'd also experience the curative and psychoactive benefits of your select wax concentrates. The Pulsar APX VOLT gives you undeniable and reliable versatility.
Fast Heating
The Pulsar APX VOLT can easily vaporize your concentrates making it the perfect wax concentrate vaporizer for people who like to enjoy concentrates on the fly. Even if you're vaping on the streets you can enjoy the fast-acting benefits of your infused concentrate. In as fast as 5 seconds, the Pulsar APX VOLT can give you some of the most flavorful and most potent vapors in the business.
Premium Atomizer
The Pulsar APX VOLT uses high-quality quartz coil-less atomizers to ensure that you're getting pure and clean vapors. Quartz is inert and will not react to heat chemically, and will not create toxic by-products when you're vaping.
The Pulsar APX VOLT wax vaporizer is the ideal vaporizer especially for those who seek a healthier and convenient alternative to dabbing. The quartz cups are made to ensure no wax concentrate ever goes to waste, your wax concentrates are vaporized and are used to the very last drop. The cups are made to keep the wax at the bottom so there won't be any buildups that may occur to when you're using coiled atomizers. It's also relatively easy to clean, simple burn-offs will let you vaporize any remaining material on the atomizer.
Grab a VOLT and experience next level on-the-go vaping.
What's in the box:
1 x Pulsar APX VOLT Vaporizer
1 x Quartz Coil-Less Cup Atomizer
1 x Silicone Container
1 x USB Charger
1 x Dab Tool
Pulsar APX VOLT Vaporizer Tips & Tricks
How to Cycle Between the Temperature Settings on the Pulsar APX Volt Vaporizer:
The Pulsar APX Volt Vaporizer is a small and compact unit which makes for a travel-friendly device and a discreet vaporizer. While being so small and compact, the Pulsar APX Volt Vaporizer still packs enough features to provide its users with full customization options for a more tailor-fit experience. The Pulsar APX Volt Vaporizer has 4 preset voltage settings which allows one to experience and enjoy all the benefits their wax concentrates have to offer. To toggle between the 4 preset temperature profiles and get the most out of your sessions here's what to do:
Power the Pulsar APX Volt Vaporizer on by rapidly pressing or tapping the power button 5 times.
After the Pulsar APX Volt Vaporizer has been powered on, tap the power button twice to toggle through various voltage levels. Here are the corresponding voltage levels:

Voltage Setting 1: 2.5V
Voltage Setting 2: 2.8V
Voltage Setting 3: 3.2V
Voltage Setting 4: 3.7V

Once you've selected your preferred temperature profile let go of the button to allow the selected voltage level to take effect. The advantages of having a variable voltage battery is having the liberty to select the temperature the Pulsar APX Volt Vaporizer will run at depending on your needs. Remember, lower voltage settings facilitate low and slow heating of waxes which means the vapors are more flavorful and the effects are more subtle with vapors that are smoother compared to higher temperature levels. On the other hand, higher voltage settings will amplify and emphasize the potency of your concentrates. It will still hold a decent amount of flavor and the vapors will tend to be warm and harsh especially for beginners and newcomers.
How to Clean and Maintain the Pulsar APX Volt Vaporizer:
Like most devices, the Pulsar APX Volt Vaporizer has to be cleaned or maintained to keep it working at its peak. There are several steps you can take to ensure that the Pulsar APX Volt Vaporizer is always at its optimal condition. Here are some things you should consider especially when using and cleaning the Pulsar APX Volt Vaporizer.
Wax can buildup and cause resin to develop rom inside the atomizer or heating element.
Wax buildup can cause different kind of issues from subtle effects in taste to bacteria buildup.
Cleaning your device regularly keeps you away from these risks.
To clean your Pulsar APX Volt Vaporizer here's what you can do.
Power the device on by tapping on the power button 5 times quickly.
While powered on tap the button twice rapidly to toggle between temperature settings till you get to the highest temperature level.
Press and hold the power button to dry fire the Pulsar APX Volt Vaporizer.
This will cause the resin to melt and evaporate which also makes cleaning and maintenance easy. The Pulsar APX Volt Vaporizer allows you to easily burn off excess and leftover materials without having to get some serious cleaning done.
Get the best deal on Pulsar APX VOLT Vaporizer for sale online, visit VapeActive Coupons Page and get the best vaporizers for the best price. Check out our online vape discounts and deals, and because we're the best in the industry, we'll even match the sale price of any authorized reseller you can find.
QUESTIONS & ANSWERS
Have a Question?
Be the first to ask a question about this.
Ask a Question
Thanks
Thank you for the discount, I will order again! Great vape!
Love it
thank you for the fast shipping! This is awesome!