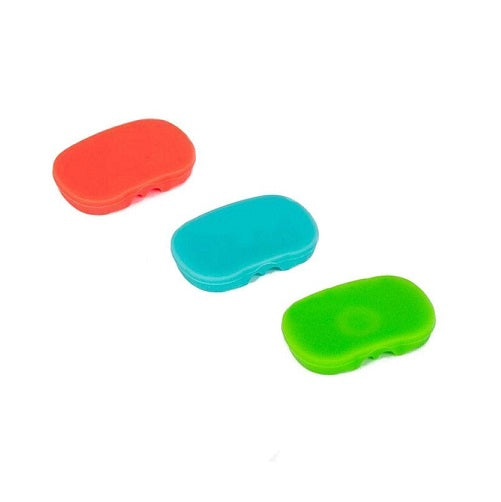 Frequently Bought Together
The PAX 3 / PAX 2 Mouthpiece Flat – 3 Pack Multi Color (OEM – PAX Labs)
The 3 Pack Multi Color Mouthpiece Set for your PAX 3 and PAX 2 vaporizers is a handy replacement piece for all PAX 3 and PAX 2 users. The colored mouthpiece set allows you to change the aura of your vaporizer allowing you to mix match your vape with your style. It comes in three striking colors; red, blue, and green and can even match other accessories made specifically for your PAX vaporizer.
Why Keep A Replacement Mouthpiece
Replacement mouthpieces are not only useful accessories but are also perfect tools for those who like to pass their vaporizers around during parties or even during group sessions. Your mouthpiece is the only part of your vaporizer you press close to your mouth, having different people hitting on your vaporizer means having different bodily fluids seep in and stay in your mouthpiece. Well, group sessions and parties can be fun but passing around germs isn't. Unless you want to use up all your alcohol or sanitary wipes in a single night, it's best to have a replacement mouthpiece at hand. Furthermore, some grime and grunge are hard to remove as they stay stuck to the mouthpiece's materials. Having a replacement mouthpiece allows you to keep your vaping sessions clean and fresh and lets you do away with the unwanted effects of pressing your lips against dirty mouthpieces.
Original Replacement Parts
Whether it's a simple mouthpiece, a coil or a heating element, and even the battery on your portable vaporizer, it's always best to use original replacement pieces as the specifications of third-party manufacturers may not always be exactly similar to that of your vaporizer. The PAX 3 / PAX 2 Mouthpiece Flat – 3 Pack Multi Color replacement pieces will fit on your PAX 2 or PAX with ease. These mouthpieces will feel and function as that of the original part that came with your unit. Do not risk using replacement pieces from untrusted manufacturers use only the original, use PAX 3 / PAX 2 Mouthpiece Flat – 3 Pack Multi Color.
What's in the box:
1 x 3 – Pack Colored Mouthpiece
PAX 3 / PAX 2 - Mouthpiece Flat - 3 Pack Multi Color (OEM - PAX Labs) Tips & Tricks
Get the best deal on PAX 3 / PAX 2 - Mouthpiece Flat - 3 Pack Multi Color (OEM - PAX Labs) for sale online, visit VapeActive Coupons Page and get the best vaporizers for the best price. Check out our online vape discounts and deals, and because we're the best in the industry, we'll even match the sale price of any authorized reseller you can find.
QUESTIONS & ANSWERS
Have a Question?
Be the first to ask a question about this.
Ask a Question