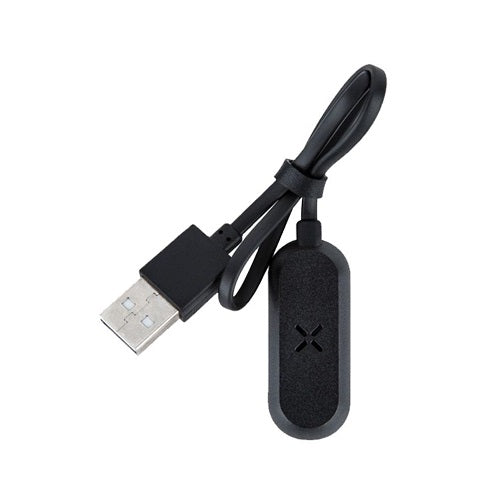 Frequently Bought Together
Please visit https://www.vapeactive.com/pages/faqs for frequently asked questions on PAX.
The PAX 3 / PAX 2 – Mini Charging Dock (OEM – PAX Labs)
The Mini Charging Dock from PAX is a new and convenient way of recharging your devices -- the perfect PAX parts for your charging needs. PAX has always been at the forefront of innovation and their products have always been a testament of their ingenuity. This charging dock is smaller and sports a shorter cable than the chargers that come with the actual devices. The Mini Charging Dock is a more portable option for PAX users who are always on-the-go, it's small and light enough to fit in your bag or even in your pocket. It does not carry excess bulk, allowing you to carry other important items in your travel pack instead of lugging an enormous charging dock. An ideal travel charger, the PAX mini charging dock will not take too much space from your hotel room table or if you like to mix business with pleasure, you can charge your PAX 2 or PAX 3 by connecting the PAX Mini Charging Dock on your laptop while working at your favorite coffee shop.
The Mini Charging Dock from PAX is the ideal charging equipment for the voyaging consumer. Get yourself a PAX Mini Charging Dock now and experience the convenience of having this PAX vape accessory with you anytime.
The Future of Charging
While other manufacturers are busy with improving the technology of their device's heating elements, PAX has been busy working on both the technology they employ on the actual vaping unit as well as in charging these units. The PAX 2 and the PAX 3 uses a magnetic charger that requires you only to place the PAX vaporizer atop the magnetic charging dock. Compared to the average vaporizer that uses USB ports in charging their units the PAX 2 and PAX 3 vaporizers will have better and longer charging lifespan.
Vaporizers that accept charging plugs into indented charging ports found on the actual unit will be in danger of having loose parts and connection and may also risk having dust, dirt, and similar debris enter and damage the charging port. Especially when used on-the-go, these vaporizers are oftentimes kept inside one's pocket where it will be susceptible to dust which may then cover the metal plates of the receiving end where the charger is to be plugged. It will be a pain to clean these charging ports since you can risk damaging the entire socket. Magnetic charging vaporizers, on the other hand, provide convenient charging. These vaporizers will not have loose charging ends since they rely on magnetic connections and are easy to clean since all you need to do is wipe the connections clean of any dust and dirt.
Fast and Convenient Charging
When it comes to convenient charging, the PAX 2 and PAX 3 are arguably one of the best vaporizers that fit the bill. You simply have to place your PAX vape on top of the charger and ensure that the magnetic couplings are securely connected. Having constant and uninterrupted power is also not a problem since you can wipe the magnetic links free from dirt allowing you to have better conductivity. This means that your PAX vaporizer will enjoy a constant flow of electricity giving it a stable charging time of 2 to 3 hours.
What's in the box:
1 x PAX 3 / PAX 2 – Mini Charging Dock
PAX 3 / PAX 2 - Mini Charging Dock (OEM - PAX Labs) Tips & Tricks
Get the best deal on PAX 3 / PAX 2 - Mini Charging Dock (OEM - PAX Labs) for sale online, visit VapeActive Coupons Page and get the best vaporizers for the best price. Check out our online vape discounts and deals, and because we're the best in the industry, we'll even match the sale price of any authorized reseller you can find.
QUESTIONS & ANSWERS
Have a Question?
Be the first to ask a question about this.
Ask a Question