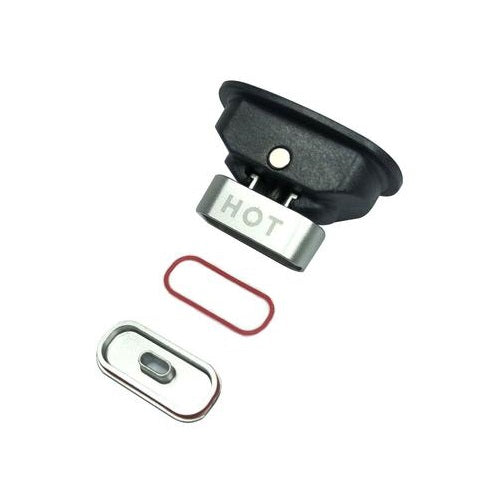 Frequently Bought Together
The PAX 3 Concentrate Insert (OEM – PAX Labs)
Turn your PAX 3 vaporizer into a powerful concentrate vape with the PAX 3 Concentrate Insert. Switching from herbs to concentrates are now made convenient and easy, you won't have to use separate vaporizers when using different materials. This PAX accessory immediately turns your PAX 3 vaporizer into a concentrate unit. The PAX 3 concentrate container is designed and crafted specifically for optimum concentrate vaporization. The canister is made from high-grade materials and is connected to the oven via magnetic links. This allows for faster reloading and easier removal and replacement of the concentrate inserts as it's streamlined with the PAX vaporizer's design. No threads, no screws.
Each PAX 3 Concentrate Inserts are made to fit both PAX 2 and PAX 3 specifications. Using the actual stipulation and detailing as they're made by PAX themselves. You'd feel its authenticity as the concentrate inserts won't easily fall from the ovens even if your shake and wriggle your PAX 3 vaporizer.
Upgrading Your Daily Sessions
The PAX 3 Concentrate Insert allows you to upgrade your sessions from using the actual plant matter to its more dense and concentrated by-product. Concentrates are coveted by medicating consumers and even by recreational users because of its potency and efficiency. You can enjoy the benefits of consuming wax concentrates and other extracts by using the PAX 3 Concentrate Insert.
Concentrates are several times more effective and potent when compared to dry herbs. A small amount of concentrates can go a long way especially for individuals with low tolerance, for people who rely on infused medication, using concentrates means that they only have to carry small portions of material for them to experience immediate relief from pain, treat swelling, and manage stress. Enjoy the curative and psychoactive power of wax concentrates with the unique and distinct heating capabilities the PAX vaporizers were known for.
How To Take Care Of Your PAX 3 Concentrate Insert
Like other PAX accessory, the PAX 3 concentrate insert can also be cleaned and maintained for longer lifespan and better performance. Here are a few tips and tricks.
First, make sure that you clean your PAX 3 Concentrate Insert regularly. When you use clean wax canisters you also preserve the purity of your next sessions as cleaning your insert after every session eliminates the risk of spoiling your materials. Next, make sure you keep your insert upright – especially when in use. Wax becomes runny when heated so liquefied concentrates will most likely penetrate the vaporizer and make its way into the circuitry. Lastly, make sure you use high heat for optimum results.
What's in the box:
1 x PAX 3 Concentrate Insert
Pax 3 Concentrate Insert (OEM - PAX Labs) Tips & Tricks
Get the best deal on Pax 3 Concentrate Insert (OEM - PAX Labs) for sale online, visit VapeActive Coupons Page and get the best vaporizers for the best price. Check out our online vape discounts and deals, and because we're the best in the industry, we'll even match the sale price of any authorized reseller you can find.
QUESTIONS & ANSWERS
Have a Question?
Be the first to ask a question about this.
Ask a Question