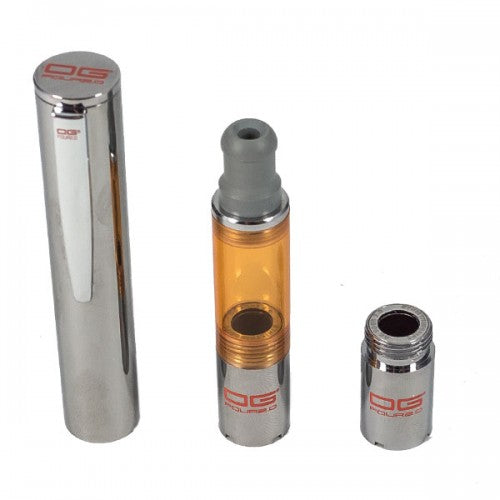 Frequently Bought Together
This item:

#ThisThingRips OG Four 2.0 Cartridge Kit

About the OG Four 2.0 Cartridge Kit The OG Four 2.0 Cartridge Kit i...

$33.99
About the OG Four 2.0 Cartridge Kit
The OG Four 2.0 Cartridge Kit is a Lava-Quartz Cartridge Kit that is fit with the OG Four 2.0 wax atomizer pen created by #ThisThingsRips. This innovative and efficient single lava-quartz coil atomizer has a low temp with an orange XL polycarbonate visual heating chamber and vape pen mouthpiece.
What's in the box:
2 x Single Coil Calibrated Low-Temp Lava-Quartz Atomizers
1 x XL Visual Polycarbonate Chamber
1 x Vape Mouthpiece
#ThisThingRips OG Four 2.0 Cartridge Kit Tips & Tricks
Get the best deal on #ThisThingRips OG Four 2.0 Cartridge Kit for sale online, visit VapeActive Coupons Page and get the best vaporizers for the best price. Check out our online vape discounts and deals, and because we're the best in the industry, we'll even match the sale price of any authorized reseller you can find.
QUESTIONS & ANSWERS
Have a Question?
Be the first to ask a question about this.
Ask a Question
Best Portable Device
50 year cannabis user.
Press my own for years.
Northern California resident.
Disabled Vet
Cannabis has enabled me to lead a semi normal life and always looking for a better device.
I totally found it in OG Four 2.0.
Only one suggestion, make the plastic chamber glass for clear vision of the " lava lamp " effect and easier cleaning.
Other than that " ROCK ON "
Grandpa Puffinpot
#ThisThingRips OG Four 2.0 Cartridge Kit
#ThisThingRips OG Four 2.0 Cartridge Kit
#ThisThingRips OG Four 2.0 Cartridge Kit
Lava quartz
the best atomizer to date