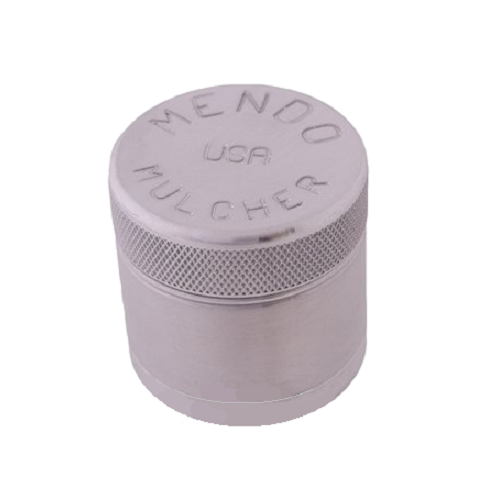 About the Mendo Mulcher Grinder - 4 Piece
The 4 Piece Menudo Mulcher is crafted in a durable aluminum materials with more teeth compared to other grinders in the market. A compact design unit that comes with four sizes, 1.75, 2, 2.25 and 3 inches and it has a 190 micron screen which is perfect for catching grinded dry herbs. This dry herb grinder is crafted by CNC perfectly from its durable aluminum and the effective teeth per inch compared to any other grinders out in the market. It is extremely compact and portable that you can carry it anywhere you want. Even though this grinder is small and portable, it can still tear through your most dense material.
It has a knurled edged that ensures a firm grip for clean and spins without slippage. The top section is filled with razor sharp teeth designed to evenly shred your dry herbs to perfection. The finest pollen falls through the 190 micron stainless steel mesh screen. The bottom chamber of this grinder collect the pollens for later use.
What's in the box:
1 x Mendo Mulcher - 4 Piece
Mendo Mulcher Grinder - 4 Piece Tips & Tricks
Get the best deal on Mendo Mulcher Grinder - 4 Piece for sale online, visit VapeActive Coupons Page and get the best vaporizers for the best price. Check out our online vape discounts and deals, and because we're the best in the industry, we'll even match the sale price of any authorized reseller you can find.
QUESTIONS & ANSWERS
Have a Question?
Be the first to ask a question about this.
Ask a Question
Mendo Mulcher Grinder - 4 Piece