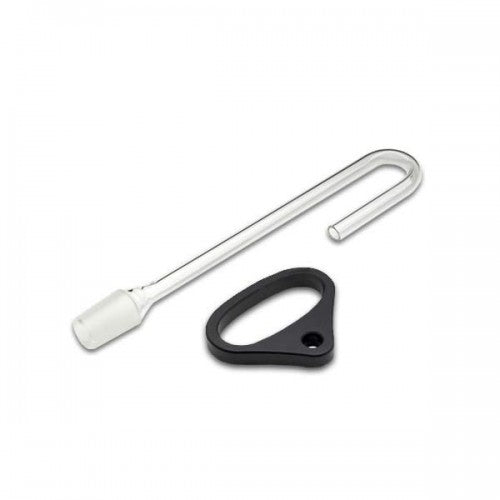 Frequently Bought Together
This item:

DaVinci Ascent U-Water Tool Adapter

The DaVinci Ascent U-Water Tool Adapter Designed specifically for t...

$34.95
The DaVinci Ascent U-Water Tool Adapter
Designed specifically for the DaVinci Ascent vaporizer, the U-Water Tool Adapter adds the element of water filtration to your daily vaping rituals giving you smooth and tasty hits that's easy on both the throat and the lungs.
It's one of the most recommended accessories for DaVinci fans.
Enjoy Moisture Conditioned Hits
The DaVinci Ascent has been known for its versatility especially for its capability to vaporize both herbs and oils. The DaVinci Ascent U-Water Tool Adapter adds more to what good stuff the DaVinci Ascent has to offer. It allows you to experience cooler and smoother hits which means you can go on longer vaping sessions without having to cough or experience itchiness on your throat.
The DaVinci Ascent U-Water Tool Adapter is a u-shaped glass piece that lets you experience hands-free vaping sessions for both dry herbs and extracts. The DaVinci Ascent U-Water Tool Adapter includes a plastic holder which keeps the DaVinci Ascent U-Water Tool Adapter standing upright when in use.
Rehydrated Vapors Are Best For Your Lungs
Have you ever considered the purpose of water filter attachments and water filter adapters? Have you ever wondered if they're really worth all that money? If they're worth investing for?
Water filters cool down and rehydrate the vapors that you draw from your vaporizer. Because the heating elements must reach a certain temperature level before the materials are vaporized and the active ingredients get extracted, the vapors oftentimes turn out warm. Furthermore, considering how close mouthpieces of portable vaporizers are to the heating element, it's no surprise that vapors from portable devices will turn out a little too toasty for your delicate taste – this is true especially amongst cheap vaporizers. It's also worth noting that prolonged exposure of the human lungs to extremely hot smoke or vapors may cause lung related issues in the future. To address it, you can use a water filter. Not only does it moisten the vapors but most importantly it does keep the temperature down to a tolerable level allowing your lungs to take the vapors in without having to get stressed or strained from the warm vapors from your vaporizer.
The DaVinci Ascent U-Water Tool Adapter allows you to connect 18mm water filters to the DaVinci Ascent vaporizer.
What's in the box:
1 x DaVinci Ascent U-Water Tool Adapter
DaVinci Ascent U-Water Tool Adapter Tips & Tricks
Get the best deal on DaVinci Ascent U-Water Tool Adapter for sale online, visit VapeActive Coupons Page and get the best vaporizers for the best price. Check out our online vape discounts and deals, and because we're the best in the industry, we'll even match the sale price of any authorized reseller you can find.
QUESTIONS & ANSWERS
Have a Question?
Be the first to ask a question about this.
Ask a Question