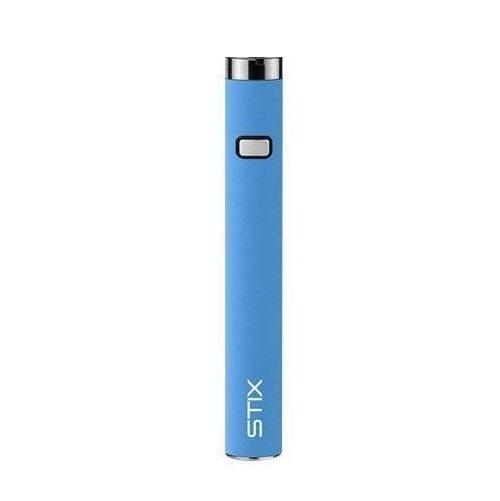 Frequently Bought Together
About The Yocan Stix Battery
Yocan has always been a brand that's synonymous with quality and affordability. What most people don't know is that Yocan is also the go-to brand of veteran consumers and experienced vape enthusiasts because Yocan has been consistently been manufacturing components in support for their devices like the Yocan Stix. It's one of the main reasons why many consumers stick with Yocan, there will always be a replacement part available for their vaporizers. This means you have that peace of mind that whatever happens, you will always have somewhere to run to and find parts for your vaporizer so you can keep it in good running condition. By using a brand new battery you can always ensure that you're getting the best result from the Yocan Stix Vaporizer. Never compromise your vaping sessions by using a battery in poor and dilapidated condition.  
The worst thing that can happen to your investment is to end up with a broken vaporizer gathering dust in the drawers. That is why it's only practical to use a vaporizer with existing support for products through available accessories and replacement pieces. Yocan ensures that one of their most iconic devices, the Yocan Stix Vaporizer, will always have available parts. The Yocan Stix Battery is an important part of the Yocan Stix Vaporizer, the device itself cannot function without a proper battery giving it power. That's why it is always important to always keep a Yocan Stix Battery in your vape EDC. This way you'll always have a backup battery whenever your Yocan Stix Battery dies out on you. Not that they are made with materials of poor quality and that they're soon to give, but because you simply can't afford to run into problems that will stop you from consuming your select e-liquid blends.  
Yocan
 Is A Brand You Can Trust
Yocan follows strict and stern manufacturing guidelines which make their products some of the best the market and the industry in general has to offer. You can always trust Yocan for products that will last you more than your money's worth. Being such a brand allowed Yocan to earn the trust of consumers from different classes Beginners and even advanced consumers know that if one sought true value when buying vaporizers, Yocan is the brand to beat. This is why Yocan ensures that they can follow through with the reputation they have built through the years and continue to manufacture devices as well as replacement parts that support their vaporizers.  
The Yocan Stix Battery is a testament to their continued support to the community and a proof that they continue to care for customers by providing hem replacement parts. You can simply replace the battery instead of buying a new unit altogether. The Yocan Stix Battery allows consumers in general to maintain their Yocan Stix Vaporizers in good working condition so they won't have to make unnecessary purchases after they've bought their initial unit. Enjoy unparalleled value in every purchase you make only from a brand you can trust and a brand that cares for you. Buy a Yocan Stix Battery replacement part now.  
WHAT'S IN THE BOX: 
Yocan Stix Battery Tips & Tricks
Get the best deal on Yocan Stix Battery for sale online, visit VapeActive Coupons Page and get the best vaporizers for the best price. Check out our online vape discounts and deals, and because we're the best in the industry, we'll even match the sale price of any authorized reseller you can find.
QUESTIONS & ANSWERS
Have a Question?
Be the first to ask a question about this.
Ask a Question