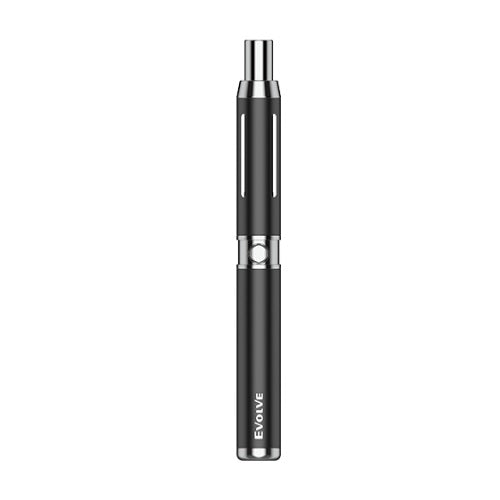 Frequently Bought Together
This item:

Yocan Evolve-C Vaporizer

About The Yocan Evolve-C Dab Pen Yocan made another brilliant addit...

$29.99
About The Yocan Evolve-C Dab Pen
Yocan made another brilliant addition to their vaporizer collection, the Evolve-C wax pen. It is well constructed that provides a no-leak design, discreet and compact which you can carry anywhere that can still perform accordingly. Something you can not expect from a simple and little wax pen. To top it off, it is specially crafted by the Yocan engineers to work smoothly with both wax and thick oil and features a 650mAh vape battery with two separate atomizers. One is a tank for oil and the other one is for a single quartz coil for wax. It is simply well built in a very affordable price, which is a good dab pen option for beginners who want to experiment both oils and waxes. Surprisingly efficient, producing very high-quality and flavorful vapor. There seems to be nothing wrong with the Yocan Evolve-C.
Wax and Oil Compatible
Most of the pen vaporizers in the market is compatible with only one type of material but the Evolve-C wax pen is different as it supports not just one, but two materials, wax and oil. The wax atomizer works with a quartz coil that can administer unadulterated flavor and aroma while the oil atomizer is a top filled unit that is very well constructed with no mess and leaks that of course provides nice full-body flavor. What a way to give the users and the Yocan fans the ability to enjoy on demand vapor in a very reasonable price. Let's face it, it's not every day that we come across an oil pen and wax vaporizer priced under the $50 mark that you'd actually like to vape, most of them are destined to be thrown in a trash bin, but not this wonderful pen vape.
Stealth, Durable and Portable
It's obvious that the design team from Yocan put a lot of effort and thinking to come up with a wonderful style into making this wax pen. The actual size of 131mm in length and 14mm in width makes this pen vape very much compact and portable. You can carry it anywhere, use it anywhere and no one will notice. It is simply above all other dab pens. Fits in the palm of your hand but is made to be durable and the mechanism is so powerful it can provide so much vapor and massive clouds that will make you use it non stop. Yocan is unabashedly going after the high-end of the market with this vaporizer. Go ahead and choose from these 5 different colors that will match your daily activities and lifestyle, red, black, silver, blue and orange. Stylish, handy, powerful and affordable, what more can you ask for in a dab pen?
Powerful 650 mAh Battery
The battery life is pretty strong with its 650 mAh Lithium-ion vape battery that can be charged via Micro-USB port. Just press the button and puff, that's how easy it is. Plenty of power and battery life for a wax pen. If you use the right temperature with this wax vaporizer,expect no irritation on the inhale which results in longer and definitely more effective drags.
What's in the box:
1 x Yocan Evolve-C Vaporizer

1 x Wax Quartz Atomizer

1 x Oil Atomizer

1 x 650 mAh Battery

1 x Micro-USB Cable

1 x Cleaning Dab Tool

1 x Cover Metal
Yocan Evolve-C Vaporizer Tips & Tricks
How to Use the

Yocan

Evolve-C Vaporizer:
The Yocan Evolve-C Vaporizer is a vaporizer made for the consumption of both wax and oils. The Yocan Evolve-C Vaporizer uses 510-threaded connections and offers a set of proprietary cartridges for your wax and oils. They can be connected to your battery using the 510-threads which makes for a solid and stable connection. The Yocan Evolve-C Vaporizer was designed to make use of the cartridges while maintaining a sturdy and solid build. Having said, the Yocan Evolve-C Vaporizer is equipped with an atomizer enclosure that protects cartridges and acts as the device's mouthpiece. It connects to the battery via threaded connections. The Yocan Evolve-C Vaporizer is outfitted with a standard battery that uses one power button to control and operate the whole unit. The Yocan Evolve-C Vaporizer comes with a 510-threaded USB charger that recharges the battery conveniently. You no longer have to be in constant search of a wall outlet when you run on an empty battery, you can recharge it using many other sources like your desktop computer or your laptop. Here are a few tips to help you get up to speed with the Yocan Evolve-C Vaporizer.
Recharging the Batteries:
Nothing is as important to a portable vaporizer as recharging used up batteries.
It's its main power source and it's imperative that you secure a fully charged battery.
Here's how it's done.
Connect the 510-threaded USB charger to the battery.

Stop when you feel resistance when tightening the threads.

Connect the USB tip to a desktop computer or to a laptop.
Alternatively, you can connect the charger to a wall adapter and recharge the Yocan Evolve-C Vaporizer using a wall outlet.
Charging via a wall outlet recharges the battery faster.
Loading the Cartridges:
The Yocan Evolve-C Vaporizer uses two varieties of cartridge atomizers.
Here's what you need to do to load the wax cartridge.
Unscrew the atomizer tube.

Using a dab tool, scoop a small amount of wax and place it on the atomizer coils.

Replace the atomizer tube.

Connect the cartridge to the battery using the magnetic ring.
Here's what you need to do to load the oil cartridge.
Unscrew the atomizer mouthpiece.

Using a syringe or a dropper, fill the cartridge with your select extracts.

Replace the atomizer mouthpiece.
Remember not to overfill the cartridge to prevent leakage.
Usage and Operation:
The Yocan Evolve-C Vaporizer operates like a standard dab pen.
Here's how you work it.
Secure a fully charged battery.

Press the power button on the battery five times rapidly to activate the unit.

Press and hold the power button to activate the coils.

Press the power button on the battery five more times quickly to deactivate the unit.
How to Check Oil Level:
The Yocan Evolve-C Vaporizer's atomizer housing has several clear windows where you can peek at the atomizer cartridge inside.
Simply look into these clear windows to check the amount of oil you have.
Get the best deal on Yocan Evolve-C Vaporizer for sale online, visit VapeActive Coupons Page and get the best vaporizers for the best price. Check out our online vape discounts and deals, and because we're the best in the industry, we'll even match the sale price of any authorized reseller you can find.
QUESTIONS & ANSWERS
Have a Question?
Be the first to ask a question about this.
Ask a Question
One satisfied vaper
From one vaper to another? - Buy this now! Worth it!
Not bad at all
Performance is ok, not bad for its price! Beginners must have.
Awesomely made product
Another Great purchase from this store! They sell quality and well priced units!
No sweat
Super easy to order from this website store and fast shipping too.
Good deal 420
I scored mine when it was on sale! Used the promo code of this store. Aside from the great buy, the vape itself is wonderful! I'm so happy I got it for less and it works perfectly. Thank you!!! More Promos please :)