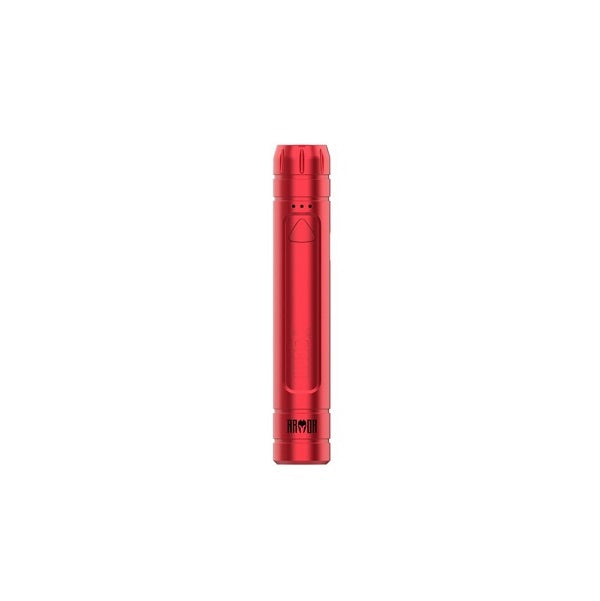 Frequently Bought Together
This item:

Yocan Armor Battery

About the Yocan Armor Battery The Yocan Armor Battery is a replacem...

$19.99

Yocan Armor Coils

About the Yocan Armor Coils The Yocan Armor Coils is an official ...

$24.99
About the Yocan Armor Battery
The Yocan Armor Battery is a replacement battery for Yocan Armor dab pen. The Yocan Armor Battery boasts a 510-threaded connection that serves as a solid base for your 510-threaded carts. Although the Yocan Armor Battery was designed for use with 510-threaded wax concentrate atomizers, its features were perfect for use with 510-threaded attachments.
Aside from the 510-threaded connections, the Yocan Armor Battery is outfitted with features that would benefit even cartridge consumers. The Yocan Armor Battery has a 10-second preheat mode where it can melt hardened oils on cartridges. This is useful not only for consumers who live in cold places but also for people who have hoarded 510-threaded carts in their arsenal. Because some oils tend to harden over time, having the means to apply heat to the cartridge to melt the oils make your experience more convenient. Especially in the case of really thick oils, the Yocan Armor Battery can use its 10-second preheat mode to deliver just the right amount of heat to loosen up the wax without activating any of its cannabinoids. This also promotes better airflow so you can easily and comfortably draw vapor from your cartridges regardless of the situation.
The Yocan Armor Battery offers a lot of benefits not only for consumers who use wax concentrates but also for those who favor thick oils. Make sure to grab one now only here at VapeActive!
Preset Temperature Settings
The Yocan Armor Battery is also equipped with Yocan's formula of preset temperature profiles. What it does is that it allows you to personalize your sessions when you use the Yocan Armor Battery. While single heat setting batteries offer a stable and uniform experience, using preset settings allow you to enjoy a variety of results with just a few steps. This makes the Yocan Armor Battery an ideal device to carry around with you when you use your refillable and pre-filled carts when you're out and about.
Instead of having to spend time setting the temperature level and poring over your battery for minutes, the Yocan Armor Battery allows you to easily change and toggle through the settings fairly quickly. You can even change the temperature level even when you have the battery hidden in your bag or in your hands. All it takes is just three quick clicks and you can change the setting. The temperature level is as follows; low at 2.5 volts, medium at 3.0 volts, and high at 3.5 volts. The temperature levels are calibrated for low vapor production and are perfect for use with various 510-threaded carts.
Each temperature setting is represented by specific light combinations. Low voltage is shown as one light, medium by two, and high with a full bar of lights. This allows you to easily check the temperature level and tell the running setting at a glance. The Yocan Armor Battery is the ideal on-the-go battery not only for those who like wax concentrates but also those who medicate with thick oils on-the-go.
What's in the box:
Yocan Armor Battery Tips & Tricks
Get the best deal on Yocan Armor Battery for sale online, visit VapeActive Coupons Page and get the best vaporizers for the best price. Check out our online vape discounts and deals, and because we're the best in the industry, we'll even match the sale price of any authorized reseller you can find.
QUESTIONS & ANSWERS
Have a Question?
Be the first to ask a question about this.
Ask a Question