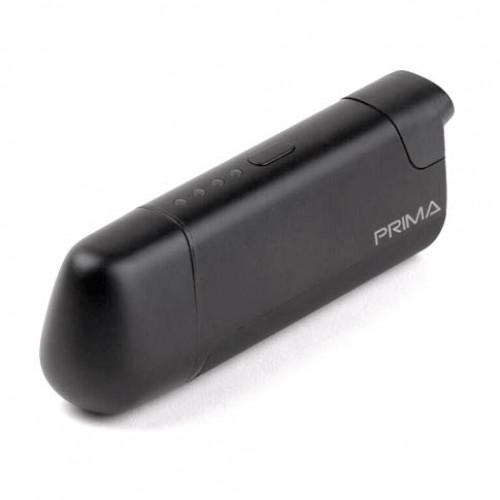 About the Vapir Prima Vaporizer
The Vapir Prima Vaporizer is a state of the art and top of the line vaporizer that came from one of the well-known creators in the vape industry. It is a multi-function portable vaporizer pen that caters not only one but two of your favorite fillers. May it be a waxy oil and wax concentrates or those of the finely ground herbs, Prima can extract the most flavor and aroma for either of the two. It comes with a fast heat time of as quick as 60 seconds which works best for people on the go that does not have much time to waste on waiting patiently for their vaporizers to set. The Prima Vaporizer from Vapir is built with a brushed aluminum body that offers fun colors such as metallic silver, red, blue and matte black. Since temperature also works hand in hand with your vaporizer filling, Vapir thought of offering the ability of you choosing the best heat temperature that will make the vaporization process of your wax or your dry herbs as finely and perfect as possible eliminating any combustion or any burnt taste that may arise if you have more than enough heat that your load requires. It has its chamber, mouthpiece and vapor path easily removable for an easier clean up and maintenance for you Vapir Prima Vaporizer. With a one button technology, you can definitely seamlessly toggle through the different heat selection that you can pick for a more intensified vape experience.3
Portability
The Vapir Prima Vaporizer may not be as slim as other pen vapes in the market but it surely is easy to be transported anywhere you want to bring it. As Vapir answered your wishes, a Prima bubbler is now portable as you can do your vaping session or your dabbing session even when you are outside of your home and in a public and crowded place. May you want it to be your concert buddy, travel buddy or just accompany you at home alone, The Vapir Prima works best in everywhere you go.
Premium Heat Control
With its 4-preset temperature, it runs from 360 degrees, 375 degrees, 390 degrees and up to a whopping 400 degrees Fahrenheit, you can choose the best heat option that would let you have the most out of your filling extracted depending on the heat and air discharge that your wax and herbs are requiring. It is best to use a high temperature for your waxes most especially if it is the kind of concentrate that is quite thick and the lower temperature works best for your herbs.
Removable Long-lasting battery
The Vapir Prima Vaporizer offers you an awesome 3200mAh removable Lithium-ion Battery that lasts long for your deep feel on vaping. You can have it with a fully charged battery usable for a whole 4 hours and just charging it for a quick hour. You never would need to worry about and disruption while using your portable pen vaporizer as it would last long for you to use and enjoy.
WHAT'S IN THE BOX:
1 x Vapir Prima Vaporizer

2 x Wax Pads

2 x Screens

1 x Silicone Cap Sleeve

1 x Filling Scoop

1 x Plug Brush

1 x Power Supply

1 x Cleaning Tool

1 x Charging Base

1 x Charging Cord
Vapir Prima Vaporizer Tips & Tricks
How to Use the

Vapir

Prima Vaporizer:
The Vapir Prima Vaporizer is a solid option for anyone looking for a small and compact wax and dry herb vaporizer. The Vapir Prima Vaporizer is outfitted with four calibrated temperature profiles which ensure better vapor personalization so you can alter the effects and the results you get from your select dry herb strains. The Vapir Prima Vaporizer also uses a removable stainless-steel vapor channel which not only preserves the flavor of your vapors but also increases the Vapir Prima Vaporizer's ability to keep the vapors smooth and clean. The Vapir Prima Vaporizer is outfitted with a brushed aluminum exterior which keeps the Vapir Prima Vaporizer looking smooth and durable. Another feature of the Vapir Prima Vaporizer is its removable batteries that allow you to recharge the Vapir Prima Vaporizer using an external battery charger and allows you to bring extra batteries eliminating the need to constantly recharge your unit. The Vapir Prima Vaporizer heats up fast making it an ideal portable vaporizer for those who are always on-the-go. Here are a few tips to help you get started with your Vapir Prima Vaporizer.
Recharging your Batteries:
The Vapir Prima Vaporizer comes with an external battery charger that you need to use when charging the battery.
Here's how it's done.
Press your fingers on the etched arrow on the battery.

Gently press the battery and push it away from the vaporizer.

Take the external charger and connect it to a wall outlet.

Connect the battery to the charger.
Wait for the light on the charger to change from red to green.
Usage and Operation:
The Vapir Prima Vaporizer was designed and engineered to be a unique and distinct portable vaporizer.
Having said, the Vapir Prima Vaporizer needs to be operated in a different way.
Here's how it's done.
Secure a fully charged battery.

Press and hold the power button for three seconds to power the unit on.

The lights on the LED will begin to flash.

Wait until the lights turn from blinking orange to a solid green.

Press and hold the power button for three seconds to turn the unit off.
Changing the Temperature Settings:
The Vapir Prima Vaporizer is outfitted with four temperature settings.
Here's how you toggle through them.
Power the

Vapir

Prima Vaporizer on by pressing and holding the power button for three seconds.

While the LED lights are still blinking, press the power button once to toggle through the temperature settings.

Press the button until you have reached your select setting.

Release the button once you've made your selection.

Watch as the LED change from blinking orange to solid one LED at a time.
Loading the

Vapir

Prima Vaporizer:
Follow the steps below.
Remove the cap by pulling it from the unit.

Place ground material on the chamber. If you're using wax, make sure to use the pads and place only a small amount of extract.

Replace the cap.
Get the best deal on Vapir Prima Vaporizer for sale online, visit VapeActive Coupons Page and get the best vaporizers for the best price. Check out our online vape discounts and deals, and because we're the best in the industry, we'll even match the sale price of any authorized reseller you can find.
QUESTIONS & ANSWERS
Have a Question?
Be the first to ask a question about this.
Ask a Question
I cannot wait
I'm writing ahead I just ordered it but I know it will perform! I've read and watched a lot of legit reviews and I KNOW this is gonna be awesome!
Top of the line
A top notch vape from a well known creators in the vape industry. This statement says it all.
Buy it now!
Or regret it for the rest of your life.. I'm not kidding this is the best
it fits
it perfectly fits anywhere! So portable I can bring it everywhere I go. It trully is a state of the art!
I'm impressed
I was really impressed with its performance and design. It looks nice and it is very discreet and delivers quality vapor.