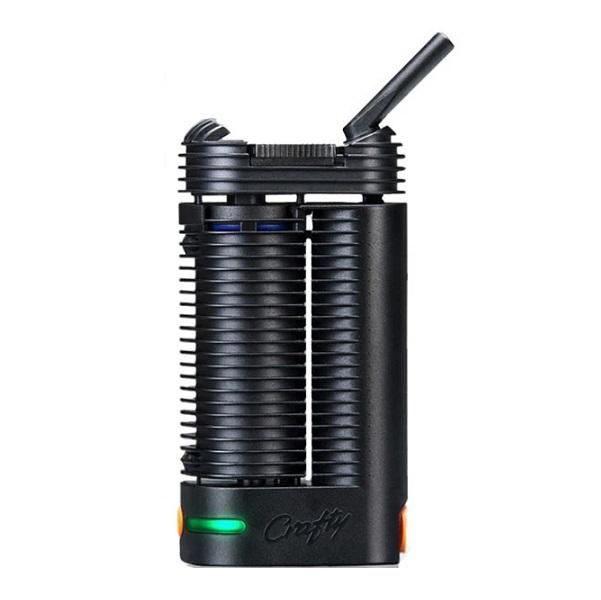 Frequently Bought Together
About The Storz & Bickel Crafty Vaporizer
Engineered to produce thick vapor clouds, the Crafty Vaporizer is the answer to your prayers. With a state of the art heating system that enables free flowing, more than satisfaction level vapor clouds, it comes with ultra low draw resistance. Once you've ordered and used this Crafty unit, you'll throw all the other vaporizers you have away. With dimensions of 4.3 inches in height, 2.2 inches in length and 1.3 in width, it is a very compact wax vape due to its weight of 135g. This battery powered vaporizer fits comfortably in one hand and doesn't feel heavy at all. It is a dry herb vaporizer that you should add to the top tier of your collection that is worth every penny.
Single Button Control
With its one button control system you won't have problems operating this wax vape. One press of a button turns it on and begins the heating process that reaches 365F which is the default temp, quickly within 60-90 seconds. The Crafty Vaporizer will notify the user when the temperature is reached by vibrating and through the LED indicator button. Clean and delectable flavor can be enjoyed with just a few clicks. Well worth the cost, Storz and Bickel really stand behind their product giving ultimate satisfaction to its users around the world. The shape of this wax pen is crafted with perfection by its creators. Pretty ergonomic and its vented design actually helps you grip it better compared to other vaporizers in the market that is built with a low quality materials, this unit has a smooth finish.
Convection and Conduction Heating
As expected from Storz & Bickel, the Crafty Vaporizer runs on a convection heating system combined with conduction. Dry herb is heated with hot air, perfectly by efficiency, producing aromatic potent flavor without burning the herb. By using conduction, herb is heated against the walls producing vapor faster than conduction. The default heat settings out of the box are 356F (180C) and 383F (195C). These settings can actually be managed and customized using an app they made for your smartphone. It is a guarantee that you never have to struggle to get the full flavor of your herb or wax by using the vaporizer.
Heating Chamber
Not surprisingly, the Crafty feels very well made. The herb chamber of the Crafty perfectly vaporizes dry herb. It was also designed to have a generous heating chamber making it easy to use, no need to reload over and over compared to traditional vaporizers. To reload the chamber, just simply unscrew the cooling mouthpiece and voila, your ready to reload and store up to .3 grams of dry herb or wax.
Swivel Mouthpiece with Cooling Unit
The Craft vaporizer comes with a swivel vape mouthpiece that flips out when using the wax vape and flips back when done. Vapor is filtered and cooled by a screen before traveling through the cooling unit. It also comes with a free Remote Control App that gives you access to control its default and booster temperature for customization. The cool part about the mouthpiece is how it swivels out when you want to use it and back into the stored position when you're done vaping.
What's in the box:
1 x Power Adapter
1 x Micro-USB Cable
1 x Grinder Herb Mill
1 x Cleaning Tool
3 x Protection Screens
1 x Extra Seal Rings
1 x Filling Aid
1 x Fluid Pad
1 x User Guide
Storz & Bickel Crafty Vaporizer Tips & Tricks
How to Use the Storz & Bickel Crafty Vaporizer:
The Storz & Bickel Crafty Vaporizer is a portable wax and herb vaporizer from the highly-acclaimed manufacturer Storz & Bickel. The Storz & Bickel Crafty Vaporizer delivers the power of a desktop vaporizer at the palm of your hands. It's outfitted with a single rechargeable battery and is equipped with precision temperature control allowing you to enjoy and reap all the benefits your select materials have to offer. This means that regardless of whether you're using wax concentrates or your favorite botanical plant matter, you're still going to get a tailor-fit experience simply by changing the temperature level of the Storz & Bickel Crafty Vaporizer. The Storz & Bickel Crafty Vaporizer is housed in a sleek, stealthy, and sturdy body that makes it even more dependable and reliable. Under the hood, the Storz & Bickel Crafty Vaporizer uses a heating chamber that's a combination of both convection and a conduction oven. This is why the Storz & Bickel Crafty Vaporizer gives you the best of both worlds. Here are a few things you need to know to get you up to speed with your Storz & Bickel Crafty Vaporizer.
Charging the Battery:
Your Storz & Bickel Crafty Vaporizer can be recharged in two ways. First is through your wall socket via the inclusive wall adapter and the other is by connecting the inclusive USB charging cable to any available USB outlet.
Here's how you do it.
Take the USB charging cable and connect it to the wall adapter.

Plug the wall adapter to a wall outlet and connect the micro USB tip to the charging port on the unit.
Charging the Storz & Bickel Crafty Vaporizer via the wall outlet allows the battery to get recharged faster.
If there are no available wall outlets you may recharge your batteries using your computer.
Here's how you go about it.
Take the USB charging cable.

Connect it to a USB outlet on your computer, your laptop, and even on your video game console.
Loading the Storz & Bickel Crafty Vaporizer with Herbs:
The Storz & Bickel Crafty Vaporizer offers a unique and convenient way of loading the unit with your select dry herb strains.
Here's how you can do it.
Prepare your dry herb strains by grinding them using the inclusive grinder.

Transfer the ground-up botanicals to the inclusive filling aid.

Connect the filling aid to the dry herb chamber.

Push the botanicals to the chamber using the filling aid.

Tamp down the materials for a semi-tight pack.
Usage and Operation:
Now that you've filled the Storz & Bickel Crafty Vaporizer with your select materials, you can now turn the device on.
Here's how it's done.
Press the power button once to activate the Storz & Bickel Crafty Vaporizer.

Once the Storz & Bickel Crafty Vaporizer is powered on, it will begin heating up immediately.

Once the materials are vaporized and are ready, the Storz & Bickel Crafty Vaporizer will vibrate.
Get the best deal on Storz & Bickel Crafty Vaporizer for sale online, visit VapeActive Coupons Page and get the best vaporizers for the best price. Check out our online vape discounts and deals, and because we're the best in the industry, we'll even match the sale price of any authorized reseller you can find.
QUESTIONS & ANSWERS
Have a Question?
Be the first to ask a question about this.
Ask a Question
Storz & Bickel Crafty Vaporizer
Best advice
Best advise I've followed!
One happy customer
I ordered this for my birthday, it came on time and I was able to enjoy it. Product is great. We went to the beach and I used it there, it gives amazing hits. Amazing
Stylish
I like that it looks really stylish and its well made as well.
Awesomely created
This is one awesome vaporizer!