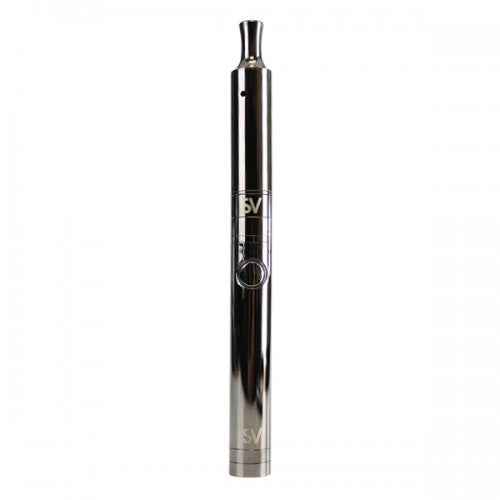 About the Source Slim 3 Dab Pen - Travel Kit
The Source Slim 3 Vaporizer showcases what portability is all about. Even with its metallic travel case from Source Vapes, it is still made as to make sure that this dab pen would be as compact as possible and as portable as it can get that even the travel case itself can fit perfectly into your pocket. Since the travel case that it comes with already carries all of the kit and all of the tools you need, it only means that the whole portable vaporizer can be packed with you anywhere and anytime. This all - new and improved wax vaporizer also has a Variable Airflow System or as what is usually known as VAS with a 5 different system setting that allows you a more customized vaping session. With all the possible wonders that can be found in a wax vape, the usual things that a pen vape user, especially for the dab pen users can see in a wax pen, is the very attractive stylish design it embodies. Not only does a vaporizer user look into the capabilities that a vaporizer has, it is also needs to be sleek and classy – looking. It needs to bring more of its fashionable built a priority because it would be what other people see when using a pen vaporizer. Being able to use it discreetly would be depending as well on how it looks like as it should atleast be looking more like just an ordinary e – cigarette that we all are aware of like what dry herb vaporizers and e-juice vaporizer look like in the market. You cannot find anything as great as this dab pen most especially with its back to back features and benefits that really is one of the best there is.
Slim, Sleek & Discreet
Of course, you wouldn't look for a portable vaporizer that is not at all portable right? That is what Source Vapes also ensure its customers when they created the Source Slim 3 Vaporizer – travel kit. Based on how this version was made, this was indeed created especially for travelling and on – the – go, busy and active people who are always in need of going into a lot of places and that could also use a quick dabbing session while on – the – fly. Whether you go skiing on a snow mountain or just for a hike on a summer mountain top or even if you are just on the bed with a lazy day morning, this is going to be the dab pen of your choice. Being able to use it just as same as the usual wax vaporizers is also a plus if you are looking for a portable vaporizer. The Source Slim 3 Vaporizer - Travel Kit can also be used discreetly as it just looks like your normal e – cigarette and wouldn't be mistaken as something different as you go inhaling your dabs on the street or anywhere within a crowd. You can also almost conceal it within the palm of your hand as it is slim enough to be hidden within just your hand. It's sleek design works great together with how portable this is as it not only gives you your privacy on you casual inhales but it also gives you an elegant and classy style that other vape users would envy from you. It is actually made from a stylish black chrome finish that you would definitely love to flaunt and use anywhere.
WHAT'S IN THE BOX:
1 x Source Slim 3 Vaporizer (Travel)
1 x SOURCE Slim 3 Attachment
1 x SOURCE Volt Nano 650 mAh Variable Voltage Battery
1 x Ceramic Terra Coilless Atomizer w/ Quartz Dish
1 x Dual Quartz Rod Atomizer w/ Quartz Dish
1 x USB eGO Travel Charger
1 x Travel Dab Tool
1 x Travel Case
Source Slim 3 Vaporizer - Travel Kit Tips & Tricks
How to Use the Source Slim 3 Vaporizer (Travel) Kit:
The Source Slim 3 Vaporizer (Travel) is a dab pen that's designed and engineered with on-the-go consumers in mind. Its slim and sleek form factor allows you to carry it with you almost anywhere you go. This means that you can slide it right in your pocket or in your purse and pull it right out for quick on-the-go sessions when you're out and about. And in classic Source Vapes fashion, the Source Slim 3 Vaporizer (Travel) Kit comes with two sets of atomizers that allow for fast and easy customization of your sessions. Despite its size, the Source Slim 3 Vaporizer (Travel) Kit also offers three preset temperature settings which allows you to further customize your sessions and works closely in conjunction with the different atomizers that come right out of the box. This gives you more options to consume your favorite extracts and experience tailor-fit sessions at home or on-the-go. The Source Slim 3 Vaporizer (Travel) Kit uses a small but capable battery that can be charged with eGo charging technology, dated, but still reliable. The threaded connections offer a stable platform when charging and prevents you from using the device which slightly helps in preserving its longevity. The Source Slim 3 Vaporizer (Travel) Kit has a lot more to offer, here are a few tips and tricks to help you get started and up to speed.
How to charge the Source Slim 3 Vaporizer (Travel) Kit:
As we've briefly covered above, the Source Slim 3 Vaporizer (Travel) Kit can be recharged using an eGo charger instead of micro USB charger. This means that you have to remove the atomizer first in order to recharge the battery. Here's how it's done.
Turn off the Source Slim 3 Vaporizer (Travel) Kit by pressing the power button 5 times rapidly.
Remove the atomizer from the battery by twisting the atomizer counter clockwise.
Place the eGo charger on the battery and secure it by twisting it clockwise.
Connect the eGo charger to a wall adapter and plug it on a wall outlet.
The Source Slim 3 Vaporizer (Travel) Kit is equipped with a 650mAh battery and can reach a full charge in a few hours. Remove it from the plug after the battery is fully charged.
How to change the Source Slim 3 Vaporizer (Travel) Kit temperature settings:
With a fully charged battery, turn the unit on by pressing the power button 5 times rapidly. Pressing the power button five more times when powered on will turn it off. To toggle through the different temperature settings, follow these steps.
Press the power button three times quickly.
Release the power button when you reach your selected temperature setting.
The Source Slim 3 Vaporizer (Travel) Kit has three temperature levels ranging from low, medium, and high.
Get the best deal on Source Slim 3 Vaporizer - Travel Kit for sale online, visit VapeActive Coupons Page and get the best vaporizers for the best price. Check out our online vape discounts and deals, and because we're the best in the industry, we'll even match the sale price of any authorized reseller you can find.
QUESTIONS & ANSWERS
Have a Question?
Be the first to ask a question about this.
Ask a Question
Portability at its best
This pen comes with a case that makes it easy to carry together with the parts. The pen itself is discreet enough. this was made for me!
Excellent
This is my most favorite among all Source products. This is very convenient anywhere because of the case and the battery makes it very reliable outdoors.
Best quality
For its size, it's very powerful. For its price, it's definitely high quality.