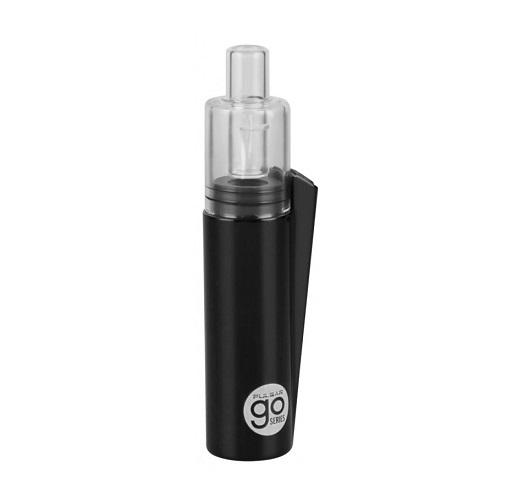 The Pulsar Go Vaporizer
The Pulsar Go Vaporizer is one of the newest addition to Pulsar's collection of highly portable vaporizers. It's one of the most effective electric pipes in today's market in terms of efficiency and portability. Not only does the Pulsar Go Vaporizer boast of unparalleled portability, it also has great power under the hood. Thanks to its 1100mAh battery, the Pulsar Go Vaporizer is capable of delivering huge and flavorful clouds of vapor that does not fall short on either category. Whether you're into wax concentrates or dry herb materials, the Pulsar Go Vaporizer has got you covered. Some of its main features include two premium atomizers that are designed and engineered for superior wax and herb consumption. A ceramic power pad is used to vaporize your herbs effectively without getting to the point of combustion. Ceramic has been known to be highly resistant to heat, that's why it can provide a slow and low heating process that won't burn your materials that could lead to unwanted results. On the other hand, a triple quartz coil atomizer greatly increases vapor production, specially designed for wax concentrate use, it quickly vaporizes your materials for that quick vaping sessions even if you're hitting while on-the-go. The flavor is improved regardless if you're using any of the atomizers, thanks to its hand-blown glass mouthpiece, glass does not affect the quality of your materials even after prolonged use and exposure to heat.
The Pulsar Go Vaporizer also lets you maintain your vaporizer with ease since the kit includes everything you need for portable vaping like a silicone wax container which makes for a perfect reservoir for your wax materials, a cleaning brush to keep your Pulsar Go Vaporizer clean and a USB charging cable so you can charge up your Pulsar Go Vaporizer anytime you need.
Aesthetically Appealing
The Pulsar Go Vaporizer features an intuitive design that's deeply rooted to Pulsar's principles. Pulsar is a well-known vaporized manufacturer that believes in an individualized approach, especially to portable vaporizers. Pulsar knows well that for some vaping is best done with careful caution while others believe that it's a fun experience that should be shared with friends and peers. That's why by design the Pulsar Go Vaporizer features both aspects of portable vaping. There are six color options available for every kind of user.
Subtle color schemes like black, grey, and white will be perfect for discreet and cautious vaping while bold and loud colors like yellow, red, and blue will be best for those who are dun and high spirited consumers of wax and loose-leaf materials. Depending on your taste, the Pulsar Go Vaporizer has the right vaporizer for you.
Highly Portable
The Pulsar Go Vaporizer weighs only at around 0.66 lbs which makes it highly portable and extremely pocket-friendly. It fits right in your pocket and can be stashed conveniently in your bag or in your pouch. A relatively portable wax reservoir is included in the Pulsar Go Vaporizer Kit which allows you to carry a substantial amount of wax material if you plan on vaping outdoors. This means you no longer need to lug around big wax jars or wax containers that will blow off your cover if you're into discreet vaping. The Pulsar Go Vaporizer lets you keep it low key so you can enjoy your materials in peace.
It's perfect for outdoor trips when you plan to do some R&R at the beach, or an easy trek to your favorite cabin. The Pulsar Go Vaporizer covers every aspect of portable vaping without compromising functionality and performance.
What's in the box:
1 x Pulsar Go Vaporizer
1 x Hand-Blown Glass Mouthpiece
1 x USB Charging Cable
1 x Cleaning Brush
1 x Loading Tool
1 x Silicone Wax Container
1 x Rubber Grommet
1 x Instructional Manual
Pulsar Go Vaporizer Tips & Tricks
How to use your Pulsar Go Vaporizer:
The Pulsar Go Vaporizer is a dual-purpose vaporizer that can vaporize both wax concentrates and dry herb strains. This small and portable unit is outfitted with a 1100mAh battery and heats up both material types in as fast as 5 seconds. This means that you can enjoy the benefits of your favorite dry herb strains without having to wait for more than a minute. This makes the Pulsar Go Vaporizer a preferred vaping device by those who like to vape while on their feet. Not only does the Pulsar Go Vaporizer is ideal for those who consume herbs and concentrates casually but it's also ideal for those who use these materials for medication. These include working professionals who need to function regularly while dealing with stress and anxiety. Also, athletes who do not want to take NSAIDs can trust on the Pulsar Go Vaporizer for dealing and managing muscle swelling and pain after training.
Using the Pulsar Go Vaporizer involves only a few steps which makes it an easy and straightforward device for those who seek immediate results from their select materials. To begin using the Pulsar Go Vaporizer follow these steps.
Make sure to fully charge your Pulsar Go Vaporizer first before you use it. Do this for the best results. Charging it takes about 90 minutes so be mindful of how long you will be charging the battery and do not overcharge your Pulsar Go.

Select an atomizer depending on what type of material you're going to consume.
Use the ceramic power pad for herbs.

Use the triple quartz coil atomizer for wax concentrates.
To install an atomizer, start by removing the hand-blown glass mouthpiece from the vaporizer. Remove the protective collar on the battery which holds the atomizers by twisting the collar counterclockwise. Place your select atomizer and replace the protective collar on the battery by screwing it back clockwise.
Load your select materials on to the atomizer.

Once loaded press the power button 5 times rapidly to turn the Pulsar Go Vaporizer. Press and hold the power button to vaporize your materials.
Loading the Pulsar Go Vaporizer:
The Pulsar Go Vaporizer is a conduction vaporizer that only means that it vaporizes your materials, be it wax or herbs via the use of a heated surface, unlike a convection vape that uses hot air instead. So, to get the most out of your dry herb strains, make sure to pack the Pulsar Go Vaporizer with your herbs tightly to ensure that they make contact with the chamber close enough to vaporize them. Also, make sure to grind your herbs before loading them so they can cover more surface area.
When loading wax concentrates, make sure that you only load it with a decent and appropriate amount that the wax concentrates will not spill or overflow hen heated and when liquefied. Doing so will ensure that the liquefied material will not make its way into the battery and cause permanent damage.
Get the best deal on Pulsar Go Vaporizer for sale online, visit VapeActive Coupons Page and get the best vaporizers for the best price. Check out our online vape discounts and deals, and because we're the best in the industry, we'll even match the sale price of any authorized reseller you can find.
QUESTIONS & ANSWERS
Have a Question?
Be the first to ask a question about this.
Ask a Question
You get more than what you paid for
You get more than what you paid for
2 in vape
This vape for both herb and wax. And it works great for both!