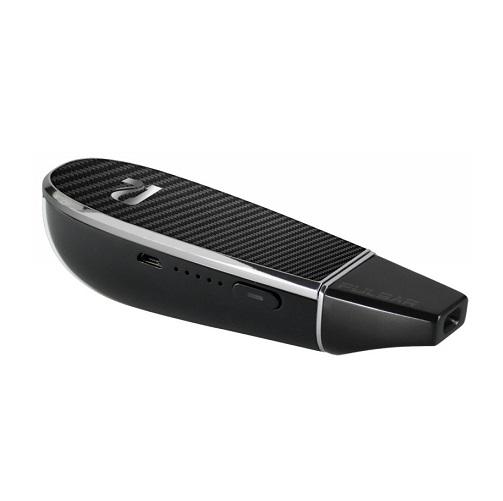 The Pulsar Flow Vaporizer
The Pulsar Flow Vaporizer is a solid vaporizer kit from Pulsar, a highly-acclaimed vaporizer manufacturer that's responsible for some of the most popular portable units like the APX, and the Pulsar Go. The Pulsar Flow Vaporizer features a unique iconic teardrop shape which is designed and engineered to provide on-the-go users with maximum comfort as well as single-handed stability. The Pulsar Flow Vaporizer sports similar dimensions found on modern day smartphones. A convex, domed half that's meant to face the palm of your hand and a flat surface that is intended to face outwards.
Its unique shape allows it to perfectly fit in your hands as well as in your pocket, you can easily stash the Pulsar Flow Vaporizer without worries and any difficulties since the body of the Pulsar Flow is made from highly durable metal that can withstand everyday use and carrying activity. By far the Pulsar Flow Vaporizer is unparalleled in terms of aesthetics and ergonomics, its base black finish looks sophisticated and well balanced that it suits most discreet vape enthusiast well enough not to draw unwanted attention from onlookers and bystanders so you get to enjoy your select dry herb strains in peace. Without a doubt, the Pulsar Flow Vaporizer is an easy choice for most on-the-go aficionados who enjoy taking quick hits on the fly.
Superb Cooling Path
The Pulsar Flow Vaporizer features an intuitively designed innovative cooling path, you won't miss its seemingly indented interior that's exposed as you remove the magnetic face of the Pulsar Flow. These indented row of trenches form a unique cooling path for the vapors to thoroughly filter out some of the irritants produced by vaporizing your vegetable matter to provide you only the smoothest and coolest hits that's easy on both the lungs and on the throat. The effect is a more subtle vapor production that leaves all the good things for you to inhale, this means that the flavor notes, as well as the distinct taste of your herbs, are faithfully preserved while filtering out the irritants. This makes the Pulsar Flow Vaporizer one of the safest means of dry herb strain consumption.
The Pulsar Flow Vaporizer also boasts convection style heating which prevents combustion as the materials vaporize. Instead of allowing direct contact of your materials to the heating element, they are instead vaporized by hot air which prevents burning and charring of your choice botanical materials, scorched and torched herbs taste bad and would be such a waste of money and effort especially if you're growing your own herbs.
The Pulsar Flow Vaporizer provides consumers with a highly effective and efficient means of consuming their herbs that's why it's one of the most sought after portable units by both beginners and advanced users alike.
Complete Kit
The Pulsar Flow Vaporizer includes as the essentials you need for a satisfying vaping experience. It's a sound investment especially for newcomers and for those who haven't started on getting vaping equipment yet.
Alcohol-free cleaning wipes allow you to clean and sanitize your Pulsar Flow Vaporizer as well as a cleaning brush to wipe any remaining materials away before upkeep. The loading tool ensures you have the most appropriate equipment available for loading and packing your vaporizer. The Pulsar Flow Vaporizer Kit ensures that you're prepared and ready to start vaping where all you'd need is your material.
What's in the box:
1 x Pulsar Flow Vaporizer
1 x Magnetic Face Plate Lid
2 x Mouthpiece Inserts
2 x Alcohol Free Cleaning Wipes
1 x USB Charger Cable
1 x Cleaning Brush
1 x Loading Tool
Pulsar Flow Vaporizer Tips & Tricks
Using your Pulsar Flow Vaporizer:
The Pulsar Flow Vaporizer is a portable vaping device that is intended for dry herb consumption especially for consumers who are always on-the-go. The Pulsar Flow uses a strong and powerful 1600mAh battery which heats up in as fast as 40 seconds and uses magnetic connections instead of threaded ones which make for a truly convenient means of vaporizing your select botanical blends especially when your preference is to vape on your feet. The Pulsar Flow Vaporizer also boasts an unusual design in terms of form factor. Unlike traditional vaporizers that either come in box mods or in pen style, the Pulsar Flow Vaporizer is manufactured in a shape that's unlike any other vaporizer you've seen which is why you might feel like you need to learn a different vaping style that's likened to vaping with a traditional smoking pipe. Nevertheless, although the Pulsar Flow Vaporizer looks and feels different, it operates pretty much like any other portable vaporizer on the market.
Here's how you use it.
To power on the Pulsar Flow Vaporizer, tap the power button on the side of the device 5 times rapidly.

To toggle between the preset temperature settings, simply press and hold the power button until the light on the LED display moves to a different place. This movement signifies the change in the temperature level on your Pulsar Flow Vaporizer.
Wait for the LED light to change from orange to green which means that the Pulsar Flow Vaporizer is ready to vaporize your select herbs and botanicals.
Remember to be ready once the selected temperature profile has been set especially because the Pulsar Flow Vaporizer has a 40-second heat-up time and will immediately vaporize your herbs. Keep in mind that the Pulsar Flow Vaporizer has 5 preset temperature profiles which are as follows:
Level 1: 356 F

Level 2: 374 F

Level 3: 392 F

Level 4: 410 F

Level 5: 428 F
Each temperature setting allows the herbs to react differently giving you the freedom to choose between five distinct effects when consuming your favorite herbs. Ideally, a lower temperature profile gives you thinner wisps of vapor with higher flavor retention while the higher you go in terms of temperature, the more visible and denser the vapors become while showing a slight but obvious decrease in flavor. Herbs are more favored by connoisseurs because they contain larger amounts of flavonoids and terpenes which gives the botanical plant matter its distinct taste and flavor. The Pulsar Flow Vaporizer has been known to reach all the flavor notes of your select strains making for a truly rewarding vaping experience.
Packing the Pulsar Flow Vaporizer:
The Pulsar Flow Vaporizer is a convection vaporizer. This means it uses hot air to vaporize your herbs so to get the most out of your materials, make sure to pack it loosely to allow air to permeate the herbs and vaporize your materials efficiently.
Make sure to grind your herbs before you pack for optimum results.
Get the best deal on Pulsar Flow Vaporizer for sale online, visit VapeActive Coupons Page and get the best vaporizers for the best price. Check out our online vape discounts and deals, and because we're the best in the industry, we'll even match the sale price of any authorized reseller you can find.
QUESTIONS & ANSWERS
Have a Question?
Be the first to ask a question about this.
Ask a Question
great product
This is the best get it first and you want be sorry great vapor on 356 it is perfect but dont hold a charge that long but that s not a problem because just myself and what smell if you do smell anything it is a sweet smell like a flower this product has changed my whole experience of vaping great product!
Gets the job done
This vape is advisable for every hern lover. It totally brings out the flavor in every draw. I just hope it was more discrete but overall it's great.
Unbelievably great!
With its very portable size, I am gonna say that this unit is the best that I've ever use. Plus the price is very affordable... I just wish that the battery life is longer so I can use it more when I am outside. Also, another good thing about this product is that its airflow is we designed that it does not clog up. I am very happy I did not have to spend a lot for an awesome item!
Perfect
I can say that I got more than what I paid for with this awesome vape. The only thing is that the battery does not hold charge long enough but I am fine with it. This product took vaping to another level. Really works great.