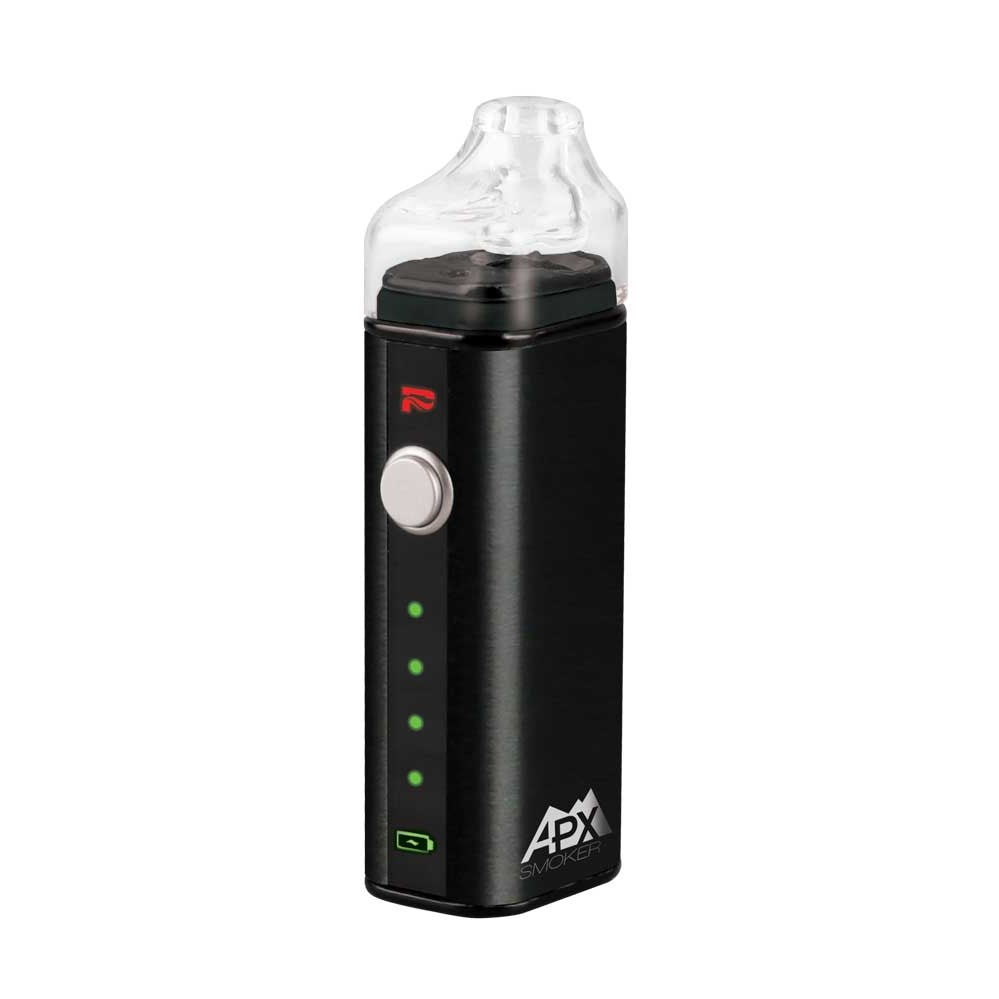 About The Pulsar APX Smoker Kit
From the makers of top notch vaporizers like the APX and the APX W vaporizers comes the new Pulsar PAX Smoker Kit. This new portable dry herb electronic pipe is designed to deliver robust hits of vapor from your select dry herb strains.
While today's market is flooded with long lines of underperforming vaporizers and electronic pipes loaded with promises and visually deceiving design, the APX Smoker Kit from Pulsar is a cut above the rest. This portable dry herb electronic cigarette is outfitted with upgraded ceramic chambers that provides even heating of your select dry herb strains. It is equipped with ceramic power pads which provides users with excellent smoke while sporting a hand blown glass mouthpiece.
Pulsar uses only high-quality materials to ensure the device's longevity and superb overall quality.
High Grade Smoke Path For Smoother Hits
The APX Smoker Kit is the ultimate answer for those dry herb consumers who prefer to smoke their select dry herb strains rather than vape them. The Smoker is specifically designed to produce and generate only the finest smoke instead of vapor, the high grade materials such as the hand blown glass mouthpiece and pure quartz lined chamber help cool those hot hits of smoke before they reach your palate, working together to faithfully preserve the natural aroma and flavor of your favorite dry herb strains.
The APX Smoker Kit is equipped with a mouthpiece that pops off to show users the ample sized chamber outfitted in this portable electronic cigarette, its state of the art ceramic power pad work perfectly well in providing even heating to your dry herb strains. The APX Smoker Kit is the most efficient way of smoking your dry herb materials eliminating wasted herbs and sloppy messes left behind for you to clean after every session.
Expect big, cool and surprisingly smooth hits from this perfectly unique electronic cigarette.
Temperature Controlled Battery
The Smoker comes with a powerful 1100mAh battery that can easily be operated through a single button control interface. The APX Smoker Kit features simple operation and uncomplicated operation. It powers up with 5 clicks and heats up by holding down the power button after it boots up.
The APX Smoker Kit boasts an impressive 7 second heat up time to provide you with on demand heating for when you want to smoke your materials on the fly. This places the APX Smoker Kit in the same category with some of today's markets fastest heating portable vapes and pipes.
The APX Smoker Kit from Pulsar sports a finely tuned preset temperature perfectly ideal for that lip smacking flavor profile. This bold innovation represents a new breed of affordable electronic cigarettes that will perform and function as well as devices twice its price, making it one of the most favored unit in its class. The APX Smoker Kit from Pulsar will surely bring more bang for your buck.
Best for Beginners
Nowadays, more and more people have been switching from the conventional method of smoking to the electronic consumption of dry herb strains. With its benefits, people tend to veer away from the hazardous effects of conventional smoking, the Pulsar APX Smoker Kit provides a better and more discreet approach to the art of smoking herbs.
In this respect, Pulsar created the APX Smoker Kit; a simple, user friendly portable electronic cigarette that is designed to match products twice its price. It features a one-button control, simple cleaning and parts replacement, a discreet design and effective smoke. This simple operation makes the APX Smoker Kit an electronic cigarette that requires minimum maintenance, something that most newcomers and novices are looking for.
Newcomers will no longer have to sacrifice functionality for affordability. Its high-quality material construct even makes the unit feel durable enough to withstand fair amount of carrying and use activity.
What's in the box:
1 x Pulsar APX Smoker Kit
1 x Loading Tool
1 x Cleaning Brush
1 x Glass Mouthpiece
1 x 1100mAh Battery
1 x Micro USB Charger Cable
Pulsar APX Smoker Kit Tips & Tricks
Get the best deal on Pulsar APX Smoker Kit for sale online, visit VapeActive Coupons Page and get the best vaporizers for the best price. Check out our online vape discounts and deals, and because we're the best in the industry, we'll even match the sale price of any authorized reseller you can find.
QUESTIONS & ANSWERS
Have a Question?
Be the first to ask a question about this.
Ask a Question
Smooth AF
The glass mouthpiece is smooth AF! It quickly heats up too!! Very nice product
Must buy
I'm happy I gave this a shot - its worth it!
Nice rips
BIG Clouds nice rips and long battery life