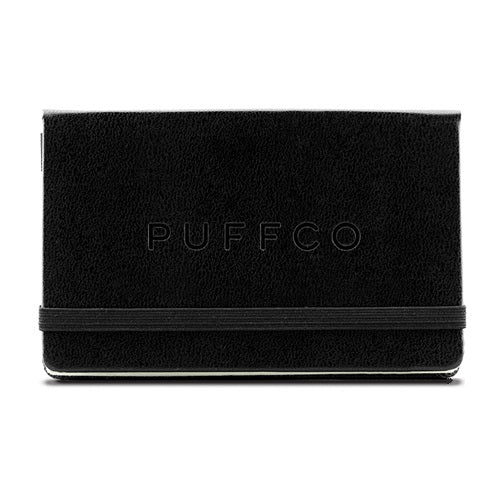 Frequently Bought Together
About the Puffco Stash Wallet
The Puffco Stash Wallet is made for those who like to consume their materials while they're on-the-go. The Puffco Stash Wallet holds two large compartments where you can put in different varieties of materials. It allows you to carry ground up dried herbs or wax concentrates in a slim and sleek wallet. The Puffco Stash Wallet fits perfectly in your pocket and would sit well in your hands making it an ideal container or wallet for various types of materials.
The Puffco Stash Wallet was made to resemble a humble wallet or a note-pad making it virtually inconspicuous to the untrained eye. If you're not familiar with the Puffco brand, then you won't be able to spot or identify the Puffco Stash Wallet as a container for different kinds of materials.
Because of its discreet appearance, you can easily take it out in public and just throw it right back in your pocket or in your bag and no one will even bat an eye. The Puffco Stash Wallet might just well be the perfect solution for those who like to consume wax concentrates and dry herb strains on the fly. It keeps your materials safely tucked in your pockets and protected from dirt and from grime. You can also get past the prying eyes of those unfamiliar with our higher culture.
While there are many other accessories on the market today to keep your materials like ones made from platinum cured silicone and others that offer an air-tight seal, the Puffco Stash Wallet still remains a fan favorite who love keeping their sessions discreet and would prefer a low profile.
Quick and Easy Access
The Puffco Stash Wallet is a plain wallet where you can keep your favorite materials and easily access them for when you're vaping on-the-go.
No lids or any fancy technology, you just lift the wallet open and you get to access the materials you stored for that quick and easy fix. The two separate compartments allow you to either carry two types of materials (wax and herbs), or two different strains of each. This way you get better options when vaping your favorite materials.
You can carry one strain that's known for its flavor and subtle body buzz and you can carry another strain known for its melt your face off and knock off your sock effects. You're getting the best of both worlds when you have two compartments and you can get that with the Puffco Stash Wallet.
So, if you like vaping on your feet and you want a simple, minimalist, and affordable way to keep your materials and bring them with you wherever you go, then the Puffco Stash Wallet is the right accessory for you.
Make sure to grab yours now and experience the discreet feel of having to carry your favorite materials with you almost anywhere you go.
What's in the box:
Puffco Stash Wallet Tips & Tricks
Get the best deal on Puffco Stash Wallet for sale online, visit VapeActive Coupons Page and get the best vaporizers for the best price. Check out our online vape discounts and deals, and because we're the best in the industry, we'll even match the sale price of any authorized reseller you can find.
QUESTIONS & ANSWERS
Have a Question?
Be the first to ask a question about this.
Ask a Question