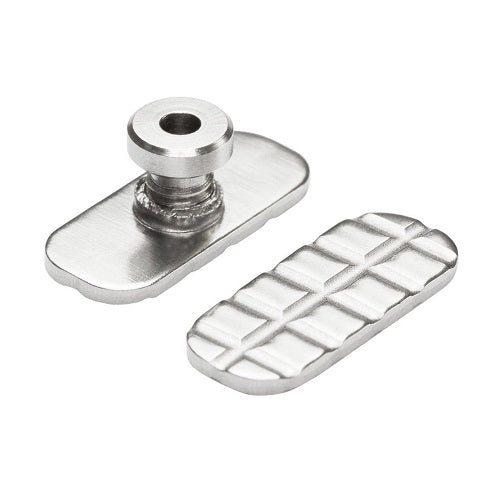 Frequently Bought Together
This item:

PAX Screen + Pusher Accessory for Pax 2 / 3 (Reusable)

The PAX Screen + Pusher Accessory For PAX 2 / 3 (Reusable) The PA...

$9.99

PAX Cleaning Kit

About the PAX Cleaning Kit Cleaning is now a breeze with the PAX Cl...

$14.99
The PAX Screen + Pusher Accessory For PAX 2 / 3 (Reusable)
The PAX 2 and PAX 3 allows for a hefty amount for loading botanical blends. However, those who have a lower tolerance to the plant matter's active compounds may want to cut down on the number of herbs they load in the chamber. PAX has the perfect solution for this special need. The PAX Screen + Pusher Accessory allows you to load a smaller number of herbs and increases the efficiency of your PAX vaporizer.
The PAX Screen + Pusher Accessory is made for the PAX 2 and PAX 3 models and provides both better airflow while increasing the heating capacity of these PAX models. This was made to answer the downside of loading fewer volume of herbs in a large heating chamber. An under packed chamber is in the risk of having burned and charred herbs, it's important to have the correct herb to chamber ratio to ensure best results. The PAX Screen + Pusher Accessory adjusts the size of the chamber to fit the number of herbs you're putting in. It also provides better and even heating of your materials so you won't have burnt or undercooked herbs.
Vented 3D Replacement Screen
The PAX Screen + Pusher Accessory is designed and engineered not only to reduce the capacity of the PAX's heating chamber but also to provide better airflow while doing so. The PAX Screen + Pusher Accessory has more grooved edges with larger indents that provide a looser flow of vapor. This, in turn, ensures better vaporization of materials and a more comfortable draw resistance. Because you'd want more air to permeate you herbs, having these additional indents and deeper grooved edges ensure that the materials get the ideal amount of air and the vapor your materials yield immediately travel from the chamber to the mouthpiece.
Another benefit of using the PAX Screen + Pusher Accessory is even heating. Both the metals that press the materials together act as additional conductors of heat which ensures that your herbs are heated from all sides. By making sure that your herbs are heated properly you get to maintain the taste and flavor of your materials – no more burnt or bad taste.
Save Battery Life With The Screen + Pusher Accessory
The PAX Screen + Pusher Accessory allows you to save some of your battery and extend your vaping sessions by adding more heat to the chamber. The screen and the pusher accessory are made of small stainless-steel parts that are certified US-melted metals which can hold off heat longer. Therefore, providing further heating to your materials even after you ceased to press or hold the firing button. Because of this accessory, you can enjoy longer vaping sessions with fewer amounts of materials. It's perfect for both frequent and non-frequent users which will allow them to recharge their PAX 2 and PAX 3 vaporizers less often and have more time to actually enjoy vaping their favorite herbal blends.
What's in the box:
1 x Replacement Screen
1 x Adjustment Screw
1 x Pusher Attachment
PAX Screen + Pusher Accessory for Pax 2 / 3 (Reusable) Tips & Tricks
Get the best deal on PAX Screen + Pusher Accessory for Pax 2 / 3 (Reusable) for sale online, visit VapeActive Coupons Page and get the best vaporizers for the best price. Check out our online vape discounts and deals, and because we're the best in the industry, we'll even match the sale price of any authorized reseller you can find.
QUESTIONS & ANSWERS
Have a Question?
Be the first to ask a question about this.
Ask a Question
best accessory ever
best accessory PAX came up with