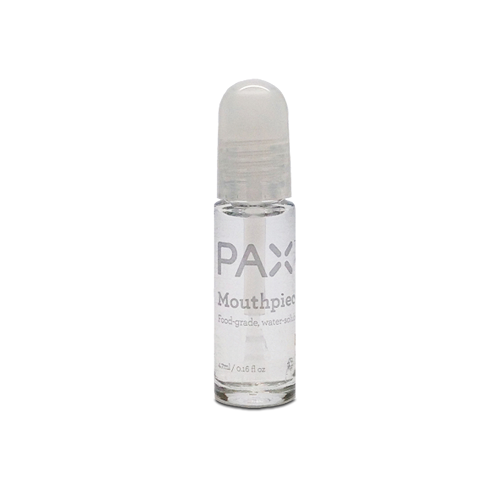 Frequently Bought Together
This item:

Pax One Lubricant Bottle 4.7mL w/ Applicator Brush

The PAX One Lubricant Bottle 4.7ml W/Applicator Brush Keep your P...

$7.99

PAX Cleaning Kit

About the PAX Cleaning Kit Cleaning is now a breeze with the PAX Cl...

$14.99
The PAX One Lubricant Bottle 4.7ml W/Applicator Brush
Keep your PAX One vaporizer working properly and save it from damage due to friction and abrasion. This works best for the PAX One whose mouthpiece can be retracted and extended. By lubricating the metal component which connects the PAX One mouthpiece to the actual battery, you can prevent damage from grating and scraping of metal components and eventually extend the overall lifespan of your PAX vaporizer.
By using the PAX One Lubricant, you can keep the metallic parts of your device safe and free from chipping and scratching. This means that no small sliver of metal will get to the air path, nor to your heating chamber which may otherwise contaminate and taint the quality of your select herbs and botanical blends. By lubricating your vaporizer from time to time, you can keep it working like a well-oiled machine and make it work like it was brand new.
Lubricating and Maintaining Your PAX One
The original PAX was simply known as PAX or PAX by Ploom. This dry herb vaporizer was made with a special retractable mouthpiece that can be hidden during upkeep or extended when in use. It also served as its on and off button as the first PAX sensed and operated depending on how the mouthpiece was positioned. The mouthpiece is designed to be connected with the vapor path. Both pieces are made from metal and contact between both metallic components may affect the integrity of both parts. Just follow these easy steps to lubricate you PAX One mouthpiece.
Turn the PAX One on and ensure that the mouthpiece is extended. Once extended proceed to pull the mouthpiece and taking it from the battery. Clean the metal part of the mouthpiece by wiping it with a moist cotton swab. Wipe it with another cotton swab to dry. Proceed with cleaning the actual mouthpiece and dry it with a clean cotton swab. Use the PAX One Lubricant and lubricate the sides of the metal piece. You may dry it again with a cotton swab before replacing the mouthpiece.
Why Cleaning and Maintenance Is Important
With the PAX line of vaporizers, like other brands on the market, cleaning and maintenance play a vital role in getting the most out of your vaporizer. Making sure that you check the vaporizer from time to time lets you know when some parts are due for cleaning and replacement. Especially with vaporizers that have moving parts, lubricants can help ease the burden of daily use and carrying activity thus allowing you to extend the lifespan of your vaporizer so you can enjoy it longer and get the most out of your money.
For people who see vaporizers as investments either to help them with their medication or see them as a means of recreational consumption, knowing that they can prolong the longevity of their vaporizer means that they get more value of what they pay for. The PAX One Lubricant is the ideal maintenance item for your PAX vaporizer.
What's in the box:
1 x PAX One Lubricant W/Applicator Brush
Pax One Lubricant Bottle 4.7mL w/ Applicator Brush Tips & Tricks
Get the best deal on Pax One Lubricant Bottle 4.7mL w/ Applicator Brush for sale online, visit VapeActive Coupons Page and get the best vaporizers for the best price. Check out our online vape discounts and deals, and because we're the best in the industry, we'll even match the sale price of any authorized reseller you can find.
QUESTIONS & ANSWERS
Have a Question?
Be the first to ask a question about this.
Ask a Question