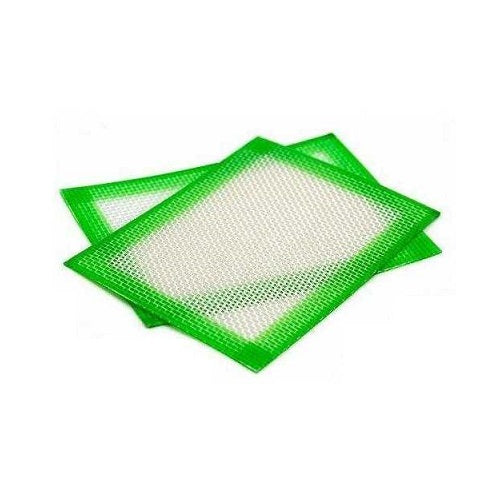 About the Oil Slick Pad Duo
The Oil Slick Pad Duo is one of the most valuable accessories you can get and add to your vaping or smoking arsenal. With the Oil Slick Pad Duo, you can now safely place your vaporizers, dab rigs, and wax concentrates on the Oil Slick Pad Duo without worrying about it getting damaged or vice versa.
The Oil Slick Pad Duo has many benefits that can make your sessions more comfortable and convenient. One way the Oil Slick Pad Duo can improve your day to day experience is by providing you and your implements with a smooth and stable platform during your sessions. Some tables and platforms can be uneven and cause the dab rig or your portable vaporizer to slide and get damaged. With the Oil Slick Pad Duo, you're sure you have a base where you can lay your vaporizers and smoking paraphernalia and trust that they won't slip or get damaged in the process. Furthermore, the Oil Slick Pad Duo can also work the same way it protects your table the way it does your favorite smoking and vaping gadgets. Many tables like the laminated ones and those that are made from wood may be sensitive to liquefied wax. It can burn the laminated surface or it can just plain be too hard to remove and just simply will cause damage to the wooden finish if you force it to come off.
The Oil Slick Pad Duo can prevent these instances from happening and protects your investment in the process. No other dab mat does this much for you and your stuff.
A Practical Alternative
The Oil Slick Pad Duo is a great option when you're looking for an alternative to parchment paper. Each Oil Slick Pad Duo is reusable so it's a great replacement to traditional parchment paper and makes for a more environmentally friendly alternative.
Because the Oil Slick Pad Duos are reusable pads and dab mats, you literally can save money instead of buying parchment paper every time you need one. You're doing mother nature a solid while helping your wallet out. Such is the advantage of using this simple, straightforward, and practical alternative. The Oil Slick Pad Duo is made up of one of the strongest varieties of silicon giving it superior strength and durability. Furthermore, the Oil Slick Pad Duo uses a kind of plastic silicon that is safe to come into contact with human food and the human skin. It boasts medical-grade components making it the safest dab mats on the market today. It's safe enough even for medical patients to use for their prescribed wax concentrate medication. The type of silicone used in Oil Slick Pad Duo dab mats is totally free of manufacturing byproducts so it won't chemically bleed toxic byproducts when heated. It maintains the purity and the essence of your materials while still ensuring that it does the normal functions and roles of a dab mat.
The Oil Slick Pad Duo is the best dab mat you can find for your money. Get yours now here at VapeActive.
What's in the box:
Oil Slick Pad Duo Tips & Tricks
Get the best deal on Oil Slick Pad Duo for sale online, visit VapeActive Coupons Page and get the best vaporizers for the best price. Check out our online vape discounts and deals, and because we're the best in the industry, we'll even match the sale price of any authorized reseller you can find.
QUESTIONS & ANSWERS
Have a Question?
Be the first to ask a question about this.
Ask a Question