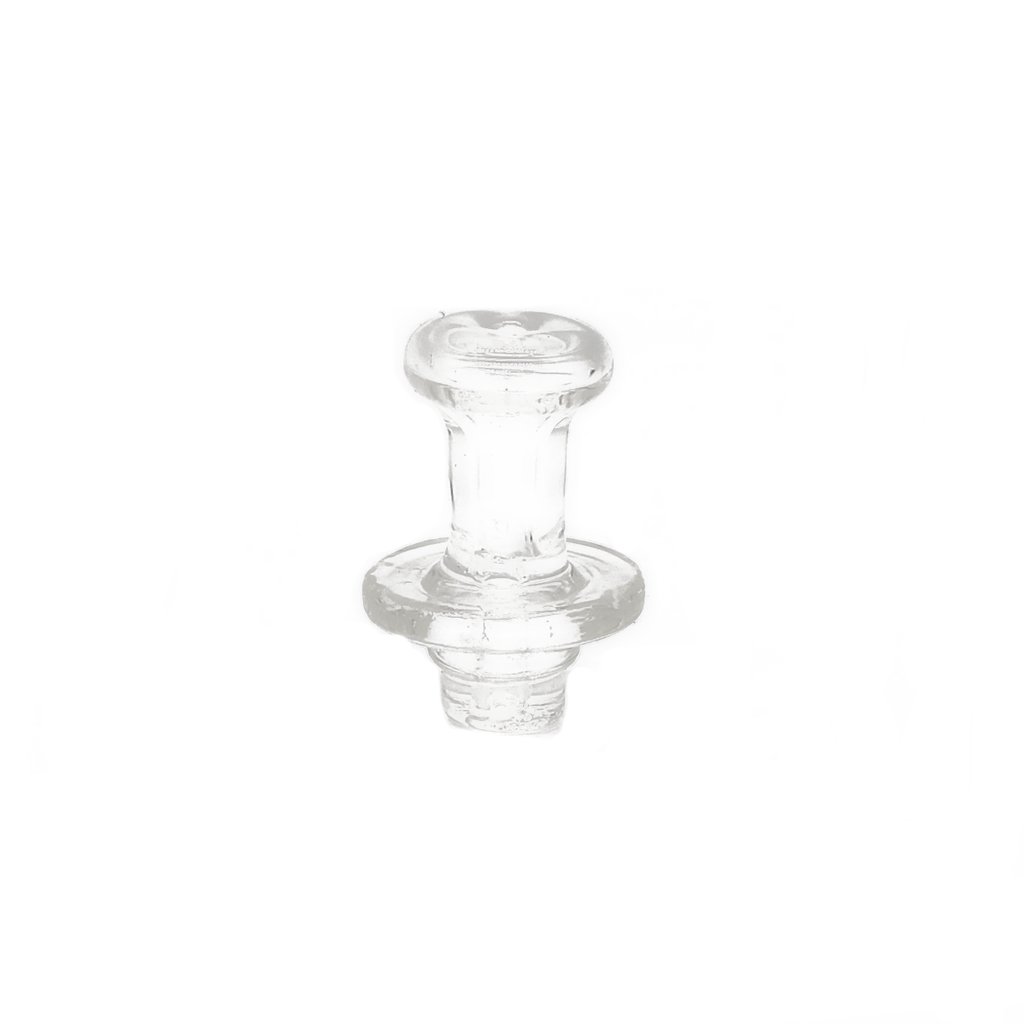 Frequently Bought Together
About the Carta Glass Carb Cap
The Carta Glass Carb Cap is an essential part of the Focus V Carta Vape Rig system. This authentic and original replacement part from Focus V Products is made from high-quality borosilicate glassware that has high resistance to heat and to thermal shock. Borosilicate glasses, in general, boast exceptional durability and reliability which is why a lot of today's modern laboratory equipment is made from the same similar glassware. Borosilicate glass has very low thermal expansion ecoefficiency which is why they make the perfect tools for a carb cap on a powerful vaporizer like the Focus V Carta Vape Rig. They can maintain solid integrity even when subjected to extreme heat. This is the reason why Focus V Products chose to manufacture the Carta Glass Carb Cap using this extremely durable raw material. Focus V Products is dedicated to innovating the current technology so, they make it so that the Carta Glass Carb Cap can be purchased separately instead of having to buy a whole component for the Focus V Carta Vape Rig itself.
It's best to keep one or two Carta Glass Carb Caps in stock, not because they're easy to beak but because the carb cap is such an important part of a dab rig that it plays a vital role in the overall experience of the user. Carb caps may look like a simple and a basic component to dabbing wax concentrates and botanical herbal blends but the principle in which they operate and function.
Airflow Adjustment
One of the main reasons a lot of people tend to use carb caps is the fact that it contributes to the significant adjustment in airflow which allows the consumers and vape users to actually increase and decrease the intake of air with their devices. Airflow adjustment may be simple and trivial but in fact, it has a huge impact on your vaping sessions.
Having to regulate or manipulate the airflow when you vape means that you are in control of increasing or decreasing vapor density, clarity, as well as flavor retention and potency. These are all important aspects to the overall output of the vapors any type of vaporizer produces. This is why the Focus V Carta Vape Rig is uniquely versatile since it allows consumers to alter the vapor yield of the Focus V Carta Vape Rig via the built-in temperature profiles, the downloadable application, as well as the Carta Glass Carb Cap.
Furthermore, carb caps allow you to maintain the heat of the Focus V Carta Vape Rig by trapping the temperature inside your bucket. This allows you to retain heat for a longer amount of time making your Focus V Carta Vape Rig exert a little less pressure from the battery which allows you to enjoy vaping longer. The Carta Glass Carb Cap is also responsible of decreasing the air pressure on the Focus V Carta Vape Rig which then induces and facilitates a sudden drop of temperature that the Focus V Carta Vape Rig's temperature from within the bucket drops and when this happens, it creates a thicker and denser vapor that's both thick and creamy.
What's in the box:
Carta Glass Carb Cap Tips & Tricks
Get the best deal on Carta Glass Carb Cap for sale online, visit VapeActive Coupons Page and get the best vaporizers for the best price. Check out our online vape discounts and deals, and because we're the best in the industry, we'll even match the sale price of any authorized reseller you can find.
QUESTIONS & ANSWERS
Have a Question?
Be the first to ask a question about this.
Ask a Question
Amazing
I've loved every purchase I've made