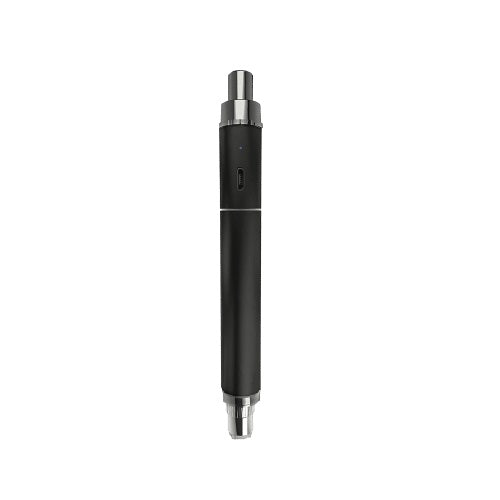 About the Boundless Terp Pen XL
A beefier version of Boundless' OG Terp Pen, the Boundless Terp Pen XL offers more of what the original Terp Pen can. It's got a larger battery for more substantial and lasting performance, new preset temperature profiles, and added quartz storage compartment, a battery level indicator, and a capable heating coil to match. It also retains some of the features that define the original Terp Pen and gives the Boundless Terp Pen XL its identity including the auto draw capability, button-less operation, and that nectar collector feel to it. With the Boundless Terp Pen XL, you can enjoy the same means of consuming your select wax concentrates without the limitations of a traditional dab pen. The Boundless Terp Pen XL redefines electronic nectar collectors and makes for a badder, bigger, better version of the classic Terp Pen. A device that's built to last, the Boundless Terp Pen XL is the new dab pen that will set the golden standard in portable wax concentrate consumption. Be sure to get yours and be the first to own this brand-new dab pen from Boundless Technology. Buy your Boundless Terp Pen XL online only from the most-trusted online vape shop, VapeActive.
Beefier Batteries
The Boundless Terp Pen XL sure lives up to its name, it's outfitted with a larger battery at 700mAh compared to the 300mAh battery that the original Terp Pen offered. This means that you can enjoy longer vaping sessions in between charges and more substantial vapor production because of the improved battery life and capacity. The larger battery makes the Boundless Terp Pen XL easier to hold in the palm of your hands and works in conjunction with the dab pen's more capable heating element. This makes the Boundless Terp Pen XL a device ideal not only for recreational consumers who have higher tolerances to wax concentrates but also for medicating patients who simply want to have a reliable and dependable pen that can last. This means that whether you're consuming dabs for its therapeutic benefits if you're the kind who just wants to get your face melted; the improved battery capacity of the Boundless Terp Pen XL will show you that it's a device that can keep up with your needs.
Preset Temperature Settings
The Boundless Terp Pen XL offers preset temperature settings that allow you to change the way your select wax concentrates would react to the different levels of heat. You're getting 3 preset temperature profiles with the Boundless Terp Pen XL making it a versatile dab pen. The preset temperature levels are low at 3.3 volts and is represented by a blue light, medium at 3.7 volts and is represented by a green light, and a high temperature setting at 4.0 volts aptly represented by a red light. These temperature settings allow for a unique way of heating your select wax concentrates and altering the effects of the extract.
First, the lowest temperature setting allows the production of smooth vapors that are packed with flavors but has a slightly thin body. This makes for a great way to consume wax concentrates for when you don't want to fill your room with vapor or maybe if you're dabbing when you're out and about. Then, switching it up to the medium temp setting allows you to reap a balanced vapor production with a proportionate vapor production that has a good amount of flavor, potency, and vapor density. On the other hand, the highest temperature setting allows you to raise the level of heating that can activate the more potent ingredients in your extracts for that knock off your socks experience.
The temperature levels are evenly stretched to give consumers the ideal temperature distribution for a rewarding vaping session.
Button-Less Activation
The original Terp Pen stood out because it offered a convenient means of dabbing. There is no need for a button to use and operate the dab pen and lets you use it as you would a conventional nectar collector – only without the torch. How cool is that? The same feature can be seen and enjoyed with the Boundless Terp Pen XL as it is also draw-activated. The Boundless Terp Pen XL is outfitted with precision sensors that detect how hard you inhale from the mouthpiece which triggers the heating element. This means that you no longer have to learn hand and mouth coordination and find yourself vehemently coughing your lungs out. You can easily control the strength and the duration of your pulls simply by controlling your breath – which is something we're all accustomed to.
Having no buttons on the dab pen also means that it's safer and easier to carry around with you since you simply can't just trigger the heating element by accident. It won't go off nor would it activate unnecessarily because it's your breath that powers this dab pen. Also, since there's virtually no way of accidentally triggering the device, you can conserve power since it won't accidentally and unnecessarily use power.
Medical Grade Materials
Like its predecessor, the bigger and badder Boundless Terp Pen XL is also made from the same medical-grade components that the OG Terp Pen was made out of. This allows you to get better and cleaner results from dabbing with the Boundless Terp Pen XL because the actual components used in the dab pen is made from medical-grade materials that are tried, tested, and proven to have no adverse chemical reaction to heat. While cheaper electronic nectar collectors and dab pens can make your vapors smell and taste like plastic or metal, the Boundless Terp Pen XL does not. In fact, the medical-grade components not only avoid the production of toxic byproducts but also help preserve the overall qualities of your select wax concentrates and dry herb strains. That way you can reap the full potential of the benefits that your dabs have to offer.
Make sure to get your Boundless Terp Pen XL and order online only here at VapeActive.
What's in the box:
1 x Boundless Terp Pen XL
1 x Ceramic Coil
1 x Dab Tool
1 x Cleaning Tool
1 x USB Charging Cable
1 x Instruction Manual
Boundless Terp Pen XL Tips & Tricks
How to Use the Boundless Terp Pen XL
The Terp Pen XL is the larger brother of Boundless Technologie's Terp Pen Vaporizer. As the name implies, the Terp Pen XL is larger and beefier that its predecessor. And with its increased size and battery life come more features designed and engineered to help you improve your sessions with the Boundless Terp Pen XL. These upgrades include a bigger battery for longer sessions in between charges, additional storage compartment for your select wax concentrates, and preset temperature settings so you can always adjust your Boundless Terp Pen XL as you would your average dab pen. It still has no tactile buttons to press so it still offers the same draw-activated functionality you learned to love with this simple and straightforward device. A few simple steps let you start a session without having to go through unnecessary procedures. If you want to know more about how you can maximize your sessions with the Boundless Terp Pen XL, here's everything you need to know to get you up to speed with Boundless' latest dab pen vaporizer.
Charging the Boundless Terp Pen XL
The Boundless Terp Pen XL comes with an inclusive charging cable that allows you to recharge the battery almost anywhere you are. The charging cable can be connected to various types of ports from your desktop computer's USB port to your laptop computer's USB port you can recharge your battery almost anywhere you go.
Follow these steps below.
Connect the USB charging cable to the battery.
Connect the charging cable to a wall adapter and connect it to a wall outlet.
As we've covered above, you can recharge the battery connecting it to a desktop computer, a laptop computer, or a videogame console. For when you want to recharge your Boundless Terp Pen XL when you're on-the-go, you can carry an external power bank so you can plug it in wherever you are.
Changing the Boundless Terp Pen XL voltage settings
Instead of having a tactile button, the Boundless Terp Pen XL is outfitted with some sort of sensor that reads your fingers when you tap near the USB port. This feature allows the Terp Pen XL to still maintain a smooth profile but still provide you with the added feature of having to customize your sessions. Before you tap the temperature sensor, here are the available temperature profiles.
Low: 3.3 Volts
Medium: 3.7 Volts
High: 4.0 Volts
These are the steps that you need to take to toggle through the preset temperature settings the Boundless Terp Pen XL has to offer.
With the Boundless Terp Pen XL fully charged, tap the sensor near the USB charging port three times.
Inhale from the unit. Once you've pulled from the mouthpiece, check the LED on the pen to validate whether you've selected the proper heat setting or not.
Here is the LED light that corresponds with the temperature level of the battery:
Blue: Low
Green: Medium
Red: High
Get the best deal on Boundless Terp Pen XL for sale online, visit VapeActive Coupons Page and get the best vaporizers for the best price. Check out our online vape discounts and deals, and because we're the best in the industry, we'll even match the sale price of any authorized reseller you can find.
QUESTIONS & ANSWERS
Have a Question?
Be the first to ask a question about this.
Ask a Question