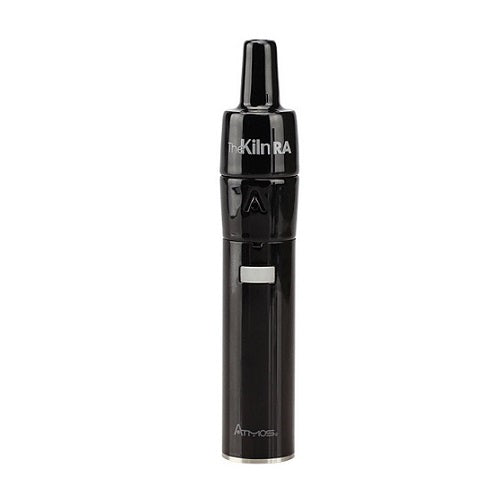 Frequently Bought Together
ATMOS KILN RA Dab Pen
Now we all know the model before this, Atmos Kiln Vaporizer, is one decent kind of dab pen. But Atmos never fails to give you a more innovative and a better version of this wax vaporizer taking it to a whole new scene. Atmos gives you the KILN RA VAPORIZER. Apart from being a really awesome unit taking most of its features from his old fella, KILN, it is introduced with an upgraded Rebuildable Atomizer (RA). Now you can replace the atomizers as you wish with much more convenience. It is designed with a dual post system that gets the job done.
It is also cheaper than having to replace an entire chamber. Powered by a strong lithium-ion battery with 950 mAh, the KILN RA should be your next quick pick.
Rebuildable Chamber
Good stuff comes from everywhere with Atmos. They just never run out of cool and brilliant ways to cater wax fans out there. Its new feature makes it very unique and precisely convenient to maintain. It has a new winning distinction that sets it apart from the previous model and all other units you can find out there. It's well known for having a replaceable atomizer helped with a dual post system that makes your ceramic coils easier and faster to change. This means that you can get a better and a cheaper deal to innovate your atomizers. Compared to any others, mostly you'll need to replace the entire chamber, and that's why this feature makes it a definite win for KILN RA. It's versatile, unique, easy to maintain and innovative. Clearly, it's fully packed with greatness.
Deeper Ceramic Chamber
This dab pen comes in better with a deeper ceramic chamber. Knowing it's ceramic is already a great asset for a wax atomizer, just like the original and prior model, KILN. Having a deeper ceramic chamber would mean you can load more of you waxy stuff in there, granting every wax fan's wish to get more and bigger clouds. Because it is deeper, you can only expect a tremendous amount of vapor you can get from KILN RA.
The ceramic and round base design is also great in terms of efficiency. Wax could evenly be heated without the worry of combustion and any after taste.
Vapor Quality
With all new improved parts and features, it is constant that this dab pen is leading in terms of versatility, efficiency, and quality. To give you comfort and satisfying hits, this concentrate atomizer will speak for itself and will surprise you with the huge and vast amount of vapor it can produce rapidly within just five seconds. And speaking of vapor, there is no need to fret when it comes to its quality. With KILN RA's ceramic chamber, you're ensured with a no combustion product. It has a far better heating attachment that can absolutely give you a smooth, flavorful taste of your favorite wax.
Compact and Handy
Let's not forget, as everyone is trying to get that spot-on efficient plus stylish fancy physique unit, you're not going to lose out on that with this dab pen. It is small but definitely strong. With a size of 2.12 inches in height, 0.85 inches in diameter, it is completely handy and is right-sized for on-the-go use. Not only that, having a simple and elegant tone of it, it's going to look good on you. How sweet it is to have something you need to look like it's part of your fashion and accessory. It's so discreet you won't even know it. It's so stylish you can't even tell it's one banging equipment.
What's in the box:
1 x User Guide/Manual
2 x Replacement Screws
2 x Replacement Rubber bands
1 x Micro-USB Charger
1 x Ceramic Heating Disc Atomizer
1 x Dual-IC Protected Lithium-ion Battery
1 x Packing Tool
1 x Screw Driver
1 x Ceramic Mouthpiece
1 x Ceramic Housing
1 x Connector Base
Atmos Kiln RA Vaporizer Tips & Tricks
How to Use the Atmos Kiln RA Vaporizer:
The Atmos Kiln Vaporizer is one of the very few rebuildable units on the market today. The RA on the Atmos Kiln RA stands for "Rebuildable Atomizer" and this means that the ceramic heating element on the Atmos Kiln RA can easily and cheaply be replaced. At such a fraction of the cost of replacing the whole atomizers, the Atmos Kiln RA allows you to replace only the significant and integral part of the atomizer.
When you want to replace the ceramic heating element on the atomizer of the Atmos Kiln RA, follow these steps.
Remove the ceramic housing from the base of the cartridge. To do this simply pull the housing away from the cartridge base until it's loose from the O-rings that hold the pieces together.

Locate the small screws that hold the ceramic atomizer in place.

Loosen the screws by using a small screwdriver. Twist the screws counterclockwise to loosen them up.

Pull the ceramic atomizer from its seat, likewise, this is a good opportunity to clean the atomizer base with a cotton swab dabbed in a solution of isopropyl alcohol and warm water. Make sure not to soak the cotton swab as too much liquid can damage the battery.

Insert the new atomizer. Press your index finger on the red part of the atomizer and connect the wires on the post before tightening the screws.

After the screw is tightened, remove the red part by pulling it away from the ceramic atomizer.

Once the atomizer has been seated and the screws have been tightened, replace the ceramic housing atop the base of the cartridge by reseating it until the O-rings offer resistance and the atomizer is sealed shut.
Make sure to connect the wires properly when rebuilding your Amos Kiln RA Vaporizer. This offers customers a new spectrum of experience with wax concentrate consumption on the cheap. Make sure to be careful with the wires as they are very thin and do not over tighten the screws as they can break the wires when installing the new ceramic atomizer.
How to Use the Atmos Kiln RA Vaporizer:
The Atmos Kiln RA Vaporizer is like any other device on the market in terms of operation and ease of use.
It can be operated like any other wax pen by pressing the power button 5 times rapidly to turn it on.

Press and hold the power button to activate the heating element and to start the vaporization process.

Release the power button once you're done.

Short and small puffs make great tasting vapors while long drags allow for larger cloud production with decent flavor retention.

To power the battery off, simply tap the power button 5 more times rapidly.
Make sure to clean your Atmos Kiln RA Vaporizer before storage to eliminate material and resin buildup. Wipe the Atmos Kiln RA with a cotton swab to clean it.
Get the best deal on Atmos Kiln RA Vaporizer for sale online, visit VapeActive Coupons Page and get the best vaporizers for the best price. Check out our online vape discounts and deals, and because we're the best in the industry, we'll even match the sale price of any authorized reseller you can find.
QUESTIONS & ANSWERS
Have a Question?
Be the first to ask a question about this.
Ask a Question
Love this unit a lot
Such a high quality vape! Top of its class
As advertised
Works great as advertised
Thumbs up
Nice very nice product! That all I can say
great pen great price
it's a compact piece with lovely features! Worh my money
genius
Atmos is a genius for coming up with this unit! Absolutely love