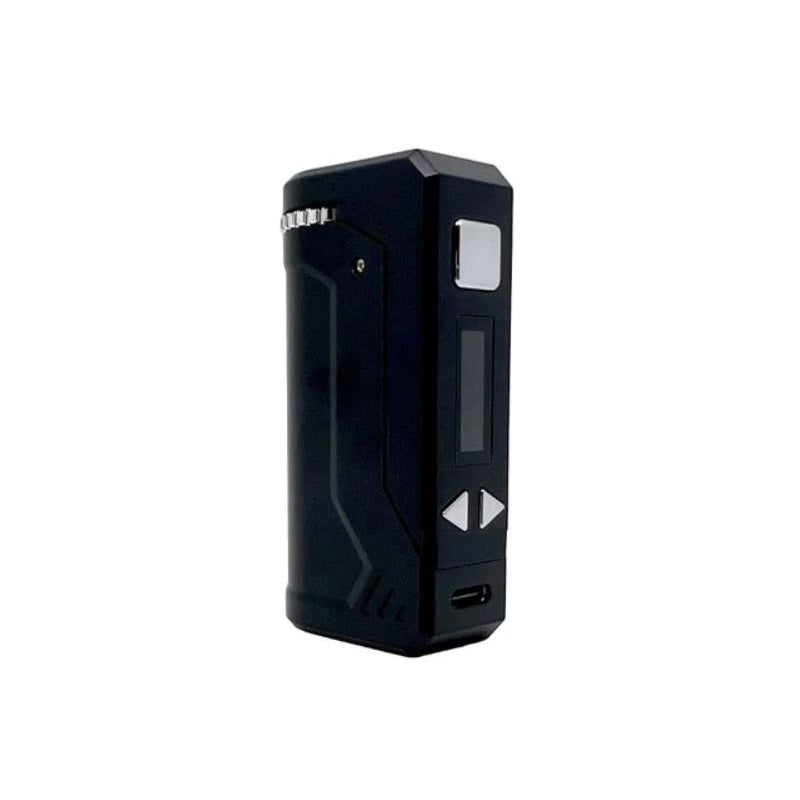 About the Yocan UNI Pro Plus Box Mod Vaporizer

The Yocan Uni family has been one of the most successful oil and concentrate vaporizers to have come out of the Shenzhen-based company's collection of portable vaporizers. From the original Yocan Uni Box Mod, the Yocan Uni Pro Box Mod, the Yocan Uni Pro 2.0 Box Mod, the Yocan Uni S, and the Yocan Uni S Twist, these oil and concentrate vapes have since attracted many consumers — both those who use their vapes for medical and for recreational purposes.

A new device has been announced by Yocan and its arrival will take oil and concentrate vaporization to a whole new level. Here are some of the things that make the Yocan UNI Pro Plus Box Mod Vaporizer an oil vape and a wax vape worth checking out.

900mAh Battery Capacity

One of the things that set the Yocan UNI Pro Plus Box Mod Vaporizer apart from its Uni relatives is its larger and more capable battery.

Under the hood of the Yocan UNI Pro Plus Box Mod Vaporizer is a 900mAh battery. This gives the vaporizer more power and better longevity, as almost all of the Uni devices are equipped with a 650mAh power source. This means that you will have more time using it and it will have more power to deliver flavorful and potent hits, whether you're at home or on-the-go.

Depending on your usage habits, a single charge of the Yocan UNI Pro Plus Box Mod Vaporizer can last you anywhere from one to two days.

The larger battery capacity also has easily perceptible advantages. Compared to devices equipped with batteries with smaller capacities, the Yocan UNI Pro Plus Box Mod Vaporizer has a good weight to it. Not only does it give the Yocan UNI Pro Plus Box Mod Vaporizer a more premium feel but it also ensures that the Yocan UNI Pro Plus Box Mod Vaporizer feels substantial to the hand.

And while we're still on the topic of weight... the Yocan UNI Pro Plus Box Mod Vaporizer has a weight that's detrimental to its portable design. You can easily put it in your pocket and it will not feel like it's a burden to carry.

That said, many consumers (like you) will definitely love the Yocan UNI Pro Plus Box Mod Vaporizer for its power, longevity, and improved build quality.

USB type-C Charging

Yocan has slowly moved the charging technology of its products from the dated micro-USB charging technology to the more modern and advantageous USB type-C. For those particular with how their device charges, using a USB type-C not only ensures faster charging times but also promotes better power delivery from the wall charger to the actual battery.

As a result, the Yocan UNI Pro Plus Box Mod Vaporizer will charge faster and will experience less battery issues due to inconsistent power delivery.

There's also a good charge that you have a USB type-C charger lying around in your house, especially if you use an android device.

Precision Temperature Control

Vape owners who have purchased one of the first few units of the Yocan Uni Box Mod might have noticed that these devices were still equipped with traditional variable voltage settings. For the uninitiated, this means that a vaporizer is fitted with a chip that has pre-determined voltage levels that one can cycle through.

For the Yocan UNI Pro Plus Box Mod Vaporizer, Yocan decided to endow the device with precision temperature controls. Instead of cycling through a set of pre-arranged temperature profiles, owners will get the chance to personalize their sessions down to the smallest detail.

Per Yocan, the Yocan UNI Pro Plus Box Mod Vaporizer has an adjustable voltage setting that can range from 2.0 volts to 4.2 volts.

As always, the lower voltage levels are perfect for those looking to enjoy the natural flavors of their oils and thin concentrates. Medical consumers who need smaller doses of their materials' active ingredients would love heating their oils and waxes at about this temperature profile. And of course, cranking the setting up activates the potent ingredients of oils and wax concentrates for a harder-hitting effect. Recreational consumers — especially those looking to get knocked off their socks — would enjoy dabbing from these high voltage settings.
Pressing the directional buttons allow one to increase or decrease the voltage level in increments of 0.1 volts.
The running temperature setting, as well as other relevant vaping data, are displayed on the Yocan UNI Pro Plus Box Mod Vaporizer's rectangular OLED screen. Compared to other devices, information is displayed in a higher definition and with crisp details. No need covering screen and warding off sunlight to see what's displayed. Its great viewing angles allow one to understand the data displayed at a glance.
Adjustable Cartridge Holder

A hallmark on all Uni devices, the Yocan UNI Pro Plus Box Mod Vaporizer still retains the adjustable cartridge holder that allow owners to use various cartridges of different length and diameter. The aperture can be increased or decreased by operating the tool which tightens and loosens the chamber size. To make a short or long cartridge pop in or out, a level located at the bottom part of the device allows the cartridges to be hidden or revealed.

This feature alone has made the Yocan Uni devices a major hit among many consumers as it can accept a wide variety of cartridges — both refillable and pre-filled. Since Yocan has always been a brand that promotes inclusivity, cross compatibility, and practicality, the adjustable cartridge holder perfectly embodies the company's goals and its customer's wishes.

The Yocan UNI Pro Plus Box Mod Vaporizer offers this feature and more making it a viable device if you're looking for a daily driver or an occasional vaporizer to use when you want to consume oils and wax concentrates. Make sure to get the Yocan UNI Pro Plus Box Mod Vaporizer today, only here at Yocan Vaporizers!

What's in the box:

1 x Yocan Uni Pro Plus 900mAh Variable Voltage Box Mod
1 x User Manual
1 x Warranty Card
Yocan Uni Pro Plus Box Mod Tips & Tricks
Get the best deal on Yocan Uni Pro Plus Box Mod for sale online, visit VapeActive Coupons Page and get the best vaporizers for the best price. Check out our online vape discounts and deals, and because we're the best in the industry, we'll even match the sale price of any authorized reseller you can find.
QUESTIONS & ANSWERS
Have a Question?
Be the first to ask a question about this.
Ask a Question