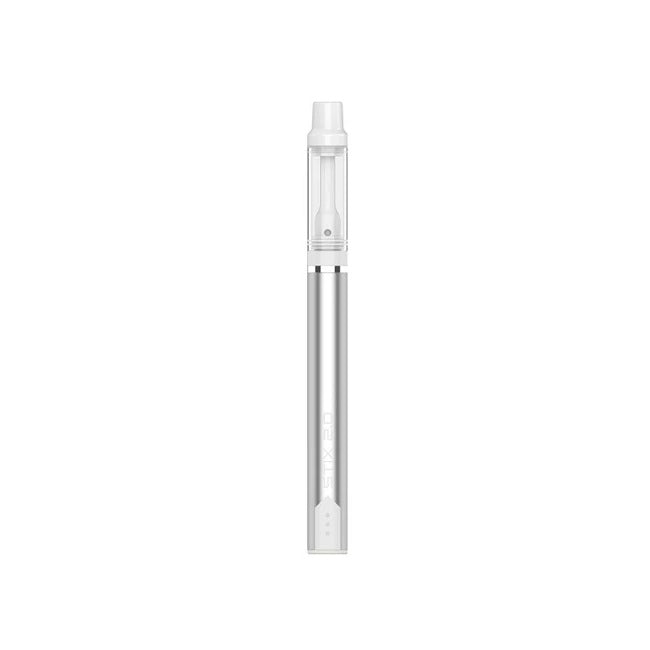 About the Yocan Stix 2.0 Vaporizer Pen
Yocan launched the Stix oil pen a few years back, and this time, gave it a much-needed facelift allowing oil consumers get the best of today's technology. The Yocan Stix 2.0 Vaporizer Pen features some of the latest innovations in oil vaporization including a full-ceramic oil cartridge, a 10-second pre-heat mode, automatic standby protection, a draw-activated function, a dependable 350mAh battery, and a sensor control that lets you operate the device unlike never before.

The Shenzen-based vaporizer company has long been known for its knack for making some of the most innovative vaporizers used for wax, herbs, and of course, oils. The Yocan Stix 2.0 Vaporizer Pen was designed to embody Yocan's innovative prowess that put them in the map. If you're intersted to find out why the Yocan Stix 2.0 Vaporizer Pen should be your next oil vape, then make sure to check out all its new and unique features in the sections below. And, as always, make sure to get your vaporizers straight from the source — here at Yocan Vaporizers.

A Respectable 350mAh Battery

One of the best things about the updated Yocan Stix is its small yet capable battery. It makes for a perfect example to the saying "bigger doesn't always mean better." The small battery can vaporize do the deed easily without weighing the device down excessively. Because oils do not need too much heat to vaporize, a 350mAh battery would do. The compact power source also allows fast charging which means that owners wouldn't have to wait long to pull their devices from the plug. Compared to a vaporizer that packs a larger battery, the Yocan Stix 2.0 Vaporizer Pen can reach a full charge in about an hour.

In addition, the Yocan Stix 2.0 Vaporizer Pen requires only a universal micro-USB charging cable to juice up the battery. There's a fat chance that you have some of these charging cables lying around from your other devices so you have plenty of options in charging the Yocan Stix 2.0 Vaporizer Pen. Sure, there are benefits to using USB-C technology but there's a chance you won't easily find a spare charging cable.

A Smart Battery

In classic Yocan fashion, the all-new Yocan Stix 2.0 Vaporizer Pen comes with three variable voltage settings that lets owners personalize the temperature they need to vaporize their oils. The lowest setting is at 3.4 volts (represented by one green light) allows for a smooth and flavorful draw. On the other hand, the middle voltage setting stands at 3.8 volts (represented by two green lights) and creates a perfect balance between flavor and potency — an ideal starting point for beginners. Meanwhile, the highest setting peaks at 4.2 volts (represented by three green lights) and enhances the potency of the oil you are consuming.

The lights mean so much more as they can tell not only the voltage level of the battery but also several relevant functions of the Yocan Stix 2.0 Vaporizer Pen. When the lights turn green and flash five times, the Yocan Stix 2.0 Vaporizer Pen is entering advanced mode where users can adjust the voltage level, as we've briefly discussed above. Green lights that flash eight times mean that the Yocan Stix 2.0 Vaporizer Pen is entering auto cut-off mode while green lights that stay lit is an indication that the device is charging.

The Yocan Stix 2.0 Vaporizer Pen can also emit a red light. When they flash five times in red, that means that the Yocan Stix 2.0 Vaporizer Pen is entering regular mode where users are locked to a pre-selected temperature level. Should the red lights flash 10 times, this means that the battery is extremely low and it needs charging. And lastly, the lights will flash five more times to tell you that it ran into short circuit mode.
Overall, these lights makeup for the Yocan Stix 2.0 Vaporizer Pen's lack of a display screen and informs owners of various settings and relevant vaping information during the course of their session.

Slap and Go

One of the most unique ways to use a vaporizer is to slap it at the palm of your hands. This means of operation is made possible using Yocan's sensor control and allows the device to eliminate any tactile buttons. The result is a seamless device that operates likewise.

Slapping the Yocan Stix 2.0 Vaporizer Pen on your palm five times allows you to cycle between advanced and regular mode. All you need to do is watch the lights to tell which mode is which: green is advanced and red is regular. Three slaps allow you to run through the aforementioned temperature settings, and as with the two variable modes, the lights will tell you what voltage level the Yocan Stix 2.0 Vaporizer Pen is running. Two slaps will activate the 10-second pre-heat function and will run an oil-friendly 1.8 volt to melt any residual material and promote better airflow by unclogging the carts.

Speaking of carts...

Ceramic Cartidges

Through Yocan's years of manufacturing vaporizers, they have learned that one of the best materials to use as a heating element is ceramic. Ceramic burns really slow and promotes better flavor retention and smoothness in every draw — the kind that's perfect for oil consumption.

The Yocan Stix 2.0 Vaporizer Pen is equipped with a full ceramic cartridge: from top to bottom. This ensures that the overall quality of the oils is preserved and is not affected in any way. This faithfully keeps its flavor, potency, and aroma. In the same way, oil consumers will find Yocan's full ceramic cartridge to be economic since they get to consume their oils to the very last drop.

Ceramic heating elements have been favored by both recreational users and medicating patients for its ability to maintain the cleanliness and the purity of the materials being consumed using a vaporizer. If you are looking for an awesome oil vaping experience, then look no further. Because the Yocan Stix 2.0 Vaporizer Pen is definitely what you should be using.

Make sure to get authentic and original Yocan products by buying from Yocan Vaporizers.
Yocan Stix 2.0 Vaporizer Pen Tips & Tricks
Get the best deal on Yocan Stix 2.0 Vaporizer Pen for sale online, visit VapeActive Coupons Page and get the best vaporizers for the best price. Check out our online vape discounts and deals, and because we're the best in the industry, we'll even match the sale price of any authorized reseller you can find.
QUESTIONS & ANSWERS
Have a Question?
Be the first to ask a question about this.
Ask a Question