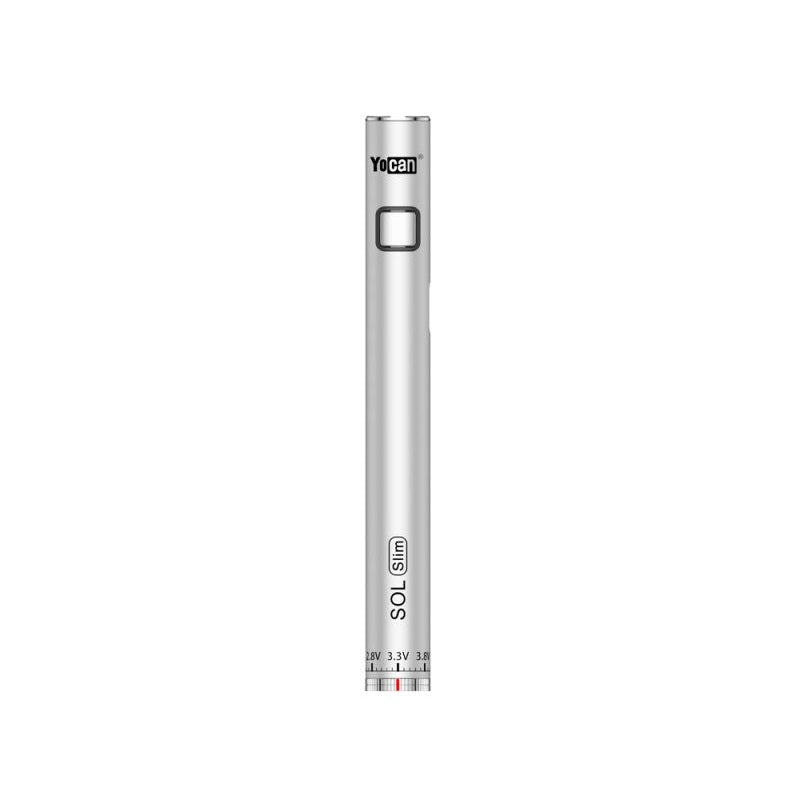 About the Yocan SOL Series Dab Pen Battery
The Yocan SOL Series Dab Pen Battery are the latest vape batteries from Yocan. These batteries come in four varieties that offer a wide range of features and benefits to cater to customers who use their devices either for medical or for recreational purposes. From using the current generation USB-C charging technology to carrying over the simple and straightforward single button operation, the Yocan SOL Series Dab Pen Battery has everything for both veterans and new-generation vape users.

So, if you're in the market for a compact yet capable vape pen battery for wax or oil, then the Yocan SOL Series Dab Pen Battery is the vape pen battery you should be looking out for.

Yocan SOL Mini

The Yocan SOL Mini is the smallest dab pen battery in the series. It measures only at 80mm tall and 14mm wide which makes it extremely portable and concealable. Having a device this small allows you to enjoy dab sessions in places you'd otherwise be hard pressed to sneak in a vaporizer. Because of its miniature dimensions, you can easily keep the Yocan SOL Slim in your pocket or even in the palm of your hands.

Despite its size though, the Yocan SOL Slim features a powerful 400mAh battery which lasts you several sessions, depending on how often you use the device of course. The battery of the Yocan SOL Slim — like the other vape pen batteries in the series — can be charged using a type-C USB charger which offers the benefit of fast charging, so you won't have to wait long before you get to use your Yocan SOL Slim. In addition, using a USB-C charger also means that the battery can be charged with safety as USB-C chargers are known for delivering stable power that will not harm the overall integrity of the battery.

Yocan SOL Slim

The Yocan SOL Slim is taller than the Yocan SOL Mini but its slim and slender body restricts this vape pen battery from packing a more powerful battery. On that note, the Yocan SOL Slim only carries a 350mAh battery under its body. It may be 50mAh less but don't let this battery fool you. It can still last through several sessions as the battery itself is designed to last than the competition.

This thin battery stands at 99mm and measures only 22.mm in diameter which makes it an ideal device to bring with you when you go out and about. It's slim alright but the main advantage of bringing the Yocan SOL Slim with you is its lightweight build. Because it carries a smaller battery, the Yocan SOL Slim is lighter even than the smallest battery in the series: the Yocan SOL Mini. So, if you're a wax concentrate or oil consumer that's always on-the-go, then the Yocan SOL Slim is the right vape pen battery for you.

Yocan SOL

The star of the show, the Yocan SOL is the ideal device for those who can't seem to put a finger on what their preference is in terms of size when choosing a dab pen vaporizer battery. The Yocan SOL is dab smack in the middle of the series in terms of size and features, making it the perfect choice for those who are just starting off on their vape journey or those who just want an uncomplicated device inside their pocket.

The Yocan SOL measures at 35mm tall and 14mm wide. Its size allows consumers to carry a sizeable battery that still won't weigh the, down when they're casually strolling around town on a weekend evening. In fact, its size allows the Yocan SOL to carry a larger battery, rated at 65mAh. This power allows the battery to heat up a wide variety of materials — not just oils, but also hard wax concentrates. This means that you can use the Yocan SOL for a wide variety of extracts making it a great battery to have on the ready.

In fact, the Yocan SOL (as well as other vape pen batteries in the SOL series) is equipped with a variable voltage setting. The variable voltage setting is also upgraded as would-be owners are no longer limited to selecting from only three settings but can choose from 1.8 volts to 4.2 volts in 5.0-volt increments — that's five variable voltage settings to choose from and that's a lot. It opens a wide range of personalization for consumers who want to experience various effects from their extracts.

Yocan SOL Plus

The Yocan SOL Plus is the largest of the four siblings. That said, you can expect it to be beefier and more powerful. Size-wise, the Yocan SOL Plus stands at 110mm high and is 14mm wide. Still, despite its still easy to conceal being it only a hair over four inches. This means that it still measures somewhere in the size of a humble office pen or a marker.

Its beefy look is backed by a similarly tough exterior. The Yocan SOL Plus, like its SOL series brothers, are protected by a stainless-steel body that not only is durable but is also slightly lighter than conventional plastic or pot metal. With that said, you can expect the Yocan SOL Plus to withstand a significant amount of wear and tear as the stainless-steel exterior can protect the internal components from the effects of light bumps that would otherwise damage the avarage vaporizer battery.

The Yocan SOL Plus, just like its brothers, use a technology that allow it to deliver important vape pen battery features such as a 10-second pre-heat setting which helps owners prepare their wax concentrates and 510-threaded oil cartridges for vaping. Pre-heating, for the uninitiated, heats the materials in a low temperature setting which melts them and prepares them for the vaporization process. Doing so prevents clogs and promotes better airflow.

These Yocan SOL Series Dab Pen Batteries also have a 15-second cut off safety feature that automatically cuts the power on the battery to avoid unwanted accidents.

Make sure to cop one of these Yocan SOL Series Dab Pen Batteries and buy only from the source, Yocan Vaporizer. Be the first to own one of the Yocan SOL Series Dab Pen Batteries and enjoy the benefits of using a Yocan.
Yocan SOL Series Dab Pen Battery Tips & Tricks
Get the best deal on Yocan SOL Series Dab Pen Battery for sale online, visit VapeActive Coupons Page and get the best vaporizers for the best price. Check out our online vape discounts and deals, and because we're the best in the industry, we'll even match the sale price of any authorized reseller you can find.
QUESTIONS & ANSWERS
Have a Question?
Be the first to ask a question about this.
Ask a Question