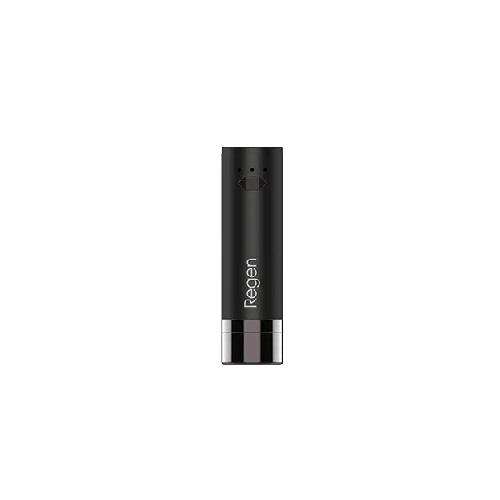 About the Yocan Regen Battery

An authentic and original replacement battery for Yocan Regen from vaporizer manufacturer Yocan. The Yocan Regen Battery offers a 510-threaded design that allows you to connect the company's newest atomizer coil – the Yocan quartz tri coils. The 510-threaded connections allow for a reliable and durable platform to connect Yocan's quartz dual coil and quartz tri coil and other compatible atomizer coils. Working in conjunction with the coils is the battery's integrated preset temperature setting. Three calibrated voltage levels from the low, medium, and high, allows consumers to select a temperature setting they're comfortable with very minimal to no learning curve at all. That's because the Yocan Regen Battery is controlled and operated using a single power button that allows consumers to easily and straightforwardly operate the battery.
Dependable Capacity
The Yocan Regen Battery boasts a dependable and reliable battery capacity at 1100mAh. That's more than enough for quick sessions, especially when paired with the brand's quartz dual coils. Nevertheless, you get just the right amount of power when you connect the relatively beefy quartz tri coils. 1100mAh of power means that you can enjoy substantial sessions even when you're out and about. The battery can supply just the amount of power you need even when you're dabbing on your feet. What's more, is that the batter can be recharged via a micro USB charging cable. This means that you can always recharge your battery and not have to always look for a power outlet when your battery begins to run low. You can just as easily recharge the Yocan Regen Battery through a desktop computer, a laptop computer, or a portable power bank. The level of dependability it offers is simply beyond replacement batteries at this price point.
Concealed Carry
Have you ever wished you can carry your wax concentrates without ever having to lug around big and clunky wax jars? The Yocan Regen Battery can help you just about that. The Yocan Regen Battery comes with an inclusive hidden stash container that's lined with high-grade silicone giving it the benefit of a non-stick container that will help you preserve the overall quality of your materials. Moreover, you can simply keep the wax concentrates hidden in this inconspicuous container and no one will ever know that you're carrying wax concentrates with you. It's conveniently concealed at the bottom of the battery so you can easily access your hidden stash when you need to reload your dab pen. It's the perfect way to carry wax concentrates without ever having to sound the alarm, it keeps the smell and the essences of your select wax concentrates inside the container and keeps harmful pathogens and microorganisms out where they're supposed to be.
LED Light Settings
The Yocan Regen Battery also comes with a means to monitor the temperature level in a conveniently placed LED light s you can just as easily track and check the running temperature level of the Yocan Regen Battery. A single LED light means that you're on 3.0 volts, two lights means you're on 3.5 volts, and three lights mean you're on 4.0 volts.
What's in the box:
Yocan Regen Battery Tips & Tricks
Get the best deal on Yocan Regen Battery for sale online, visit VapeActive Coupons Page and get the best vaporizers for the best price. Check out our online vape discounts and deals, and because we're the best in the industry, we'll even match the sale price of any authorized reseller you can find.
QUESTIONS & ANSWERS
Have a Question?
Be the first to ask a question about this.
Ask a Question