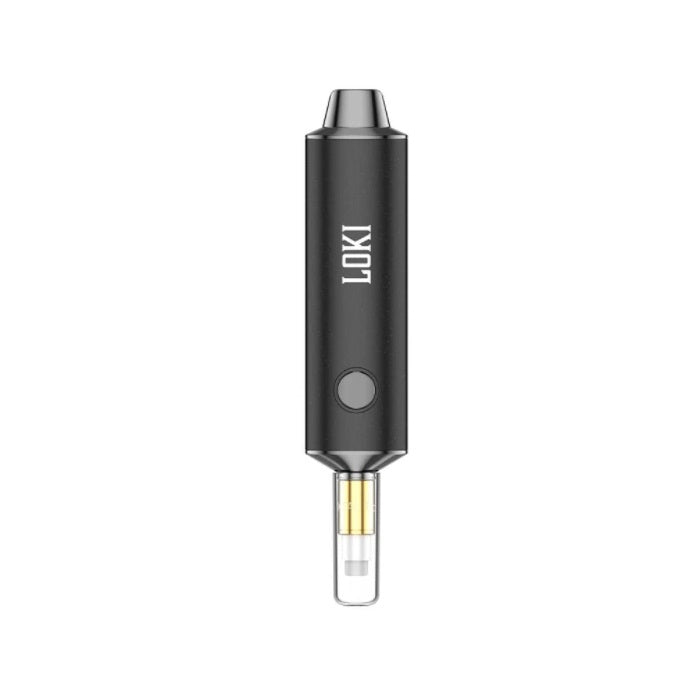 About the Yocan Loki Portable Vaporizer
The Yocan Loki Portable Vaporizer is a wax vaporizer made for those who wants something small but offers a whole lot more. It features some of Yocan's latest innovations in portable vaporization including an aluminum alloy body that significantly improves the Yocan Loki Portable Vaporizer's weight making it an ideal device for on-the-go sessions. Yocan also fitted the Yocan Loki Portable Vaporizer with its next-gen charging technology which ensures that owners spend more time vaping instead of waiting for their devices to get fully charged. It's also equipped with the brand's newest heating technology that offers smooth sessions every time you fire it up.

Be the first to own Yocan's latest nectar collector. Cop your Yocan Loki Portable Vaporizers directly from the source — only here at Yocan Vaporizers.

Decent Battery Capacity

Yocan outfitted the Yocan Loki Portable Vaporizer with a 650mAh battery that's designed and engineered to last long in between charges. For its size, Yocan's newest dab pen's battery is pretty dece compared to other devices its size. The 650mAh internal battery offers a day's session for moderate consumers. Those who dab less frequently can experience long battery life while owners who are on the heavy side of the consumption spectrum may need to plug it in once or twice in a day.

Speaking of charging, Yocan Loki Portable Vaporizer owners need not wait longer to have their batteries charged. Yocan uses USB-C technology to provide faster charging compared to the typical micro-USB charging technology. Another benefit of using USB-C is that it allows for a more stable power delivery and will reduce the possibility of your battery breaking down and wearing out because of power fluctuations.

The combination of a decent battery and the fast charging capabilities of USB-C technology make the Yocan Loki Portable Vaporizer a befitting wax pen for those who need a device they can rely on whether to use as a daily driver or as an occasional vaporizer.

Lightweight and durable

The Yocan Loki Portable Vaporizer was deigned to be the ultimate on the go vaporizer especially for those who need to reap the benefits of their select wax concentrates either for recreational or for medical purposes.

The use of aluminum alloy allows owners to have a more durable device compared to wax pens and portable wax vaporizers that are made of hard plastic. It does a better job of protecting the internal components of the Yocan Loki Portable Vaporizer against bumps and humps that would otherwise dent or damage an average vaporizer with a cheap plastic body.

Aluminum will also be less susceptible to fading which keeps your Yocan Loki Portable Vaporizer looking good even after years of significant use.

Using aluminum as a body also makes the Yocan Loki Portable Vaporizer lighter which means that it's easier and more comfortable to carry wherever you may need to be. Imagine walking around town on a weekend night with a heavy portable vaporizer on your pocket weighing you down. While it feels substantial, it can also get uncomfortable — and annoying. That said, you will most likely leave it on your desk before heading out which means that you will have to skip sessions when you're out and about.

When you have a lightweight device, like the Yocan Loki Portable Vaporizer, you can comfortably and conveniently take your sessions with you and reap the benefits of your wax concentrates whenever you need it.

In addition, an aluminum alloy body gives the Yocan Loki Portable Vaporizer a more premium look. That's why you won't be ashamed to pull it out of your pocket whether you're hanging out with your friends on the streets or in a formal function with your colleagues.

Variable Voltage Setting

Like most of Yocan's devices, the Yocan Loki Portable Vaporizer is fitted with a means of temperature setting. It has three temperature profiles allowing owners to select a particular temperature setting depending on their consumption needs.
It starts with a low temperature level (at 3.2 volts) designed to provide flavorful wisps of vapor. Because it operates on a lower temperature setting, the vapor it produces are thin and are less visible compared to the other temperature profiles. Using the low temperature level is best for when you're on stealth mode as huffing and puffing thin clouds of vapor will allow you to consume in incognito mode.

The next temperature setting is at 3.7 volts and gives owners a perfect balance between flavor and potency. It's best for when you want to relax after a long day and help you prepare get a good night's sleep. You get decent vapor viscosity that looks pretty much like cigarette smoke.

Lastly is the highest temp mode — 4.2 volts. This creates visible plumes of vapor that's noticeably thick and heavy. Those who find satisfaction in blowing large clouds will enjoy hitting the Yocan Loki Portable Vaporizer at a higher temperature profile. It also cranks up the potency level making it great for those looking for a face-melting session.

XTAL Tip

Yocan released the XTAL Tip a few vaporizers back and offered its customers a smooth and flavorful experience. It functions as a nectar collector which means you will have to hover your device over the wax concentrates. Yocan claims that the XTAL Tip creates crystal clear vapors offering consumers to experience a clean and flavorful session without any burnt taste or smell.

The XTAL Tip on the Yocan Loki Portable Vaporizer features five airholes that helps improve the airflow. In addition, it uses a combination of both ceramic and quartz as a heating element. Quarts is a fast-heating component while ceramic is a slow burner. Combining these two heating elements create an ideal environment for you wax concentrates allowing them to be vaporized without reaching the point of combustion. This results in the production of clean and safe vapors with a high concentration of the natural cannabinoids from your materials.

So, if you want a dab pen or a nectar collector that gives you clean vapor production, the Yocan Loki Portable Vaporizer is the way to go.
What's in the box:
1 X Yocan Loki Portable Vaporizer
1 X USB-C Charging Cable
1 X User Manual
Yocan Loki Portable Vaporizer Tips & Tricks
Get the best deal on Yocan Loki Portable Vaporizer for sale online, visit VapeActive Coupons Page and get the best vaporizers for the best price. Check out our online vape discounts and deals, and because we're the best in the industry, we'll even match the sale price of any authorized reseller you can find.
QUESTIONS & ANSWERS
Have a Question?
Be the first to ask a question about this.
Ask a Question