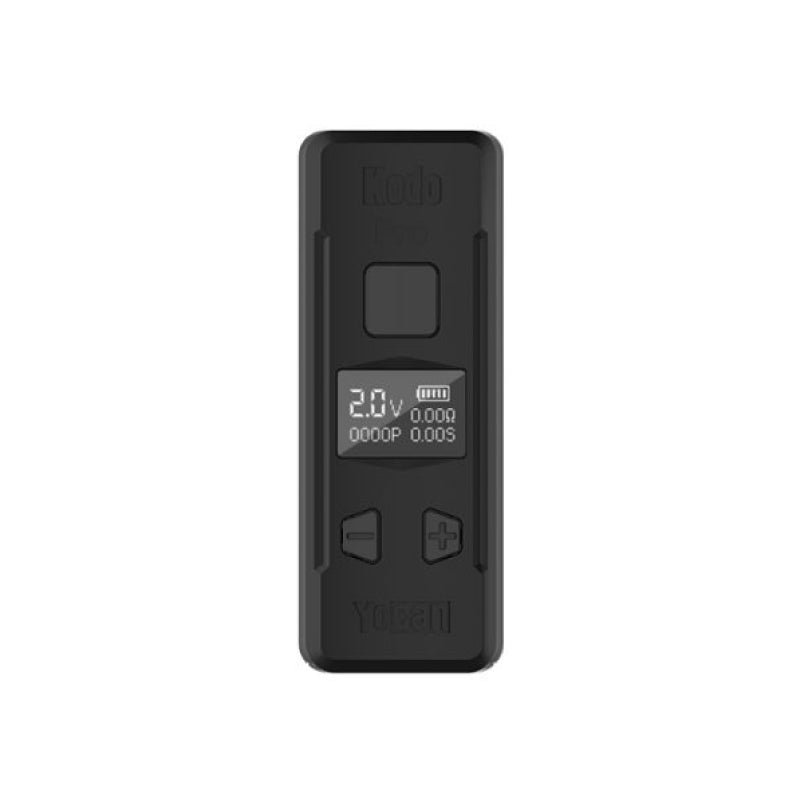 About the Yocan KODO Pro Box Mod
The Yocan Kodo Pro Vaporizer is the latest drop from Shenzhen-based vaporizer company, Yocan. The Yocan Kodo Pro Vaporizer follows the commercial success of the OG Yocan Kodo Box Mod Vaporizer for oils. The Yocan Kodo Pro Vaporizer, like its predecessor, is perfect for quick hits when you're out and about. It comes with features that have been designed and engineered specifically with on-the-go oil consumers in mind.

Make sure to cop a Yocan Kodo Pro Vaporizer today, only at the source of authentic and original Yocan vapes, Yocan Vaporizer.

Small yet capable

The Yocan Kodo Pro Vaporizer is obviously a small and compact device. But, don't let its size fool you. This portable oil vaporizer has been crafted for those who want — and need — to consume their favorite oils when they leave home.

In terms of size, the Yocan Kodo Pro Vaporizer was made so that you can conveniently carry it in your bag, in your pocket, and even at the palm of your hands. The device measures just a hair over two inches long, nearly one inch wide, and just about half an inch thick. This means it's just as long as a standard credit card and probably just as thick as your phone. Its small size means it can fit in just about any pocket you have on your jacket, your shirt, or your pants. Imagine taking the Yocan Kodo Pro Vaporizer with you when you stroll around town on a Saturday night or when you go camping or hiking with your crew for the weekend.
When it comes to its weight, the Yocan Kodo Pro Vaporizer is perfect for those who want to pack light as the device itself functions perfectly without having to weigh you down.

So, if you want a small — and capable — companion for your daily sessions, then you should check out the Yocan Kodo Pro Vaporizer!

Next-gen battery

Those who have been following the Yocan brand would know that the company is fond of fitting its devices with batteries that charge via micro-USB. This technology is fool proof and the chances that you have a compatible wall charger and a charging cable lying around is as fat as Snoop's blunt. However, Yocan has been consistently upgrading its offerings as of late, equipping their vaporizers with next-gen USB type-C charging technology. Compared to the trusted, yet dated, micro-USB charging technology, USB type-C offers faster charging and a more stable power delivery.

On that note, you can expect the battery of the Yocan Kodo Pro Vaporizer to recharge faster than the average vaporizer. This means less waiting and more vaping.
In terms of its battery capacity, the Yocan Kodo Pro Vaporizer uses a small 400mAh unit. Small it may be, its power capacity is sufficient for vaporizing both viscous and runny oils. A single charge can last for a whole day depending on how heavy or light your consumption pattern is.

Those who like to hit on their devices a little more often than the others can expect to recharge their Yocan Kodo Pro Vaporizers once a day while those who use their oil vape a little less frequent could expect it to last for a whole day.

Expect to get enjoy more and vape longer with the Yocan Kodo Pro Vaporizer.

Adjustable voltage settings

The Yocan Kodo Pro Vaporizer is a next-gen vaporizer through and through. Compared to other devices in the same price point, the Yocan Kodo Pro Vaporizer features an adjustable temperature setting. Not a preset temperature selection but a full-fledged adjustable temperature setting.

The voltage range of the Yocan Kodo Pro Vaporizer is from 1.8 volts to 4.2 volts. The lowest temperature setting is perfect for extracting the flavonoids of your favorite oils. In addition, the low temperature levels are also perfect for stealth vaping as using a low temperature level produces less visible vapors.
Its higher temperature levels, on the other hand, makes for a great option should you like to experience the potent effects of your oils. It's also good if you want to enjoy thicker clouds of vapor.

Whether you're an avid recreational user or a medicating patient, you will surely find the right kind of setting with the Yocan Kodo Pro Vaporizer.

Adjustment level is at 0.1-volt and can be fine-tuned by pressing the (+) and the (-) face buttons. The results of the selection are displayed on the Yocan Kodo Pro Vaporizer's small digital OLED screen where owners can see relevant vaping data which includes the running voltage, its various modes, the puff counter, and the battery level.

510-threaded Connections for Cartridges

The Yocan Kodo Pro Vaporizer offers wide availability for cartridges. It has a 510-threaded connection allowing consumers to connect various cartridges to it. You can use a pre-filled cart if you like buying oils from a certain brand or you can also connect a refillable cart to it, just in case you like brewing your own.

Connecting a cartridge to the Yocan Kodo Pro Vaporizer adds a little more height to it as the 510-threaded link sits right above the battery. The cartridge that will be connected to it will protrude from the unit and not recede inside the battery. This design has certain benefits to it.

One, this makes the Yocan Kodo Pro Vaporizer's cartridge connections easy to maintain. Since the metallic links are exposed, you can easily clean the edges to ensure that there are no obstructions that block the connection between the battery and the cartridge.
Another is that it keeps the vaporizer small and compact as having a recessed chamber for the cartridge can take up space that is not always used.

The overall design and engineering of the Yocan Kodo Pro Vaporizer is perfect for those who want a compact oil vaporizer that does more at a fair price. Make sure to score a Yocan Kodo Pro Vaporizer and be the first among your friends to get this new oil vape from Yocan. Try out the Yocan Kodo Pro Vaporizer today!
Yocan Kodo Pro Box Mod Tips & Tricks
Get the best deal on Yocan Kodo Pro Box Mod for sale online, visit VapeActive Coupons Page and get the best vaporizers for the best price. Check out our online vape discounts and deals, and because we're the best in the industry, we'll even match the sale price of any authorized reseller you can find.
QUESTIONS & ANSWERS
Have a Question?
Be the first to ask a question about this.
Ask a Question