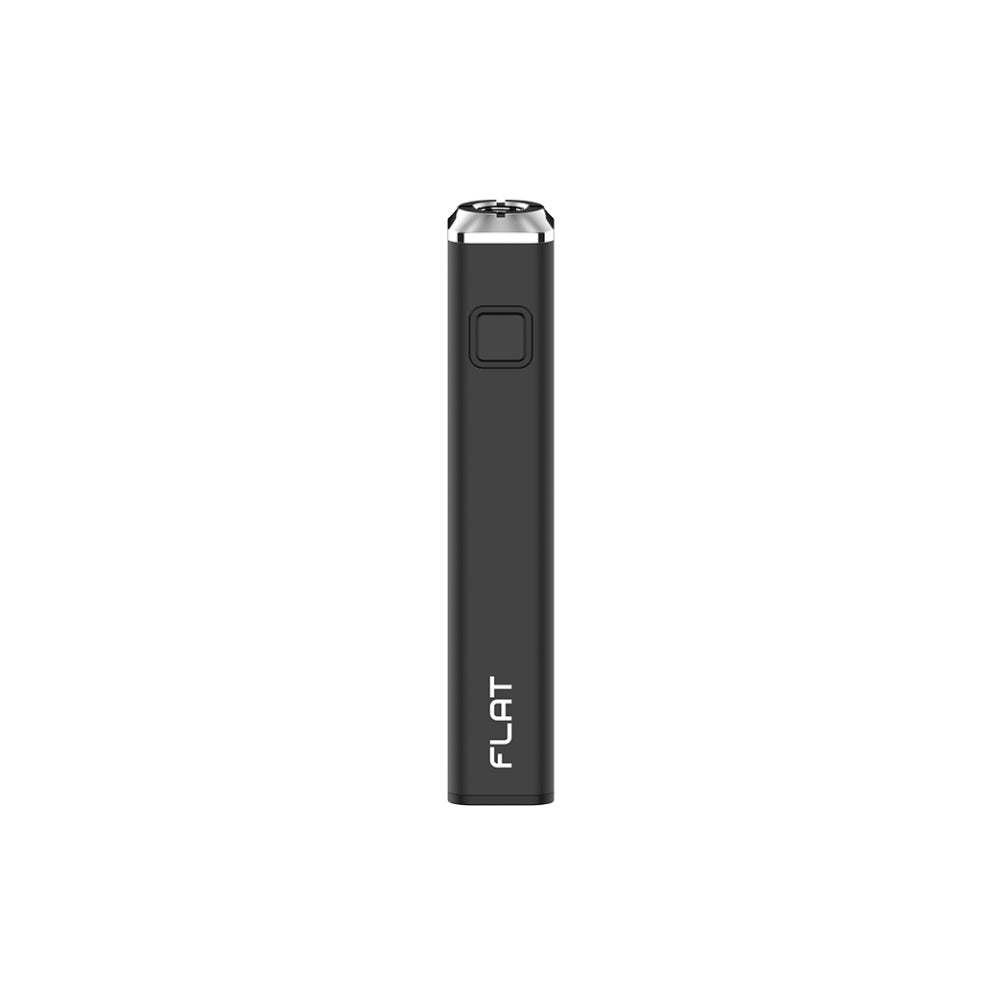 About the Yocan Flat Series Dab Pen Battery

Yocan has just dropped a new dab pen battery that just might change the way you vape. Presenting, the Yocan Flat Series Dab Pen Battery. This compact vaporizer battery was designed with the on-the-go vaper in mind. It has all the things Yocan's customers loved from its previous product and a new feature that's so simple, yet so effective.

Let's look at what devices are included in the Yocan Flat Series Dab Pen Battery collection.

Yocan Flat

As the name suggests, the Yocan Flat is a dab pen battery designed with a square-shaped exterior. Each side of the boxy shell features a flat surface which helps prevent the Yocan Flat from falling off the table. This is perfect for consumers who use their vaporizers while they work on their computer and place their vaporizers on top of their desks.

The flat design of the Yocan Flat also creates an ideal shape for when you need to store your vape pen battery when you're going out and about. Compared to a dab pen battery with a circumferential design, one with a squarish casing will easily fit in most pockets and carry cases. It also feels good on the hands and has a better chance of not slipping from your grip than when using a round-shaped vape battery. The exterior is made from high-grade aluminum which means that the body is both lightweight and durable. Then, it is finished with a rubberized coating which adds more grip for when you just want to hold the Yocan Flat in the palm of your hands.

The Yocan Flat measures less than an inch thick, a little under an inch wide, and a hair over three inches tall. It also has a square power button located on the upper part of the battery which you can use to toggle through the various voltage settings offered by the device.

Speaking of which...

Yocan Flat Slim

The Yocan Flat Slim, like the rest of its family members, sport three voltage settings out of the box. These voltage levels can be controlled using the above mentioned square-shaped power button located on the top part of the vape pen battery.

It starts with the lowest setting which is tuned at 2.6 volts (V). This voltage setting is perfect for those looking to vaporize their wax concentrates and essential oils simply to extract its flavorful and aromatic active ingredients. The effects of dabbing in this setting are ideal for when you want to relax after a long day's work.

Next, the middle voltage setting clocks in at 3.2V. This temperature profile still creates tasty and fragrant clouds of vapor but slightly increases its potency. On that note, this makes for a good choice for consumers who want to clear their mind and enter a state of creativity should they experience a loss in their creative juices.
Finally, the highest temperature level comes in at 3.8V. This unlocks the full potential of your materials and allows you to extract its highly-potent active ingredients. This setting is great for when you want deep sleep.
These three voltage settings can be found on all Yocan Flat Series Dab Pen Batteries.
And while we're on the topic of batteries...

Yocan Flat Mini

The Yocan Flat Mini is another variant of the Yocan Flat Series Dab Pen Battery collection. This device is equipped with a 400 milliampere (mAh) battery, making it one of the more powerful variant in the series. For comparison's sake, the Yocan Flat has a 650mAh battery while the Yocan Flat Slim has a 350mAh battery. The most powerful of all the four, is the Yocan Flat Plus, which pushes the envelope by packing a whopping 900mAh battery. We'll get to the Yocan Flat Plus in a few.

The Yocan Flat Mini's battery can be recharged using a USB Type-C charging cable connected to your choice of charging brick. With the prevalence of devices using a similar charging technology, there's a fat chance that you have a USB Type-C cable and a compatible charging brick lying around.

On that note, this makes the Yocan Flat Mini a versatile device as it can be recharged using the same charging cable and wall charger you use with your phone, tablet, or video game console.

Additionally, using USB Type-C charging technology endows the Yocan Flat Mini with fast charging capabilities. This means that you don't have to wait very long just so you can resume your session. The Yocan Flat Mini is the perfect vape pen battery for those who are always on the go.

Yocan Flat Plus

As one would expect from a dab pen battery with a "Plus" badge, the Yocan Flat Plus comes with all the bells and whistles you would expect from a range-topping model.

Like its smaller brothers, the Yocan Flat Plus is equipped with a universal 510-threaded connection which allows owners to attach a wide variety of coils and atomizers to the device. That said, it's the perfect vaporizer battery to use with your pre-filled and refillable cartridges as well as your wax atomizers and coils. It has a cartridge resistance of 0.8 Ohms, which means that you can connect pretty much all commercial cartridges on the market today.

In addition, the Yocan Flat Plus also comes with additional features designed to make your sessions easier and more convenient. These are the 15-second safety cut-off feature and the pre-heat setting. The former automatically stops the vape pen battery from working the moment the heating element remains powered on for 15 seconds. The latter, on the other hand, allows an owner to pre-heat their select materials to ensure that the Yocan Flat Plus immediately produces vapors the moment they press the button. It also works by melting any hardened oils should you be using the vaporizer in a cold environment.
Yocan FLAT Series Dab Pen Battery Tips & Tricks
Get the best deal on Yocan FLAT Series Dab Pen Battery for sale online, visit VapeActive Coupons Page and get the best vaporizers for the best price. Check out our online vape discounts and deals, and because we're the best in the industry, we'll even match the sale price of any authorized reseller you can find.
QUESTIONS & ANSWERS
Have a Question?
Be the first to ask a question about this.
Ask a Question