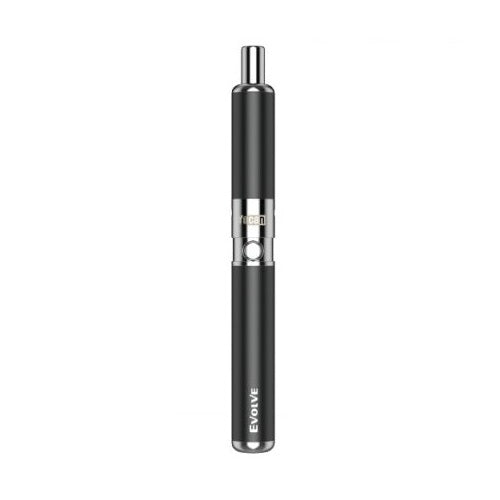 About The Yocan Evolve-D Vaporizer
The Yocan Evolve-D is a portable e-pipe combustion pen-style shaped vaporizer for dry herb and flower blends. Powerful dry herb machine that feels very comfortable in the hand as the stick shift of a Porsche and can still provide good quality flavor and cloud. The Evolve-D is made of fairly high-quality metal, it has a sleek and glossy design with rubberized exterior intended for simple but still a very stylish appearance. This device is available in orange, blue, red, black, and silver colors. It is very durable yet soft to the touch. Yocan provided an enhanced functional mouthpiece to vape perfectly. This wonderful device is specially designed to satisfy the needs of vapers and is cost efficient that can cater a huge vapor production.
Impressive 650mAh Lithium-ion Battery
Yocan's Evolve-D created a powerful 650mAh Lithium-ion Battery that has a outer ego-thread style with 510 inner threading that can work with any other devices with suitable threading. Given the battery power this vaporizer has, it can administer massive amount of milky clouds. The 650mAh battery can run from 3.2v to 4.2v and can generate roughly between 1.3 and 3.0 ohms with its pancake-style dual coil atomizer, with this, it is guaranteed for a remarkably flavorful vapor and aroma. You can operate this device in a very simple way with just a push of a button delivers flavorful clouds, that is why this machine is not just budget-friendly but user-friendly as the same time.
Dry Herb Dual Coil Atomizer
One of the best things about the Yocan's Evolve-D vaporizer is the atomizer, since it has a Pancake-Style Dual Coil that delivers high purity vapor in just seconds,splendid for on-the-go vapers. Compared to the other vapor devices that has an average heating chamber, the Pancake-Style has a distinctive attribute by having an innovative heating rod instead of the usual disc-shaped flat coil, specifically engineered for the Yocan's Evolve-D atomizer by its creators, for outstanding vaping experience. This vaporizer is built in a stealthy manner so people won't really know that you are vaping and it fits reasonably in your pocket, pouch or bag and due to its powerful metal built, it won't completely fall apart after a toss-around.
Discreet Solid Form
The Evolve-D is one of the smallest vape-style pens available on the market. It is designed perfectly having the power button made from chrome as well as the bottom of the device. The machine's chamber is huge and nice with wide girth for loading dry herbs and flower blends that can definitely provide well-rounded vaping experience. The actual size of a Yocan Evolve-D is exquisite and very portable. It has a 128.5mm length and 14mm width and the atomizer has a 61.5mm length and 14mm width. The product weight is 0.150 kg. Overall, the Evolve-D is a strong device for the vapers on-the-go that gives absolute flavor and clouds since you won't have to bust out a lighter and pipe. It has a wonderful mechanism that cherries the herb quickly, just like a car lighter.
What's in the box:
1 x Evolve-D Vaporizer

2 x Evolve-D Pre-installed Atomizer

1 x 650mAh Lithium-ion Battery

1 x Cleaning Brush

1 x USB Cable Cord
Yocan Evolve-D Vaporizer Tips & Tricks
How to Use the Yocan Evolve-D Vaporizer:
The Yocan Evolve-D Vaporizer is a dry herb vaporizer that boasts unique features that make it an ideal vaporizer for on-the-go dry herb consumption. It boasts a powerful 650mAh battery that can be charged using its inclusive 510-threaded USB charger. The Yocan Evolve-D Vaporizer can be operated using its single power button that makes usage simple, easy, and straightforward. It operates and functions like your regular vape pen but with its high-quality components, the Yocan Evolve-D Vaporizer is more reliable and dependable than other pens in this price point. The Yocan Evolve-D Vaporizer also has a specially designed mouthpiece that allows you to tamp down the herbs so you can ensure that all the materials in the chamber are vaporized. The Yocan Evolve-D Vaporizer also comes with its own cleaning tool so you can maintain and keep the Yocan Evolve-D Vaporizer in good working condition. Let's not forget the pancake style coils that allow you to vaporize your ground materials evenly and efficiently. Here are a few tips to help you get up to speed with the Yocan Evolve-D Vaporizer.
Charging the Battery:
One key element to ensuring the best performance when using a portable vaporizer is a fully charged battery.
The Yocan Evolve-D Vaporizer comes with a 510-threaded USB charger that connects to the battery using a 510-thread and to a charging outlet using a USB port.
Here's how it's done.
Screw the charger to the battery using the 510-thread.

Stop when you feel resistance and connect the USB tip to a desktop computer.
Alternatively, you can also connect the USB tip to a laptop.
If you happen to have a wall adapter lying around, you can also connect it to recharge your batteries from a wall outlet.
Loading the Chamber:
For best results, grind your herbs with a coarse to a semi-fine consistency.
Here's how you load your ground materials.
Open the mouthpiece to expose the chamber.

Take the mouthpiece and flip it upside down.

Load your herbs into the mouthpiece.

Connect the mouthpiece to the battery.
Since the mouthpiece of the Yocan Evolve-D Vaporizer is somewhat narrow, you can load it easily using this simple trick.
Take a small piece of paper.

Fold the paper halfway.

Place ground material into the paper.

Funnel it to the mouthpiece to avoid wastage.
Usage and Operation:
The Yocan Evolve-D Vaporizer uses a single button for all its operations.
Here's how it's done.
Press the power button five times to

activate

the battery.

Press and hold the power button to activate the coils.

Press the power button five more times to deactivate the battery.
Adjusting the Materials Inside the Chamber:
It's common for dry herb vapes to have to be stirred occasionally to make sure all the herbs are vaporized.
The Yocan Evolve-D Vaporizer allows you to vaporize all your herbs without the need for opening and closing the chamber every time.
Here's how it's done.
Lightly tamp the mouthpiece down to press the fresh herbs down the coil.
Get the best deal on Yocan Evolve-D Vaporizer for sale online, visit VapeActive Coupons Page and get the best vaporizers for the best price. Check out our online vape discounts and deals, and because we're the best in the industry, we'll even match the sale price of any authorized reseller you can find.
QUESTIONS & ANSWERS
Have a Question?
Be the first to ask a question about this.
Ask a Question
Great pen
All that I hoped it would be.
Basic
Very basic you wouldn't think its good, I honestly just got it bec its not expensive, but I was lucky it works really good.
Great buy
Great price for a good quality pen love it
Recommended
Recommended for those who are looking for cheap yet quality vape pen