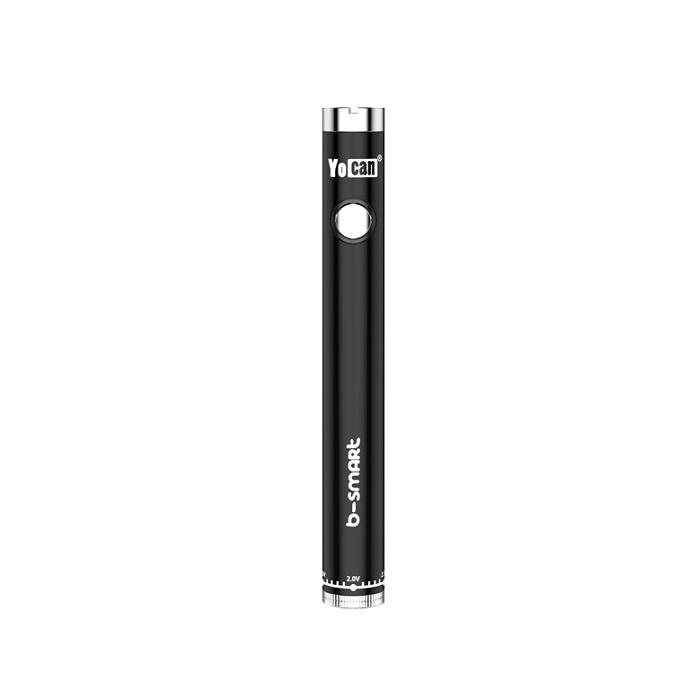 About the Yocan B-Smart Battery
Yocan has been a brand that has put out some of the best and the most affordable devices on the market. What put them on the map their own brand of quality mixed with affordability. The Yocan B-Smart Battery is a device that offered the perfect marriage of versatility and practicality which makes it a great choice not only for beginners but also for experienced consumers that are looking for a simple, straightforward, and easy to use device. The Yocan B-Smart Battery is outfitted with a 320mAh battery that offers significant sessions in between charges. That said, you literally don't have to always have to worry about losing battery or experiencing poor performance because of low battery power. Speaking of which, the Yocan B-Smart Battery is equipped with a variable voltage setting. This way, when you feel like the battery is getting low, you can simply just change to a lower voltage setting which will have lower power requirements. See, the Yocan B-Smart Battery's variable voltage setting is not only a means to adjust the temperature level but also to play around with the battery's power requirements. The variable voltage setting can be changed by twisting the battery from bellow as opposed to traditional vape batteries whose temperature settings can be toggled through by hitting combinations using a single power button. Instead, you simply twist the bottom of the device to change the temperature settings. The Available voltage levels are from 2.0V to 4.0V, adjustable in increments of 0.1V.
510-Threading Compatibility
The Yocan B-Smart Battery uses a universal 510-threaded design. What that means is that you can use it in conjunction with various types of heating elements including wax atomizers, dry herb coils, and e-liquid heating elements. This makes the Yocan B-Smart Battery a truly versatile device that can work with whatever materials you are consuming as long as you have the proper heating element. It also offers a dependable and stable platform as 510-threaded connections have strong links so the atomizer and the heating element won't easily get knocked out of place when you have it in your hands or when you're keeping it in your pouch. And while magnetic attachments are all the rage nowadays, the reliability and sturdiness of 510-threaded connections still make it one of the best connections for your select atomizers and heating elements.
For the uninitiated, you might be confused to see no charging port in the Yocan B-Smart Battery. The Yocan B-Smart Battery uses the same 510-threaded connection to accept a specialized eGo-style charger that connects to its 510-threaded port. Typically, these connections are made with a USB link on the other end where you can plug it in either a wall adapter, a desktop computer, or a laptop computer. There are still multiple ways to recharge your device with the Yocan B-Smart Battery. Furthermore, the same way the 510-threaded connections make for a stable link for the atomizer, they also offer a stable connection for the charger.
What's in the box:
1 x Yocan B-Smart Battery
Yocan B-Smart Battery Tips & Tricks
Get the best deal on Yocan B-Smart Battery for sale online, visit VapeActive Coupons Page and get the best vaporizers for the best price. Check out our online vape discounts and deals, and because we're the best in the industry, we'll even match the sale price of any authorized reseller you can find.
QUESTIONS & ANSWERS
Have a Question?
Be the first to ask a question about this.
Ask a Question