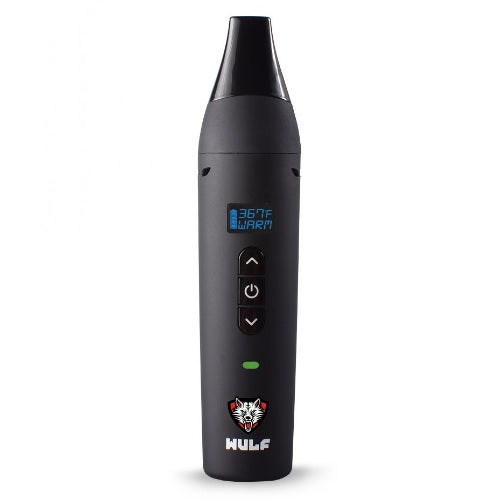 About the Wulf Vape LX Vaporizer 
The Wulf Vape LX Vaporizer is another quality product brought to you by Wulf Mods. Wulf Mods have been one of the go-to portable vaporizer brands for dry herb consumers who are looking for a reliable and affordable dry herb vaporizer. The Wulf Vape LX Vaporizer makes for a great portable dry herb vaporizer not only because it's chock-full of features but because it was specifically designed and engineered for superior dry herb vaporization.  
The Wulf Vape LX Vaporizer uses full convection heating which is leaps and bounds superior to other methods of dry herb consumption. Convection heating uses hot air to vaporize the herb allowing the purest vapors to extract the active ingredients native to your botanical blends. To complement the full convection heating technology offered by the Wulf Vape LX Vaporizer, Wulf Mods outfitted this portable dry herb vaporizer with a ceramic heating chamber to ensure that it can extract the most distinct flavors and aroma your dry herb strains has to offer. To top that off, the Wulf Vape LX Vaporizer is also equipped with a crisp OLED screen to ensure that you're always on top of what's happening with your vaporizer.  
Having said, one of the key features of the Wulf Vape LX Vaporizer is its precision temperature control that allows you to easily change the temperature profile to your desired setting. Gone are the days of using preset temperature profiles, the Wulf Vape LX Vaporizer lets you change the temperature for your dry herb strains with pin-point accuracy making the Wulf Vape LX Vaporizer an ideal dry herb vaporizer for connoisseurs, advanced vape users, and even beginners.  
Design and Engineering 
The Wulf Vape LX Vaporizer is well thought of dry herb vaporizer. It boasts ergonomic design which makes using the Wulf Vape LX Vaporizer a pleasure to the senses. The Wulf Vape LX Vaporizer was made so that your hand can endure holding it for long periods of time.  
It was made with a rubbery matte texture so it won't easily slip from your hands. This rubbery finish also makes it comfortable to hold compared to using a portable vaporizer with a hard, polished finish.  
The layout of the buttons and of the screens are intuitive and can easily be understood even without prior experience in using vaporizers. From the outside, you can see everything in a glance. The LED screen is made bright enough to see in daylight and dim enough not to be annoying when using it in the dark. All the necessary information is displayed and is rid of anything that may confuse you or complicate use and operation. Even novices can easily pick up a Wulf Vape LX Vaporizer and use it like a pro with very little to no learning curve at all. The design of the Wulf Vape LX Vaporizer is very user-friendly and modern but maintains some of the essential components in design which make it a relatable portable vaporizer.  
It's only five and a half inches tall and measures about an inch wide, the perfect height and width for a portable vaporizer. This makes the Wulf Vape LX Vaporizer a pocket-light device that you can take with you almost anywhere you go. Moreover, the Wulf Vape LX Vaporizer fits in the palm of your hands the same way it feels in your pocket – perfect. No other portable dry herb vaporizer felt as good and looked as good as the Wulf Vape LX Vaporizer.  
The ability to control and change the temperature while on your feet makes the Wulf Vape LX Vaporizer a superior vaporizer amongst its peers. If you want to enjoy high-quality vapors while you're on-the-go, make sure to check out the Wulf Vape LX Vaporizer now! 
Portable Build Quality
One of the best features the Wulf Vape LX Vaporizer has to offer is its overall build quality. For its price, the Wulf Vape LX Vaporizer is definitely a steal.  
It boasts a ceramic heating chamber that allows continuous and progressive heating of your dry herb strains. This only means that the herbs will not be abruptly heated and will be vaporized without reaching the point of combustion. Having said, the Wulf Vape LX Vaporizer is capable of extracting the best tasting flavors from your botanical plant matter. Because the ceramic heating chamber avoids burning and charring, you can taste the natural flavors and enjoy the distinct aroma your materials have to offer. The ceramic heating chamber is helped by the technology used in the Wulf Vape LX Vaporizer. The Wulf Vape LX Vaporizer uses a full convection oven that uses hot air to heat the herbs instead of a heated surface. While conduction vaporizers are great for vaporizing wax concentrates, many consumers prefer conduction vaporizers like the Wulf Vape LX Vaporizer to vaporize herbs. This is because hot air can better saturate the small ground-up herbs compared to heating them against a heated surface. This way you no longer have to worry about covering surface area since the hot air can permeate the herbs and extract the active ingredients from every nook and cranny. This means that the herbs become heated evenly and you will end up with better results when vaping. Nobody likes having herbs that are charred on the outside but are still fresh from the inside. Convection heating ensures that this will never happen to you and that you will enjoy the benefits of your select materials.  
The Wulf Vape LX Vaporizer also boasts a durable battery that can last longer than its competitors. The battery charges in as fast as two hours allowing you to enjoy your favorite botanicals while you're on your feet. There is also an LED indicator that shows you the status of your battery level. This allows you to easily tell whether it's time to recharge or when it's time to pull it off from the charger.  
What's in the box:  
1 x Wulf Vape LX Vaporizer

 

1 x Mouthpiece

 

1 x Wall Charger

 

1 x USB Cable 

 

1 x Dab Tool

 

1 x User Manual 

 

3 x Replacement Screens 

 
Wulf Vape LX Vaporizer Tips & Tricks
Get the best deal on Wulf Vape LX Vaporizer for sale online, visit VapeActive Coupons Page and get the best vaporizers for the best price. Check out our online vape discounts and deals, and because we're the best in the industry, we'll even match the sale price of any authorized reseller you can find.
QUESTIONS & ANSWERS
Have a Question?
Be the first to ask a question about this.
Ask a Question