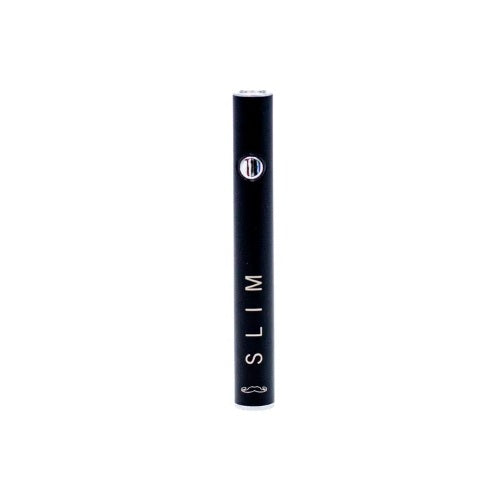 About the SLIM Battery
The SLIM Battery is another quality accessory from Stache Products, makers of the likewise high-quality eRig, the RiO. The SLIM Battery is a 510-threaded vape battery that is outfitted with a 400mAh battery capacity that allows you to enjoy decent sessions in between charges. Because the SLIM Battery is equipped with a 510-threaded connection, it enjoys a wide compatibility with a lot of 510-threaded attachment including the ConNectar made and manufactured by the same brand. The SLIM Battery makes for a great battery regardless of the heating element you connect to it because it allows you to heat your select materials and fire up your atomizer with different heat settings. The SLIM Battery is outfitted with a preset temperature setting that gives you the option to heat your materials in low, medium, or high heat setting allowing you to reap the various active ingredients your select materials have to offer. The lower temperature setting can help extract flavorful vapors while the higher temperature setting is perfect for potent vapor production. The middle temperature setting gives you a perfect balance of flavorful vapor production and a slight body buzz. The SLIM Battery is also equipped with a pre-heat temperature setting which allows you to pre-heat your materials especially when you're connecting 510-threaded cartridges on the SLIM Battery. This allows you to prepare the oils in your carts by melting hardened oils and promoting good airflow.
The SLIM Battery is a great battery that can keep up with your needs regardless of the attachment you're connecting to it. Make sure to get the SLIM Battery only here at the home of premium vaporizers and vaporizer accessories – VapeActive.
Micro USB Charging
Unlike most 510-threaded batteries sold on the market, the SLIM Battery is outfitted with micro-USB charging technology allowing you to enjoy better charging options and better charging features. Unlike eGo style chargers used on dated 510-threaded batteries, using a micro-USB charger does not add to the stress you put on the threaded connections of the battery since you'll be using the micro-USB port on the actual battery to connect the charger instead of the 510 port. Furthermore, micro-USB technology offers faster charging times and more stable power delivery so you'll experience less inconsistencies when charging your battery. Moreover, you'll have more options to recharge your battery because you can connect the SLIM Battery to a desktop computer, a laptop computer, a videogame console, and even to a compatible power bank. You literally don't have to always be looking for the nearest wall adapter when you use the SLIM Battery when you're out and about.
The SLIM Battery also offers a compact form factor which makes it a discreet vaporizer to have that you can take with you almost anywhere you go. It's as functional and discreet as it is affordable which is why the SLIM Battery is a great option when you're looking for a vape battery either for replacement or as a backup. Make sure to get your SLIM Battery now!
What's in the box:
1 x SLIM Battery
1 x USB Charging Cable
S L I M Battery Tips & Tricks
Get the best deal on S L I M Battery for sale online, visit VapeActive Coupons Page and get the best vaporizers for the best price. Check out our online vape discounts and deals, and because we're the best in the industry, we'll even match the sale price of any authorized reseller you can find.
QUESTIONS & ANSWERS
Have a Question?
Be the first to ask a question about this.
Ask a Question