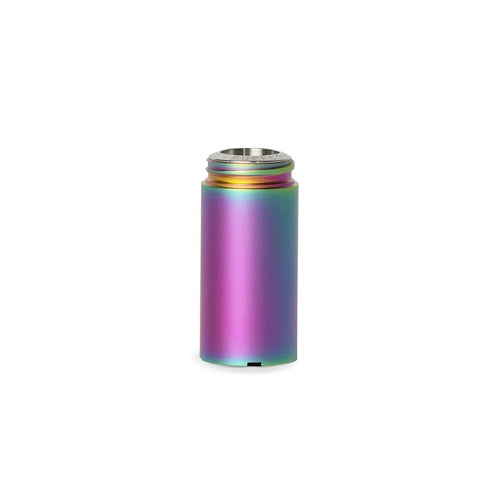 About the Puffco Plus Replacement Chamber – Vision
The latest iteration of Puffco's Plus gives us a new fleet of replacement parts and with them, the Puffco Plus Replacement Chamber. This wax chamber boasts the same technology and build quality as the original chamber that comes with your Puffco Vision Plus Vaporizer when you've pulled it out of the box. This means that it will offer the same longevity and vapor quality as the one you've learned to love and get used to. It's no surprise as this replacement chamber is an authentic and original product from the same brand and is likewise manufactured using the same raw materials and under the same strict manufacturing standards. Puffco has always been a brand that's synonymous and associated with the words like flavor, purity, and reliability in the vaping industry. In fact, they're one of the premier vaporizer manufacturers that they're the ones who continue to redefine and reshape today's industry. With that in mind,you'd know that you're getting only the best when you buy products made by Puffco especially when you get them here at VapeActive.
The Puffco Plus Replacement Chamber – Vision will ensure a perfect fit with your Vision Plus from Puffco. Removal and replacement won't also be a problem since this replacement chamber shares the exact same dimensional specifications as the original one you're about to replace. If you're looking for a replacement chamber for your Puffco Vision Plus Vaporizer, then look no further.
Iconic Puffco Ceramic Heating Element
Puffco has made a name for themselves by manufacturing vaporizers that bring out the full potential of your wax concentrates. Thanks to their ceramic heating elements, the vaporizers they make can unlock the full potential of your extracts. Ceramic has been a raw material that's been widely used in the vaping industry especially on devices that vaporize wax concentrates. That's because ceramic offers a low and slow heating that allows the extraction of the flavonoids and the terpenes in your materials. So, instead of abruptly heating your wax concentrates and end up combusting your materials, you're basically heating it in a pace that you get the natural tastes of your wax concentrates before you reach temperature profiles that are meant to extract the more potent active ingredients that your wax concentrates have to offer.
Ceramic lets you vaporize your wax concentrates without reaching the point of combustion. Combustion creates a slew of toxic byproducts including one that can irritate your lungs and your throat. What that does is that it gets you coughing and barking because what you're inhaling is no longer vapor but smoke but because of Puffco's ceramic heating element, you're able to give your wax concentrates the most ideal environment for your materials temperature-wise. Furthermore, the ceramic heating element in the Puffco Plus Replacement Chamber – Vision also offers a generous amount of space so you can load up a larger amount of wax concentrates to get yourself medicated with all the benefits ceramic heating elements bring to the table.
What's in the box:
1 x Puffco Plus Replacement Chamber – Vision
Puffco Plus Replacement Chamber - Vision Tips & Tricks
Get the best deal on Puffco Plus Replacement Chamber - Vision for sale online, visit VapeActive Coupons Page and get the best vaporizers for the best price. Check out our online vape discounts and deals, and because we're the best in the industry, we'll even match the sale price of any authorized reseller you can find.
QUESTIONS & ANSWERS
Have a Question?
Be the first to ask a question about this.
Ask a Question